Van Ness Translucent Enclosed Cat Litter Pan, X-Large
---
---
Try This Similar Item By Chewy
---
Frequently Bought Together
---
About This Item
Odor door reduces smells & keeps litter contained.
Zeolite air filter freshens air while absorbing unwanted odor.
Polished finish that is odor and stain resistant making it easy to clean.
Extra-large size is perfect for bigger kitties or multiple cat households.
Eco Ness Safe & Green 20% recycled content!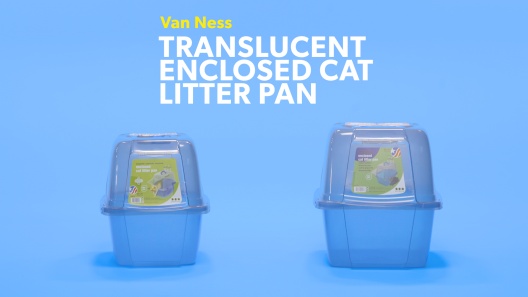 Learn More About Van Ness From Our Team of Experts
---
---
Questions & Answers
19 Customer Questions
---
Can the door flap be removed? I think the flap would scare my half feral cat.
Answer by • Aug 26, 2017
The door flap is removable on this Litter Box.
---
Is this pan good for a two cat household?
Answer by • Apr 17, 2018
The X-Large size is perfect for bigger cats or multiple cat households.
---
Where do I find the replacement filters?
Answer by • Sep 27, 2018
The replaceent filters are the Van Ness Zeolite Air Filter.
---
Can someone tell me what is the width(Not depth) of the upper part of the hood for the size large? Like if you were to measure horizontally from where the flap is, starting from the middle of the upper hood. My bathroom is very small , I have very limited space.
Answer by • Dec 21, 2017
The width of the top of the hood is approximately 13.25 inches.
---
---
---
By Marc on Apr 20, 2022
Overpriced and Poor Quality
Only had this litter box for 2 weeks and it has crack in the front just buy picking it up by the edges of the litter box. The clamps do not stay, so if you were to try to pick up the litter box by its handle the bottom just falls. I have purchased this brand in the past but it was for the solid blue litter box and it lasted for years. I thought that this clear box would be just as good but not even close. I would not recommend this litter box to anyone. I wish I would had read all of the reviews before purchasing this litter box, I never would have bought it.
---
By Boofer on May 19, 2022
Not made strong enough. Do Not Buy.
Plastic is very thin! First order came in multiple pieces. Replacement order came cracked in 2 places on the bottom section. Then after I requested a refund. I noticed that the top portion of the box by the 2 front clips was broken in 2 and 3 more places by each clip.
---
By Kase on Mar 25, 2022
A good litter box for first time cat owners
This is a really good litter box. The only problem I've had with it is that even though it is XL, my big boys don't have enough room in it and becausenof that my cats kept knocking off the flap. Once I decided to stop putting the flap on and just leave the hole open it solved the problem of my big boys not having enough room. The reason they would keep knocking the flap off was because they liked to stick their heads out the hole while using the box, so with the flap off they could stick their heads out without having to worry about some flap in their face. Even with the flap off, the hood prevents most of the litter from being spilled out as they cover their business. Really the only litter that leaves the box is the litter that is stuck to their feet. The box is also pretty easy to clean since litter doesn't really stick to it. I would buy this again, but probably in a bigger size.
---
By Petdoc on Feb 4, 2022
Expensive for the quality
I purchased this box for the translucent lid. My elderly cat stopped using the covered box she always used. I thought it could be due to her failing eyesight and that the translucent lid would allow light in and make her more comfortable. I was disappointed when I received this box. The plastic is very flimsy/poor quality and not sturdy at all, including the 4 clips that hold the lid in place. I don't think this box will hold up long. The other issue - the large manufacturers sticker on the flap left adhesive behind. Even after soaking it for over 24 hours and using alcohol, it's still sticky. I wish there were more options for translucent hooded litter boxes.
---
By Jack on Mar 27, 2022
Very unhappy
Very unhappy with the quality of this box. One box broke just carrying it with fresh litter in it. Another box broke when I dropped it while it was empty. DO NOT PURCHASE THIS PRODUCT.
---
By Hugiez on Feb 22, 2022
Nightmare!!
I started buying these 5 yrs ago because of the size and they use to be sturdy. However, 3 yrs ago I noticed they started becoming flimsy and now they're even more flimsy and break 100% of the time. Last 3 I bought arrived broken.
---
By larledav on Feb 8, 2022
Lid broke quickly :/
Expensive considering the lid broke quickly. Our cat is small and likes to jump on top of the litter box. This lid was very short lived. Disappointing.
---
By Litter on Nov 25, 2021
Just OK. Not good quality on cover clasps.
I've owned several enclosed litter boxes and this is by far the worst quality. Specifically the clasps that lock down the cover are very cheaply made and are thin, barely locking down. You can't rely on being able to use the handle to pick up the litter box.
---
By mojo on Feb 4, 2022
Wonderful litter pan!!
This litter pan is great. No more litter all over the floor. It snaps on & off for cleaning, it is great.
---
By SophieD on Feb 15, 2022
Van Ness Translucent Litter Pan
The kitties love the pan and I love the pan. I purchased two and I am glad that I did.
---