Vetoquinol Viralys Powder Immune Supplement for Cats
Autoship
(Save an extra 5%)
Choose Autoship at checkout for regular deliveries.
Why Autoship?
FREE access to chat with licensed vets 7 days a week.
Save 5% on all future Autoship orders.
No fees, no commitments - cancel Autoship anytime.
Frequently Bought Together
---
About This Item
A highly palatable L-Lysine HCI Nutritional oral powder for cats that may be sprinkled over dry food or mixed with a small amount of canned food
For cats and kittens as a nutritional supplement for conditions responsive to Lysine such as upper respiratory problems or feline herpes.
This powder will also help reduce inflammation of the eyes, conjunctivitis (eye discharge), squinting sneezing, sinus congestion, and so much more.
This L-Lysine supplement is specifically developed for cats and kittens and contains naturally occurring amino acids
Made in the USA and manufactured according to rigorous pharmaceutical standards, L-Lysine powder can be safely administered with no known side effects for as long as required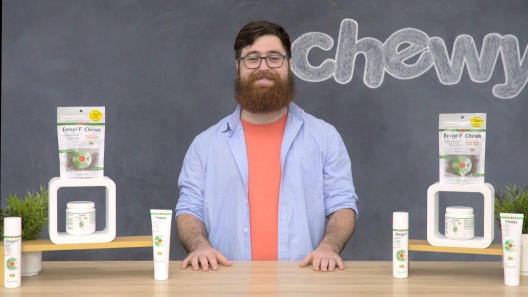 Learn More About Vetoquinol From Our Team of Experts
---
---
Trusted Immune System Support
Adding L-lysine as a supplement to your cat's diet is an easy way to help support her long-term health. As a market leader with a wide range of L-lysine products, Vetoquinol puts this active ingredient in tasty chews and bite-size morsels, plus paste, gel and powder form so you can find the best way to offer it to your kitty. These supplements are specifically designed for felines to support the immune system, and maintain respiratory an
Seal of Quality
Out of thousands of animal supplement companies, only a hundred are audited NASC members, including Vetoquinol. That means they've undergone a comprehensive quality audit to earn the NASC Quality Seal. Displaying this seal on their products means that you can rest assured that they are committed to following the highest current standards of quality in the industry.
Enisyl-F & Viralys Products
Specially formulated Enisyl-F was the first lysine-based nutritional supplement developed for veterinary use for kitties. Supplementing with L-lysine is helpful for managing the symptoms of upper respiratory infections in kittens and cats that were strays, and those in shelters.
Chews
Veterinarian formulated to deliver just the right dose in a treat with cheese, chicken, liver and hickory smoke flavors.
Bites
Tiny mouthfuls of L-lysine disguised as a delicious snack with savory chicken fat and chicken liver.
Oral Paste
Highly palatable paste that can be given by mouth, mixed with food, or even applied to paws for your cat to lick off.
Oral Powder
Delivers L-lysine HCl in a powder with fish and poultry liver flavors that cats crave—just sprinkle it on top of food.
Oral Gel
Cats only need a small amount of this extremely palatable gel to get the benefits of L-lysine HCl.
About Vetoquinol
Vetoquinol is a family-owned company devoted exclusively to finding innovative solutions for animal health issues. They've shown more than 80 years of dedication, researching everything from oral hygiene to urinary and kidney health to create products that are effective and safe for the pets you love and care about. Founded in 1933 with an expertise in pet pain management and veterinary resources, Vetoquinol has gained the continued trust of pet parents and vets worldwide.
Shop Vetoquinol
---
Questions & Answers
40 Customer Questions
---
What kitchen-friendly unit does a gram scoop convert to? For example, is "one rounded scoop" something like a teaspoon? Tablespoon?
Answer by • May 30, 2018
One rounded scoop is equivalent to one teaspoon.
---
I have the gel and chews but they have sucrolose sweetners. Two of my kitties are diabetic one diabetic and hypothyroid. Your powder has lysine only listed on ingredients. Is this all that is in powdered form?
Answer by • Nov 30, 2017
This product contains L-Lysine Hydrochloride as an active ingredient. The inactive ingredients are Brewer's Dried Yeast, Hydrolyzed Fish (enzymatic), Hydrolyzed Poultry Liver (enzymatic), Mixed Tocopherols (a preservative), Sodium Acid Pyrophosphate, and Sodium Sulfate.
---
Can this product help prevent urinary tract infections and Crystals like the powder with the cranberry? Thank you
Answer by • Sep 22, 2017
The cranberry phenols help prevent bacteria from adhering to the bladder walls and acts on as preventative for UT infections so it doesn't work for crystals since it has no effect on urine pH. Also, L-lysine has no effect on urinary tract infections. However, this product is used more managing herpes virus in cats.
---
Is there any difference between L-Lysine and L-Lysine HCL. We have been giving our cat L-Lysince, but I see that Chewy only has L-Lysine HCL.
Answer by • Jul 29, 2018
The HCl denotes that the lysine is present as the hydrochloride salt. Salts changes the properties of the lysine, making it more soluble.
---
---
---
By Brutus on Jul 20, 2022
Love it, it's wonderful stuff!
The past year my cat (8 years old) has started sneezing. Take her to the Vet, get meds, she's good for 2 - 3 months and the sneezing starts again (herpes related) and we are back to the Vet. I can't keep bringing her to the Vet., it's expensive! I wanted to give her Lysine treats again, she ate them just fine when she was younger, but won't touch them now. The gel Lysine stuff she just flicks off her paw. So I thought I'd give the powder a try. This one had good reviews. She's been taking it almost a month now. She's not sneezing like she was. I wasn't sure how fast that would kick in. So far I'm very happy and very impressed with it! Thank you!!!!!
---
By Crazycatmom on Jul 23, 2022
Babies need lysine
I have 2 of my 5 babies who have chronic respiratory herpes. One takes the Viralys liquid very well but the other is a battle and winds up with most in her fur not her mouth. So my Vet recommended using the powder in their food. Well no luck. Neither will eat if I mix it in their food. And I can't say I blame them. When you open the container it smells like dirty feet. If I find the smell repulsive I'm sure my babies do too. If the liquid is maple flavored why can't they make the powder the same way? I won't be buying this again.
---
By Meowees on Jul 28, 2022
Best option of Lysine IMHO
Vet recommended Lysine for our cat that had a URI and his extended kitty family that was exposed to him. We tried Lysine treats, paste and liquid form but the powder was the only thing that any of the cats would tolerate. I mixed it in their Delectables. It's a good item to have on hand.
---
By Vetoquinol on Jul 6, 2022
Keeps flare ups controlled
One of our cats get respiratory flareups with runny nose, crusty eyes, etc. We tried rounds of rounds of medication with little to no help. This product doesn't completely prevent the flareups but it has reduced them a lot. Easily dissolves into a bit of wet food and he doesn't notice it at all!
---
By Nikki on Jul 24, 2022
Worked great with my feral cat
I have a feral cat that lives inside my house, she recently had an eye infection. I knew I wouldn't be able to apply eye meds so I sprinkled this on her food twice a day, her eye infection was gone within 7 days.
---
By FelineHerpes on May 8, 2022
Feline "Herpes": VIRALYS immune system supplement
We have a healthy large (20-lbs)14 y/o male cat, who when he was a little over a year old, and while we were living in MX at the time had a severe "herpes" viral infection that clouded over both of his eyes. We and our cat were very fortunate that the local vet. was a graduate of UC-Davis and was very familiar with feline herpes infections, and this vet specially compounded anti-viral medications into eye drops for our cat. It took a month of giving those eye drops three times a day, but the treatment was a success and the cloudiness and lesions of our cat's eyes completely disappeared and his eyes became clear and bright again. The vet's wellness maintenance instructions to try and prevent a future herpes outbreak (BECAUSE HERPES IS "FOREVER") was daily doses of VIRALYS feline immune system supplement, which we have given our cat for 12 YEARS at this point without any reoccurrence of a herpes outbreak in his eyes, mouth or nose!
---
By Breathing on Aug 10, 2022
Coughing aid
My cat has very sensitive lungs. Since I switched to this breathing aid on the dry food she's had absolutely no issues at all!
---
By Phoebe on Aug 1, 2022
Helps keep my kitty healthy
I've been ordering this from Chewy for several years and have not been disappointed in product, price. Or delivery.
---
By Nanscubagirl on Apr 26, 2022
Helping my kittens
My rescue kittens had a recurrent upper respiratory infection, likely due to FHV-1. I noticed a difference after giving them this supplement (in addition to their supportive antibiotics to prevent secondary bacterial infection). When they were old enough to receive the full adult dose, the improvement was even more pronounced. I'm a fan!
---
By Jamie on Apr 6, 2022
Vet recommended
The vet prescribed this to my kitten(3 months at time) who was adopted with coccidea and herpes virus. He's now almost a year old and thriving. He gets the powder as directed in his wet food, the smell is strong to us but he doesn't seem to mind it. He has had a few occasional flair-ups of herpes virus but it's cleared up on it's own within a day or two. We've only had to take him to the vet for eye drops once or twice since starting the powder.
---