World's Best Unscented Clumping Corn Cat Litter
Autoship
(Save an extra 5%)
Choose Autoship at checkout for regular deliveries.
Why Autoship?
FREE access to chat with licensed vets 7 days a week.
Save 5% on all future Autoship orders.
No fees, no commitments - cancel Autoship anytime.
Frequently Bought Together
---
About This Item
This natural litter delivers long-lasting odor control to help keep your home smelling clean.
A quick clumping formula that's easy to scoop with no scraping necessary!
Flushable and safe for most septic and sewer systems for easy litter box maintenance.
Completely lightweight and 99% dust free, which means less mess and cleaner air.
Made from whole kernel corn and 100% free from harmful chemicals and artificial perfumes, so it's safe for pets, people and the planet!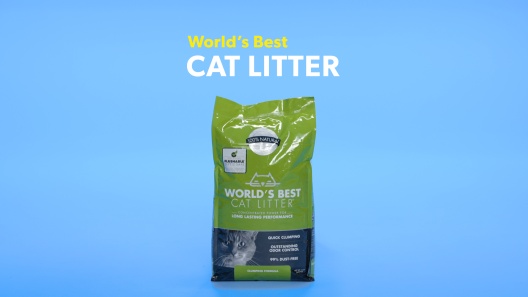 Learn More About World's Best From Our Team of Experts
---
Compare Similar Items
| | | | | | |
| --- | --- | --- | --- | --- | --- |
| | | | | | |
| Customer Rating | | | | | |
| Price | | | | | |
| Autoship | | | | | — |
| Litter Feature | Unscented, Flushable, Odor Control... | Clumping, Odor Control, Flushable... | Clumping, Odor Control, Flushable... | Clumping, Odor Control, Scented, Dust Free | Clumping, Odor Control, Scented |
| Packaging Type | Bag | Bag | Bag | Bag | Bag |
| Lifestage | Adult | Adult | Adult | Adult | Adult |
---
Questions & Answers
29 Customer Questions
---
How bad does this litter track?
Answer by • Mar 28, 2018
This quick clumping cat litter provides maximum odor control while minimizing dust and tracking around your home.
---
What is the difference between "scoopable" formula and the "clumping" formula?
Answer by • Jul 09, 2017
All versions of the World's Best Cat Litter are clumping and scoopable. The Clumping Formula has good odor control and forms tight clumps. It is ideal for 1-2 cats. The Multiple Cat formula is just like the Clumping Formula but has additional all-natural plant material for enhanced odor control to stand up to mutiple-cat homes.
---
What is the difference between the following formulas that are both in the green bag: Advanced natural made from plant fiber and the long lasting performance mad from corn. What does the corn do that the plant fiber doesn't do and vice-versa.
Answer by • Jul 10, 2017
This formula is the corn-based Clumping formula which is unscented. The other World's Best Cat Litter that comes in a green bag is the Natural Pine Blend Clumping Formula. It is made of Pine, Wood and Corn and has a fresh pine scent. Both litters are silica free, 99% dust free, and are flushable.
---
Who has a septic tank that has used this? Any problems with flushing it, is it truly safe for septic use?
Answer by • Jul 28, 2017
This flushable formula is safe for septic and sewer systems but it's advised to check with your local ordinances prior to flushing.
---
---
---
By StriderPeace on Jul 1, 2022
Excellent Product-no smell
We originally bought this litter for an elderly friend who wanted flushable litter. She lived in an urban area and the litter worked for her as promised — no odor and easily flushes down the toilet with no clogs. Later, we purchased this litter for our cat litter boxes. Again, there is no odor and this litter is easy to clean. Since we are on a septic system, we do not flush it, but think we probably could. My husband and I have sensitive noses and we never smell cat odor when we return home. We prefer the un scented version but have tried the scented with no issues (cats use it just fine). We just prefer the un scented.
---
By CherMayo on Jun 15, 2022
Blind Cat Approved
First of all I've tried them all I think. When I found my 20yrs Rescue cat (I only got to Love him 5 mo). impacted with Clay, It Broke my Heart and I felt awful & still do. We don't normally check the feet of cats.. so after Endless research I decided to try The Worlds Best Cat Litter.. and it is. Now, I don't find anything stuck between my Cats paw , he's Blind and Loves this brand.. I've used another brand in a pinch, a gift at the time.. all I could smell was chemicals and urine and of course had to wash his paws. Luckily I got paid and Bought this. We need to think about the chemicals,& convince of products, These animals are helpless to make their own Choices, so research is needed. I Love this brand, In memory of "PaPa". Chose clay free corn litter. The worlds Best Cat Litter
---
By Anne on Jun 22, 2022
Too Powdery - Dusty
I finally just this bag of litter and it was a nightmare. The corn litter is so powdery/dusty, whenever I scooped litter box, I was inhaling The corn powder and my hand would be covered with fine powder. When my cats came out of the litter box, there were literally paw marks on my wooden floor...lol The only reason I finished the bag is because I don't want it to go to a waste. I recently ordered a bag of pine litter, going to see how that works /feels for my babies and me.
---
By KittyKatMomma on Jun 9, 2022
Yukkiest Kitty Litter Ever!!
This litter is gross. It does not help with odors and, in fact, smells disgusting just by itself. I clean my cats' boxes every day. When I noticed gnats around my plants in another room, I started battling that problem. A few days later, I found one of the boxes swarming with gnats despite being less than 24 hours since last cleaned. Why not? The litter is made of corn. Never again!!! I returned to using a clay-based clumping litter. This ended the nasty smell and the box full of gnats. I would NOT recommend this litter to anyone!!
---
By Joshua on May 31, 2022
Good but probably not the best
First of all this litter does the main thing I want it to do, which is to not track. The only time there is substantial litter off the mat or out of the box is if my cat gets scared/excited and runs out. Also the option to flush this litter is awesome, I haven't had any issues for the 3 weeks I've been using it other then needing to flush twice a couple times. However there are some major drawbacks to this litter, first of all it has a particular odor, I wouldn't say it's a bad smell, but it isn't a good one. Which leads me to it's ability to cover up smells, or lack of in this case. If my cat poops depending on the size of the movement, I have to empty the litter box to not get overwhelmed (the litterbox is in the bathroom attached to my room) as the two smells fight each other. This is also a very dusty litter, my solid black cat comes out with tan paws every time he uses the litter box. The last thing I would like to mention is my cat seems to like to occasionally take a couple nibbles of this litter, as it's made of corn and breaks a part if ample water is applied to it (the flushable feature) I haven't really tried that hard to stop him and it hasn't seemed to bug him, but it is worth mentioning. The last negative I will say is it's price and claim that it lasts twice as long as other litters, I got an 8 pound bag and have just dumped the last of it in the litter box right around the 3 week mark which I expect to last a little over a week as it was a small amount mixed with the old litter. To summarize it does do what I want it to do but it has far too many draw backs for me to justify spending double of what regular litter cost to purchase this specific brand.
---
By Cleo on Jun 28, 2022
Convenient but Messy
I really like the convenience of a flushable litter so am trying to find one that is suitable. This product did well but got a very fine powder all over my cats paws that has left pawprints all over my apartment... on the floor, furniture, clothes, etc. This hasn't been an issue I have experienced with other litters.
---
By Carl on May 30, 2022
Too much dust
I have used this litter for years but am having a BIG problem with dust. It tracks out of the utility room into our living room and beyond. I have mats and cloths down but it still tracks. Have to vacuum every day. My daughter has the same problem and we are wondering if it has to do with shipping , maybe the litter is thrown around and gets mashed causing the dust. This happened a few years ago and I called World's Best Litter who sent me coupons and were very interested. It seemed to get better for awhile but now is worse than ever.
---
By tbee on May 21, 2022
One of the worst
I've had cats over 17 years and always used another brand. I was recommended to try this by a few people so I did. I will never use it again. It's great the first few days then it starts to smell like pee. I keep the litterboxes very clean, every time they go (when I'm home) and the urine smell is so strong you can smell it when you walk into my house. I've never had that problem. And it starts to get crushed up then I see little paw prints everywhere from the dust on their paws. I'd have to change the whole litter pan weekly in order for this to be any good. I'm going back to my usual brand.
---
By gretnagreen on May 28, 2022
Truly the best
Our home has used this litter for over twenty years, and mostly for several cats at a time using one litter box. There have been no refusals to use; no aberrant behavior around using the litter; no sensitivities to or allergies to the litter. We have had tiny kittens at times, and this is extremely safe for them to use instead of clay litter. It is the best, and although it is expensive compared to other types, I would never use anything else.
---
By Catmomof4 on Jul 3, 2022
Truly Worlds Best. Only one for us!
We have 4 cats in a NYC apartment. How this happened is another story. We have tried all kinds of litter and found this to truly be the best. Easy to scoop and FLUSHABLE! Big perk. Chewy delivers 28 lbs to our door every 2 weeks. Timing is perfect!
---