Frequently Bought Together
---
About This Item
Provides a safe hiding area and sleeping den made with natural fir with no plastics or resin.
Perfect for reptiles, amphibians, and other small animals to lounge, sleep, play, and even climb.
Provides a touch of nature and helps reduce boredom and stress from being in captivity.
Perfect for tortoises, ferrets, guinea pigs, hedgehogs and other small animals.
Ideal for any terrarium environment, and can be used with moss inside to provide more humidity.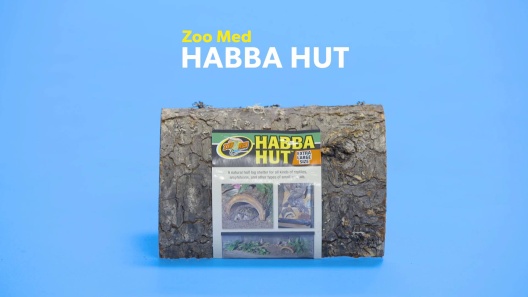 Learn More About Zoo Med From Our Team of Experts
---
---
Questions & Answers
15 Customer Questions
---
How do you clean/disinfect your hut?
Answer by • Nov 29, 2019
To clean this hut you'll need to spray ( mild dish soap, vinegar or other non-toxic multipurpose cleaner, diluted with water. Wood has a natural antibacterial quality so they will not be as effected by germs), wipe with a cloth and warm water, then air dry.
---
Would it be safe to put this in an oven on a low temp to kill any germs on it?
Answer by • Jan 10, 2019
The Habba Huts are treated to California Department Of Agriculture specifications before we receive them. After these products leave their facility, they recommend that the huts be rinsed off really well before placing them into their enclosure.
---
Can this be put in water for aquatic turtles?
Answer by • Jul 14, 2017
This product is intended to be used in any terrarium environment, and can be used with moss inside to provide more humidity.
---
Can this be put underwater?
Answer by • Jul 14, 2017
This product is ideal for any terrarium environment, and can be used with moss inside to provide more humidity but isn't recommended for use under water.
---
---
---
By Jeff on Aug 30, 2021
"Extra large not accurate" - too small for my box turtle - Zoo Med wrong info.
The measurements for the width - measures the outer edges but the mouth is 5 inches - too small for my turtle to turn around. Further the inner height is slightly over 3 inches - again very tight. This is described by the manufacturer as "Extra Large". It is not. I wish Chewy had the Zoo Med "Giant". Well made product but not as described. Not Chewy's fault but Zoo Med. Will donate this to a turtle rescue group.
---
By Luckyhorse on Aug 9, 2021
Perfect shelter
We have two juvenile greek torts. They love these and prefer to hide in them more than any other shelters in their home.
---
By KcJones on Jun 3, 2021
Good for lizards and my snake
Wish you could fit a tortoise under it but with that said my rat snake likes it. She's a long girl but still gets all of herself underneath it. I also have skink who likes to hide under his.
---
By kate on Aug 3, 2021
small not an extra large
said it was an extra large it's tiny. at least he can climb on it but not go in it.
---
By Manytails on Feb 9, 2021
Versatile and durable
I have previously purchased the much larger version of this for my boa who loves to hang out in it. But purchased this one for my guinea pigs. My smaller one likes to hide in it, and the other loves to climb on top of it. Thinks she's climbed a mountain and looks very pleased with herself!
---
By Chel on Feb 3, 2021
Half log for reptiles
A little larger than I expected for a size medium, but that's better than smaller than expected for sure. Very good quality, my snakes absolutely love it so I love it too. Definitely worth the price.
---
By ANNETTEPET1 on May 10, 2021
This product is alright
I bought this and my leopard gecko lik es it. Though the price is high.
---
By familyzoo on Jan 16, 2021
BB's hideaway,
Bought this for our blue tongue skink, BB, He loves it. He hides in it and when he is shedding the crawls over the top to help loosen his skin. Smooth on the inside and just enough texture on the outside to do its job
---
By Willow on Oct 27, 2020
Awesome hut/hideaway for bearded dragon
We have a 75 gallon terrarium. Our juvenile bearded dragon Willow loves the zoo med Habba hut. She goes under it to cool down from her basking lamp or to sleep. She also enjoys climbing over it. It is a good size and will still work for her once she is a full grown adult.
---
By IMLC on Jan 16, 2021
perfect for my bearded dragon
I was worried about the size but it is perfect for my adult bearded dragon. He loves it and it looks nice.
---