Arm & Hammer Swivel Bin & Rake Backyard Waste Pickup
Frequently Bought Together
---
About This Item
Large capacity swivel bin is great for quick and fast multi-waste pickup, perfect for multiple pet households.
Ideal for all surfaces — concrete, grass, etc. — so it's ideal for cleaning up your entire outdoor area.
Extends to over 32 inches
Two bonus waste bags included that are infused with activated baking soda to neutralize odors and leave a fresh scent. Compatible with Arm & Hammer heavy duty waste bags.
The bags hook to either side of the swivel bin so you never have to touch waste or debris, a completely sanitary solution to ridding your environment of waste.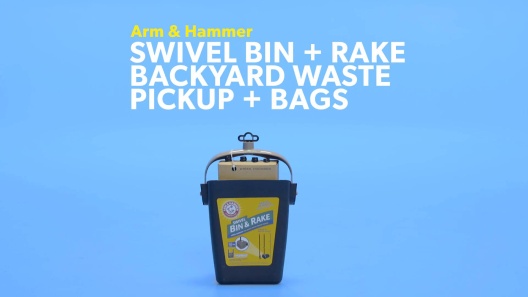 Learn More About Arm & Hammer From Our Team of Experts
---
---
Questions & Answers
12 Customer Questions
---
Will the grocery store plastic bags work for this item?
Answer by • Oct 09, 2017
It is recommended to use the Arm & Hammer Swivel Bin Waste Bags (item 70669). They are 2x stronger than standard grocery bags.
---
Does this come In a Larger size???
Answer by • Feb 18, 2018
At this time, this product is only available in one size, 36 inches long (fully extended handle) x 8 inches wide x 4.5 inches high.
---
Does this come in a larger size? The only fault I have found w/ it is that if one has several dogs it fills up so fast one is frequently having to put in a new bag way before the one that fits this relatively small size bin is actually full.
Answer by • Feb 18, 2018
The Swivel Bin does not come in a larger size for larger pick ups.
---
what size are the bags?
Answer by • Feb 26, 2019
The Swivel Bin Waste Bags are approximately 12 inches x 7 inches x 22 inches and .9 millimeters thick.
---
---
---
By Christel on Nov 23, 2022
Works great!
I'm staying with my parents temporarily, and they were either driving over their dogs' poop with the lawnmower or using a shovel. Now that it's cold & rainy they're not mowing the lawn and I wasn't about to deal with the shovel, so I ordered this. It's awesome. I wouldn't say it makes picking up poop fun, but it's much less of a chore. I used to have a similar scooper with more of a hoe tool, but the rake works so much better. It even easily scraped up some old piles that had been rained on & looked like they'd be difficult. Separated it from the grass with ease and didn't damage the grass in the process. Highly recommend! Note when putting it together: it may seem as if the pieces won't stay screwed together at first. Give it one more turn and you'll hear a click when it locks.
---
By Jodi on Nov 13, 2022
Would not recommend
The idea of this product is great, however, this actual model is very cheaply made and too small. The rake is made up of multiple parts that you twist together. It's very woobly, like it's made of rubber. Pieces unscrew from time to time and it's too short, even for an average height person so you have to bend down. The bin fills up quickly and dog waste spills out when you try to put up more.
---
By Beverly54 on Nov 15, 2022
Dog owner
I have owned this for going on 5 year now. It has worked great. The only problem is finding the bags that fit. Grocery store bag work, but kinda big. The pet stores don't carry these bags anymore and have to order them on line. Other than that it still works for me!
---
By Janay on Sep 19, 2022
Not a good size
I was very disappointed when I received this. I purchased it to replace an old one that broke and it's so small that it might hold 2 piles of poo. I have a golden retriever and this is completely useless for cleaning up after him. The pole for the rake is maybe 1/2"-3/4" in diameter so I don't imagine it would last long before breaking. I wish I could find the one I had bought that lasted me 4 years.
---
By kitten101 on Oct 19, 2022
dog mess clean up
It's really short and doesn't hold much. It's definitely good for only temporary fix,to clean up after your dog. Bags don't stay in it. And since it's hard plastic feed like it's gonna break easily.
---
By BusyBee123 on Nov 23, 2022
Works well
Easy to use and follow the puppy with outside. Holds more than expected and makes keeping the yard clean a breeze.
---
By Kayla on Jul 15, 2022
Nice idea but too flimsy
The bucket is great and I like how it swivels so stuff doesn't fall out and it's easy to dump. The rake head broke off on my third use. Wish it was made more durable. It's pretty flimsy plastic where it attaches into it's pole, snapped clean through.
---
By Pibblemom on May 28, 2022
Still a favorite
This is my second Swivel Bin & Rake set after the old one having to stay outside in all seasons of MI weather since 2018-and except for a broken clip for the handle it still is in good shape and is on loan to a friend for work. The Arm & Hammer set is a bit thinner and longer than the old one by another company, but holds as much and with 2 pitbull-AB mixes there's a lot to hold. The convenience of being able to just take the bag off without touching anything else is great and makes disposal so much easier. I highly recommend this.
---
By ocdog on May 18, 2022
Arm & Hammer scooper
Wanted to replace our old scooper that was falling apart. I liked this scooper because it is all plastic so won't rust outdoors and like the fact I can hang it up. My only negative comment is that you do have to wrestle with the bag a bit to get in the scoop and on the bin clips. All in all a good scooper.
---
By Katherine on Jun 1, 2022
good scooper
This scooper works well. The only reason I did not rate it a 5 is because the handle seems to untwist slightly. It's an easy fix; I simply keep twisting it back. Other than that, it serves the purpose well.
---