Frisco Steel-Framed Elevated Dog Bed
By Frisco
Compare Similar Items
| | | | | | |
| --- | --- | --- | --- | --- | --- |
| | | | | | |
| Customer Rating | | | | | |
| Price | | | | | |
| Bed Feature | Water-resistant, Outdoor, Machine-washable | Outdoor, Waterproof, Water-resistant, Cooling | N/A | Cooling, Outdoor | Machine-washable, Outdoor |
| Breed Size | Large Breeds | Large Breeds | Large Breeds | Medium Breeds | Extra Small & Toy Breeds, Small Breeds |
| Fill And Frame Material | Metal | Metal | N/A | Metal | Metal |
| Cover Material | Polyester | Polyethylene | Polyester | Polyester | Fleece |
| Bed Type | Elevated | Elevated | Elevated | Elevated | Elevated |
| Pattern | Solid | Solid | Solid | Solid | Solid |
| Bed Shape | Rectangular | Rectangular | Rectangular | Rectangular | Rectangular |
---
About This Item
The perfect resting spot for your dog after a long walk, day of play or just quality time with the family.
Sturdy, powder-coated steel frame and a durable, PVC-coated fabric sleeping surface made to last.
Tight, breathable fabric provides an added level of comfort and support that also keeps your dog cool and won't sag after extended use.
Ultra comfortable bed ideal for use on various surfaces, indoors or outside with skid resistant feet for extra stability during movement.
For quick and easy assembly, watch the Frisco elevated bed video for some helpful tips!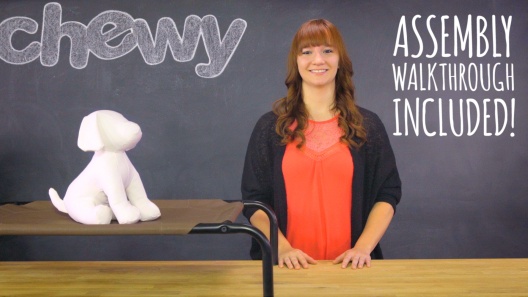 Learn More About Frisco From Our Team of Experts
---
---
About Frisco Elevated Pet Beds
A Throne of Their Own
With Frisco's Elevated Pet Bed, your pup will be living the life of luxury in a bed fit for royalty. It's a comfy, cool spot for him to rest his paws after a long day of tail chasing, spirited barking, and fetching anything and everything for his owner. Whether it's dozing off in the backyard, curling up inside by the couch or hanging out on the porch, furry family members can do it all in the comfort of their very own throne.
Strong and Durable Design
Frisco's Cot-Style Bed features a solid design from top to bottom. The powder-coated steel frame helps keep the bed stable and safely elevated. And the PVC-coated, fabric sleeping surface supports your pet without sagging—even after long-term use. This cover is replaceable and comes in several earthy tones.To keep the bed from sliding when your dog jumps on or off, it's equipped with skid-resistant feet for better stability.
House Nappers and Outdoor Loungers
Wherever you go, your pet wants to go. Which is great, because the Frisco Elevated Pet Bed is easy to assemble and break down for transport. You can set it up next to your favorite arm chair, take it on camping trips, or let your sidekick sprawl out poolside. This versatile bed stays grounded no matter where you place it, and the non-porous surface can be wiped clean after being outdoors.
Staying Clean and Cool
Beds that sit on the ground are vulnerable to dirt and don't allow pets to cool down. The Frisco Elevated Pet Bed lifts your doggy pal off of wet, muddy grass to keep him clean and cool, especially on rainy or hot days. That's good news for dogs with thick fur that tend to get overheated. Air can flow right through the fabric, so your pet will be feeling the breeze (or chilling in the AC).
Elevated for Comfort
Keeping your pet off hard floors and rough outdoor surfaces can ease the stress on your trusty tail wagger's joints, especially in his golden years. Instead of lying down on an uncomfortable hardwood or cement floors that can cause calluses, he'll rest easy on his comfy snoozing spot. And because it sits inches above the ground, it's easier for older pets to hop on or off.
About Frisco
Frisco's quality products are made for and by a family of pet lovers. And they're more than just everyday pet supplies. Crates become comforting kingdoms, potty pads transform into a favorite patch of grass, and potty bags give the signal that it's time to take care of business. From comfy mats and cat trees to potty time essentials, Frisco provides practical solutions for today's devoted pet parents. The entire Frisco line is available exclusively at Chewy.com!
Shop Frisco
---
Questions & Answers
44 Customer Questions
---
Does water or urine flow through this material or does it sit on top until dry?
Answer by • Jul 26, 2017
The elevated beds are semi-permeable so liquid will go through, though large volumes of fluid may pool. However, the beds can be wiped down if wet.
---
How easy is it to assemble
Answer by • Apr 04, 2018
When the instructions are followed, this bed is relatively easy to assemble.
---
Is this a quick drying, mesh fabric? Looking to use while camping.
Answer by • Aug 11, 2018
The PVC coated fabric adds water-resistance and durability that makes this a great option for outdoor use. It can also be cleaned easily.
---
What is the size of the actual mesh part?
Answer by • Feb 18, 2021
The sleep surface of the Small is 21.8 inches by 28.3 inches, for the Medium is 25.8 inches by 35.74 inches and for the Large is 31.8 inches by 43.7 inches.
---
---
---
By Sarah on May 19, 2022
Unnecessarily Difficult to Put Together
It took me an hour of trying before waiting for my husband to get home and help me, and even then took almost another hour to get this thing put together. It can't be built the way the instructions say, you have to work it at an angle. Super annoying. But, now that it's built, it works fine and serves its purpose. Also wish there was more color options, but what can you do.
---
By Kaybee on Apr 15, 2022
Very nice cots.
I bought two large cots for my dogs. They love sunbathing, so I thought this would be a lovely gift. Only one of my dogs will even get on them. My old man dog lays next to it instead of on it. I'm hoping he will come around. And as someone said in a previous review, I'm guessing the instructions have been updated because it took me about 20-25 minutes to put them together. Someone noted that their cot was uneven, and the first one I put together was the same. I just loosened one of the screws by a hair, and it resolved that problem. They feel very sturdy, and I think they will be easy to clean. Even though my dogs haven't warmed up to them yet, I am still satisfied with this purchase.
---
By Keke on May 11, 2022
Not that great
I purchased this to have something for my pup to lay on outside instead of being on the ground. I put it together with a little bit of difficulty. My issue is that the cover is not as taught as I think it should be. It says in the middle and with repeated use it's starting to sag more. Might not get as much use out of it as I thought. Disappointing!
---
By AspentheArab on Apr 5, 2022
Wonky bed that is difficult to assemble
Unfortunately I have to give this bed a negative review. Was hoping my German Shepherd would love it as it would keep her elevated and provide some airflow for her. This bed was so difficult to assemble... My 13 year old daughter and I couldn't do it alone and had to wait for my husband to get home to strong-arm it into the position the directions called for. I thought perhaps we got the wrong hardware but now looking at other reviews this seems to be a problem with others as well. I cannot put the bed on our hardwood floor as it just slides all over when she tries to get on it but any time it is moved the entire frame twists and doesn't sit flat. Would not recommend. Maybe try a different brand.
---
By MANGO on Mar 30, 2022
10month old German Shepard Approve
I got a Large/Brown for my Mango!, He currently weighs 86lbs. At first he didn't want anything to do with the darn thing. I gave him his favorite chew and enticed him to get on it and then gave him free scratches and praise him and just stood next to him.He relaxed and then grabbed his chew and started going at it while laying down. He Loves it so far(I will update in a month or so from now) Putting together this bed was simple. You are getting 8 pieces of parts to assemble the frame (btw each of these pieces have letter stickers on them to help you coordinate throughout this project with a 4 page instruction manual/ 4 Durable screws that comes with a little tool that helps you apply the screw accordingly/ and the mesh base bed. I will definitely buy this again ! Because the price is just reasonable!
---
By JanV on May 7, 2022
LOVE this Bed
This is an excellent bed. I use it inside and outside. My Australian Labradoodle loves to lay on it when outside. It keeps him off the ground, away from critters, and keeps him dry/clean when ground is wet. My son has 2 beds: 1 for in the house and he uses the 2nd bed as "Home Plate" to train his Labrador Retriever.
---
By Faune on Mar 26, 2022
Least Durable Bed I've Ever Bought
We purchased several of these beds to be used by our dogs (both personal and fosters). Though they are easy to put together and look nice, they don't stand up at all to normal wear and tear with active dogs. On one of the beds, the meshing came apart at the seams in a month. The dog did not chew it, and was under the weight limit. The other beds all fell apart within three months at the connection points of the legs. The screws used to hold the bed together are not strong enough at all for dogs to jump on and off the beds, roll around or play on them, and use them in other typical ways. We are incredibly disappointed and will never purchase these beds again. We are now wary of Frisco products, we can't afford to keep investing in items that don't hold up. We had bought these through our business, and would NOT recommend them to clients or partners. Unfortunately, they were a complete waste of money.
---
By Cmetzle on Apr 2, 2022
Good idea but not made well
Ive had this bed for about 6months now. I like the idea of this bed because it's light, easy to clean, can easily take places. I used it when we went camping and day use at horse shows for my dog to be up off the ground. Unfortunately the material has come apart and therefore the mesh bed has completely come away from the frame rendering it useless. Not an expensive item so can easily order another, but would have liked it to have been made better. Maybe try your luck with a different brand
---
By Meeks on Mar 12, 2022
Long lasting outdoor bed
I've had this bed now in grey for over two years. Two dogs, two cats, one toddler, & multiple rainstorms later it looks the same as when I bought it. For that it's an easy 5 stars. My dogs are now 80 & 50 pounds, and again it hasn't even made a dent or stretched out the material. My son sits on it, steps on it- no damage. There's no rust from being outside in the rain (it has been mainly under the awning although it's near the edge & definitely still gets rain on it). Because of the material it doesn't get dirty. It's reasonably pleasant to look at- although now I see there's an option with silver legs which I think is a better option than the black as far as aesthetics go. It's stood the test of time for sure- but beyond that I'm not kidding when I say all creatures love this thing. My dogs love it, my cats love it (when they go outside), and my kid loves it. And icing on the cake- it's very reasonably priced and affordable. There's not many things that I can look back years later and say yes- this was a great purchase- but this is one of those things.
---
By Matt on Apr 21, 2022
Difficult to put together never fit right
I found this VERY difficult to assemble. Maybe I am just not strong enough but I couldn't stretch the canvas enough to get the last bold in place. When I did finally get it together it will not sit flat one leg sticks up in the air because of the tension on the legs. Just seems like a weak design.
---