Frisco 65-in XXL Heavy Duty Cat Tree
Frequently Bought Together
---
About This Item
Extra-large heavy-duty cat tree for extra space and more feline fun.
Includes spacious platforms, cat condo, cozy basket hammock, and an extra large perch bed.
Sisal posts to encourage healthy scratching sessions.
Rope and hanging ball toys to entertain kitty hunting instincts.
Removable, machine-washable bolstered perch bed cover.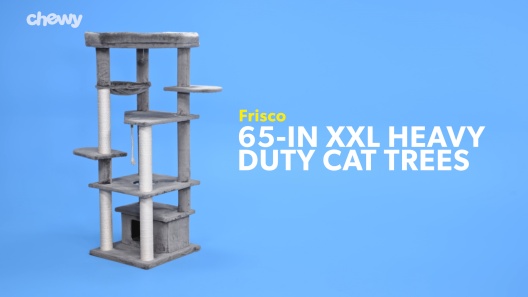 Learn More About Frisco From Our Team of Experts
---
Compare Similar Items
| | | | | | |
| --- | --- | --- | --- | --- | --- |
| | | | | | |
| Customer Rating | | | | | |
| Price | | | | | |
| Cover Material | Faux Fleece, Sisal, Plant Material, Synthetic Fabric | Faux Fur, Synthetic Fabric | — | — | Faux Fur, Synthetic Fabric |
| Furniture Features | Condo, Removable Bed, Hammock, Hanging Toys | Condo | Hammock, Condo | Condo, Modern | Condo, Hanging Toys |
| Furniture Frame Material | Engineered Wood, Wood | Engineered Wood, Wood | Engineered Wood, Wood | Engineered Wood, Wood | Engineered Wood, Wood |
| Height Range | 60 inches to 69 inches | 60 inches to 69 inches | 60 inches to 69 inches | N/A, 60 inches to 69 inches | 31 inches to 59 inches |
| Tools Included | Yes | Yes | Yes | Yes | No |
| Number Of Condos | 1 condo | 2 condos | 2 condos | 2 condos | 2 condos |
| Furniture Mount Type | Free Standing | Free Standing | Free Standing | Free Standing | Free Standing |
---
Questions & Answers
24 Customer Questions
---
Is this built for full grown athletic cats (15lbs)? Or are the perches too small/worry about falling when there are imaginary things chasing him onto the tree?
Answer by • Jul 04, 2020
Frisco cat trees are made for cats of all sizes and life stages.
---
It looks like the basket is secured to two of the posts instead of just one like on other cat trees, is it really secure to two posts instead of one?
Answer by • Aug 02, 2020
This cat tree features a hammock connected to two posts.
---
What are the dimensions of the hammock and what are the dimensions of the very top perch with the bed?
Answer by • Jun 25, 2020
The diameter of the hammock is 16 inches. The top perch is approximately 23.5 x 23.5 x 4 inches.
---
are the scratching posts wood not cardboard?
Answer by • Nov 25, 2020
The perches, base and housing is made of engineered wood, the posts are cardboard covered in sisal and the plush covering is polyester.
---
---
---
By GrandePurrito on Jul 31, 2022
My chubby baby loves this!
My last cat tree was the Kitty Mansions brand and it was made for smaller cats I think and so it didn't last very long, maybe a year until everything was scratched up and all wobbly. So this time, I bought this heavy duty XL tree and for the price, it is WORTH it! Thanks to all the reviews previous to mine, especially the pictures of the Maine Coons because it was what helped me decide to buy this tree for my kitty! My cat is 10 years old and loves to play like a kitten even though he is a "hefty tiger" (I like to call him) This tree is different from other trees! It is sturdier, made better, doesn't wobble and is bigger for bigger cats! I love it and so does Gabriel(The cat) As soon as I guided him towards each floor, he got it and went to the top. Cats like to be up high. It makes them feel more secure. And since we live in a small apartment, I knew that I needed accommodations that wouldn't break the bank or involve nails in a wall. It DOES come with a wall mounting kit if needed though! This tree also came the very next day after I ordered. I love chewy.com
---
By Ekd915 on Jul 20, 2022
Absolutely perfect!
I have a 12 year old chubby lady and a spunky 15 week old kitten. I got this one specifically so my 12 year old can get on the top tier, as most cat trees only have 1 pole holding up the top level. Seeing that she is 14 lbs (she has a very short stature but looks like a bowling ball with legs) I wanted to make sure I had something that she would feel safe on. First, it took me about 30 minutes to put together by myself. Second, it is VERY sturdy. Third, my cats love it so much!! My older cat is kind of scared to go higher than the middle tier, but my kitten pretty much lives on the top tier and the little circle basket. I have recommended this to so many friends and a few have ordered and felt the same way. You CANNOT go wrong with this one!!
---
By MrsQ on Aug 7, 2022
Multiple Cat Friendly
We have 3 rescues and our previous cat trees only allow for 1 really good spot to look outside. One tree can fit all 3 cats on the platform, but we have a grumpy cat that wont share. She swats at the other 2 anytime they try to sit next to her. She's rude. This cat tree allows grumpy cat to be up top and the other 2 have the bowl, middle shelf, or side table to sit on and still see outside. Our largest cat is maybe 14 lbs, so we don't have XXL cats, but she seems very happy to have a bigger bowl to sleep in. She loves that feature on our older cat tree, but it's not as wide as this one. We haven't had it long, but this tree seems very sturdy. It's treat that the top has 3 legs holding it up and there's no area depending on one leg that will eventually get wiggly. The final surprise for us was how much they like playing with the spring ball toy attachments. They make a crazy sound. We did decide not to put the bed cover on the top shelf until they are more used to it. They are a little intimidated to get up there.
---
By Gina on Aug 2, 2022
2 Kitty Approved
Both of my cats love the cat tree. Our large 15 pound black cat was already trying to climb and play on it while we were putting it together (he refused to get off while we tried to pull the completed tree closer to a window). Now between him and our creamsicle cat, they take turns sleeping on the top or in the basket. Kind of wish there were two hanging baskets, but this one is really sturdy and I don't worry about them getting injured by some staple or sharp item. Only 2 things would make it better (other than another basket) - the pillow bumper around the top was a little more stiff and the two short platforms were a little longer. But those are my thoughts - my boys love it as is.
---
By Jewels on Aug 5, 2022
Better than most
Let me start by saying I've owned a lot of cat trees in my lifetime & "they don't make 'em like they use to". I feed my cats on the tree to keep their food safe from the dog. This is nothing new for my supersized cats & we've never had a "get used to it" phase. With these newer trees I find myself buying a new one every year because they weaken, tear and become shredded with constant use. I don't mind because the tree is literally being used by one or both at all times. Now, this tree is one of the BEST I've found in recent years for big fat cats. The platforms are nice and large (other than the two side board) with plenty of room for both to sit on or even sleep together. The top platform is WONDERFUL because it's supported with 3 columns! The columns are also wider. I have provided pictures showing my old one next to the new one and the difference in circumference. The assembly was easy peasy. I did most of it sitting in my recliner. Here's the issue. It's too vertical for my cats to comfortably climb. Maybe kittens or more agile cats would like it, but mine absolutely HATE it. They will go on it to eat and they get off immediately. They refuse to go in the apartment or the sleeping bag or the very top to nap (as they've done with others). I've watched my longer cat hanging off the ledge trying to pull herself up. They sat on the floor eying it up & down but just don't seem confident with it. Now my cats don't even know what to do with themselves. I find them sleeping in the middle of the kitchen floor. They seem so sad and lost without a place of their own. I know my review is long but I hope it helps you make the best decision for your cats. Overall I would recommend though.
---
By Jwhit on Jul 4, 2022
Absolutely love it
This is a great tree for a multi-cat household (a little big for one fur baby, but you do you). My 11 month old loves it the most - especially that hammock!! The height is also great... It's taller than me and the cats love looking down upon their kingdom. My youngest, a 3 month old kitten, took to it right away when we adopted him and loves the fuzzy toys he can bat at. Unfortunately my senior cat (10 years) has expressed zero interest in the few months I've had this tree, so I'd say only buy this if you have younger, more active kitties. My three year old isn't a big fan either but he has used the perches a couple times. Overall I'm happy with this purchase and I think it's worth the price, even if it's mainly my 11 month old who uses it. The hammock is probably the best feature, and the tree is pretty sturdy and doesn't wobble too much. My cats don't use the scratching posts at all so far as I have seen, so that's a downside, but I'm sure others who have purchased this have seen them utilized. (Also, it's not super hard to put together! A lot of pieces but the picture instructions are clear. My only complaint is the awful rattling noise one of the fuzzy toys on the wire makes when it's batted) I recommend!
---
By Britt on Aug 12, 2022
My Cat Absolutely Loves It
My cat loves this thing. It's much more sturdy than ones I've previously purchased so she is able climb and jump on it more than she does with her other tree that wobbles a little. It was easy to put together however one bolt was deformed so I had to find a replacement at the hardware store. She loves it so much I'm still giving it 5 stars.
---
By PCT1 on Aug 16, 2022
Perfect cat tree!
This cat tree has been absolutely perfect for my 13 lbs boy! I was worried about finding one that wouldn't be steady enough for him to play on but this has been amazing for him. His favorite part of it is the hammock. It's made of very soft material and it appears to be very high quality. Definitely would recommend!
---
By DCBoston on Aug 6, 2022
Purrfect!!
Ordered this to replace aging cat tree. It is easy to assemble, and my cats began using it immediately. It seems very sturdy, and offers multiple levels for my 3 guys. It was important to have a basket, as one of my cats loved it on the old tree. This basket is more of a hammock, and it is a big hit.
---
By Steffanie on Jul 18, 2022
Worth Every Penny!
I ordered this for my cats while vacationing in the states from Canada (Chewy doesn't ship to Canada). I have 3 cats, two of which are a tad chonky. They love this tree! The two big babies can fit on the top at the same time! It's sturdy, well made and worth every penny. If you have yourself some Heckin' Chonks, don't hesitate in buying this!
---