Penn-Plax Floating Turtle Pier Platform
---
About This Item
Everything a basking platform needs for turtles, frogs, newts or salamanders
Designed to float at water level and allows you to maintain an ideal water level while compensating for evaporation
Textured ramp secures to the edge of the platform and leads down into the water for easy access to the basking ledge
Extension pylons are included to adjust the height up to 12" (small) or 16" (large)
Looks like a real pier and works great in both small and large tanks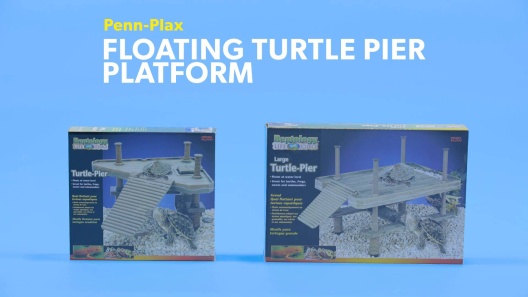 Learn More About Penn-Plax From Our Team of Experts
---
---
Questions & Answers
14 Customer Questions
---
What is the maximum weight it could support? My turtle is over 2 pound (8 inches wide).
Answer by • Dec 07, 2017
While this product doesn't have a weight limit the pier will be able to float as long as the turtle fits within the pier. If the turtle is bigger than the dimensions of the pier then we don't recommend it.
---
Will this start to melt from the heat of the turtle baskimg lights?
Answer by • Dec 13, 2018
This platform is designed to be used for basking. If the plastic is melting, the heat source is too close.
---
Is there a limit to the depth of water that this works well in? And if so, what is the maximum water depth that this platform will work effectively in?
Answer by • Jul 30, 2020
The Small platform features an adjustable height of up to 12 inches and the Large platform features an adjustable height of up to 16 inches.
---
Who would I contact to get replacement extensions if they should break and suctions if they are worn?
Answer by • Dec 17, 2017
While we don't currently offer replacement parts, they can be found at the Penn-Plex website.
---
---
---
By mcoll on Apr 3, 2022
Not worth the hassle
This dock is not worth the price. It is too much extra work to get it to be useable. The dowels (pylons) have suctions on the bottom but they are not secure. They move around the bottom of the tank. The ramp isn't attached so it gets knocked over by my turtle every few minutes. The dock sinks and falls sideways into the water. Having to fix the dock every few minutes is not feasible. My turtle also is unable to get on it without extra rocks as a support. I do not recommend this product.
---
By Belle on Jan 29, 2022
Wouldn't stick
We really liked the look of this dock, unfortunately it does not stay suctioned cupped very well. We do have a sand bottom in our turtle aquarium, removed all sand aside and tried getting it to stick and stay. Being that it wouldn't on its own, we still gave it a chance and pushed over sand to try and get the weight of the gathered sand and rocks to hold it down. That didn't work either, so we removed it after a few days. :(
---
By Hope on Feb 5, 2022
My turtles love they new platform Dory and king Kerby
I just want to say thank you. My babies love it &sunbath all day long!!! It fits my tank & the dock comes all the up so they can fully get out the water.
---
By Vickie on Nov 5, 2021
Turned out nice...
At first Stewie (didn't know she was a girl at first) didn't like it and used it for a back scratcher for 2 days lol. Was going to save it for someone else but she finally decided to climb on top. Wish it was bout 2in shorter but think goodness she just got a new tank. Holds her weight pretty good, Stewie is 10yrs old. I'm going to use the small cable ties to see if I can lock it from sinking to much cause she still growing. Didn't use the ramp but she uses her rock and filter to get up with no problem. So making sure when I lock it with the ties don't make it to high. Also she loves the fact she can swim under for a shelter
---
By Kayla on Oct 4, 2021
It'll do for now
I bought this over a year ago. It didn't fit in my original tank. But someone gifted me a bigger tank a few months later so I decided to try this again. It was okay for a little while, the suction cups do not want to hold. Mind you I do have a bigger turtle so she knocks everything around constantly. I've literally considered super gluing it down Lol. But finally about 6 months ago I quit resetting it and she will still use it. Now because she is so big she does sink it a little bit since it's not stable, but it's working for us. I'm thinking an overhead will be our next thing just so she can't rearrange it.
---
By PetLover on Oct 30, 2021
Used zip ties to hold Platform over the water
Bought this because we wanted a basking spot for our turtle in her 65 gallon tank. She is large and heavy. So we used zip ties to prevent the dock from going down or sinking into the water when she gets on. It stays afloat and just over the water with the zip ties. It works great and she loves it.
---
By Jenny on Sep 20, 2021
Best dock I've had
My turtle is 17 years old so I have had a lot of different docks over the years. I bought this one a few months back and I couldn't be happier. Gus, my red ear slider, absolutely loves it. He is a pretty big turtle and it holds up great. I strongly recommend investing in this. Just make sure you have a large tank because it takes up a lot of room.
---
By 1230 on Jul 28, 2021
a lot bigger then I thought it would be
My turtle is in a 20 gallon tank and i got this because her basking platform was starting to sink when she was on it we were planning on getting a bigger tank anyways but it will work for now
---
By Brittany on May 23, 2021
Suction cups are iffy
I woke up the first night after I installed it and noticed the suction cups had all given up and the whole platform wasn't connected to the bottom of the tank. I re-placed it but don't have much hope it'll stay in place. I may need to find a way to better secure it such as by replacing the suction cups with stronger ones or using adhesive. I don't know why they all lifted since I use river rocks as substrate and there wasn't anything like sand particles to get in the way of the suction cups. The water level is about an inch below maximum, so I know that wasn't the cause of it lifting...
---
By MaryJ on Jun 30, 2021
Nice dock for turtle
I purchased this dock for my daughter's red eared slider. We have a 20 gallon tank and it fit perfectly where she wanted it. Her turtle has adjusted to it well. Easy to install and fairly easy to clean.
---