Perky-Pet Panorama Bird Feeder, Copper
Frequently Bought Together
---
About This Item
The innovative design of this feeder allows the seed to dispense into the tray and it stops dispensing once the tray is full
As the birds continue to dine from the circular perch, the seed is replenished into the tray so it remains consistently full
Features the proprietary Sure-Lock cap system, an exclusive squirrel-proof feature which ensures the lid stays put and squirrels can't get into the seed
Holds two pounds of seed and features a rustic brown finish
The circular perch allows birds to feed from all angles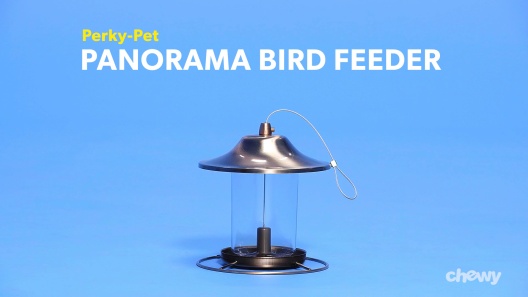 Learn More About Perky-Pet From Our Team of Experts
---
Compare Similar Items
| | | | | | |
| --- | --- | --- | --- | --- | --- |
| | | | | | |
| Customer Rating | | | | | |
| Price | | | | | |
| Bird Type | Wild Bird | Wild Bird | Wild Bird, Pigeon, Cardinal, Dove | Hummingbird | Wild Bird |
| Material | Plastic | Wood | Plastic | Plastic | Plastic |
| Capacity (Max) | 2-Ib | 5-Ib | 5-lb | 12-oz | 8-ounce |
---
Questions & Answers
23 Customer Questions
---
Is this feeder Squirrel proof?
Answer by • May 11, 2018
This feeder features the proprietary Sure-Lock cap system, an exclusive squirrel-proof feature which ensures the lid stays put and squirrels can't get into the seed.
---
Is this copper or brown? The key benefits indicate "rustic brown finish," the header indicates "Perky-Pet Panorama Bird Feeder, Copper."
Answer by • Jan 10, 2020
This bird feeder is copper-colored.
---
Is the clear cylinder glass or plastic?
Answer by • Feb 17, 2018
The seed compartment is constructed of plastic.
---
How long is the cable that comes with the feeder?
Answer by • Dec 29, 2020
The length of the hanging wire (including the looped end) is approximately 12 inches in length.
---
---
---
By Cass on Jun 23, 2022
Budget Bird feeder
This feeder has some pros and cons. The pros... 1)Top is easy to remove to fill and clean. 2)Light weight even when filled with seed. 3)Attractive to look at. 4)Allows for birds of many sizes to feed. 5)Strong wire to hang the feeder. 6)Reasonably priced. The Cons... 1)The feeding tube is made of plastic which breaks very easy. 2)The copper top piece has rusted after 1 year outside. It is very unattractive. 3)The tray does not hold very much seed so the seed is always falling into the grass. 4)The button you have to push to release the metal wire to open the top can be hard to press in, in cold weather, or after the top has started to rust. 5)The wind will catch the top and cause the feeder to swing, dumping lots of seed on the ground. If the wind is gusting about 30MPH or more, it can cause the whole feeder to fall to the ground, breaking the plastic feed tube. Even though it is rusty and the plastic has cracked, I still use this feeder as it is the first of 3 feeders to be emptied by the birds.
---
By JanInWV on Jul 14, 2022
Birds like it
The copper colored parts are metallic and the clear cylinder is plastic. Nice to be able to see the level easily.
---
By Wink on Mar 19, 2022
Squirrel Buffet
I can't say how the birds like it because I haven't dared put it out: the lid slides freely whether or not the "sure-lock cap" is engaged. There are tabs on the cylinder portion, but nothing for them to lock into on the underside of the lid. I've no doubt this will become a squirrel feeder by the end of the day.
---
By birds on Jul 14, 2022
birdseed2022
Works well for our birds. At least the squirrels haven't chewed them up yet.
---
By PusherDan on Mar 8, 2022
Cool looking but doesn't work
My wife thought this would be perfect for our back yard feeding. Looks great but noticed the lid/top was always tipped off to the side. I don't believe the method of securing the top is up to the job. The cylinder has tabs at one end. It would work perfectly if they could turn into a slot to hold the top. I have made you aware of the problem, and I given you a way to fix it. Make it happen and send me a check!
---
By KirklandFarms on Mar 9, 2022
Attractive, Sturdy, Effective!
This bird feeder is very sturdy and also attractive. I like that it has a way to keep the top in place (out of the way) while filling up the feeder. We have had LOTS of birds in the short time that we have had the feeder(s). Yes, I ordered a second one after liking the first so much. Highly recommend!
---
By Kathy on Feb 7, 2022
Easy to use, lasts
I already had this exact feeder & added a 2nd bc it's durable, well made. The plexiglass is a better quality than others I've had. A little rain water drips down the center wire but it doesn't puddle. It's so easy to use & fill the water issue isn't a problem, I just quickly clean it out. I don't remember what it holds, not a big feeder but I don't fill these more than 1/2 full. I add about 1 1/2 cups, will hold more. Cardinals don't have a problem using it. I keep a tray feeder & suet-they're happy & well fed.
---
By Beachbaby on Jan 21, 2022
Disappointed
I got this bird feeder thinking it would be perfect for my backyard birds but it wasn't. I've had it for about 2 months or more and no birds can land and stay on it. There's no room to sit on it for blue jays, cardinals, any birds that size. I watched them try but get discouraged. I put small bamboo across it thinking that would help but nothing. The birds won't go to it or even try. It usually takes a couple of weeks for the birds to know it's there but it's been over 2 months and not one bird will sit on or go near it. What a waste for a nice looking feeder. If I could return it and get my money refunded I would. I'm sssooo disappointed. It's been over 30 days, which it takes that long sometimes for birds to acclimate themselves to something new but no birds. I don't recommend this at all.
---
By Quadzilla on Apr 24, 2022
Beautiful Bird Feeder
I love this because it's a bit wider around than most feeders do, theoretically, can accommodate more birds. The copper is beautiful. Really love this feeder.
---
By BirdFeederReview on Apr 14, 2022
Perky-Pet Feeder Typically Excellent but the metal version rusts
Great product. Have purchased both the metal and plastic versions. The plastic version has lasted for several years but the metal version rusted terribly within six months.
---