Pet Fit For Life 5 Piece Squiggly Worm Replacement Pack for Wand Cat Toy
By Pet Fit For Life
---
About This Item
Designed to work as a replacement kit for the Pet Fit For Life 5 Piece Squiggly Worm Wand Cat Toy.
Squiggly action activates your cat's hunting instinct to get him active and mentally engaged.
Easy to use by simply swapping out for the old wigglers with the toy's easy-to-use metal clasp.
Adds much-needed exercise to help keep indoor and outdoor kitties physically active and healthy.
Comes with five colored wigglers for the playtime variety cats find irresistible, each with a metal swivel for added wiggly action.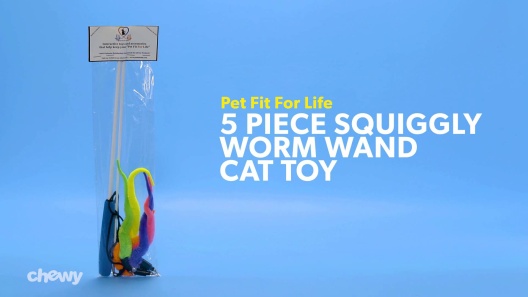 Learn More About Pet Fit For Life From Our Team of Experts
Related Item
Replacement pack for 5 Piece Squiggly Worm Wand Cat Toy.
Shop Prescription Medications from Chewy Pharmacy
---
Compare Similar Items
| | | | | | |
| --- | --- | --- | --- | --- | --- |
| | | | | | |
| Customer Rating | | | | | |
| Price | | | | | |
| Toy Feature | Exercise, Feather, Replacement | Exercise, Feather | Exercise, Feather | Exercise, Feather | Exercise |
| Toy Type | Teasers & Wands | Teasers & Wands | Teasers & Wands | Teasers & Wands | Teasers & Wands |
| Material | Plastic | Plastic | Plastic | Polypropylene | Plastic |
| Sport Team | N/A | N/A | N/A | N/A | N/A |
---
Questions & Answers
5 Customer Questions
---
What exactly are these squiggly worms made out of? What material are they? For example, is it chenille, feathers, etc. I am looking for a specific answer.
Answer by • Apr 02, 2019
The toy is made out of nylon.
---
Do they come with the wand?
Answer by • Apr 01, 2020
This replacement pack does not include the wand. The wand is listed on our site as the Pet Fit For Life 5 Piece Squiggly Worm Wand Cat Toy.
---
Are there squiggly worms with greater length? These seemed shorter than others I'd seen
Answer by • Jan 13, 2020
These Squiggly Worms measure 8.5 inches in length.
---
Where are these made?
Answer by • May 07, 2019
These toys are manufactured in China.
---
---
---
By Hectic1354 on Mar 17, 2022
So Much Fun
I got one of these in a variety pack of assorted attachments. I didn't think much of it, but it is my kitten's favorite toy. In general I've found that the preferred fishing pole attachment is the stiffer feathers (maybe turkey feathers?) I have rescues and by far the stiff feathers are the favorite for leaps and jumps. However, I gave this little wormy toy to my autistic kitten and he adores it. If we have play time outdoors, he will go into the house and bring this toy out to play. He prances out with it and tosses it into the air so he can race after it. Since I can't touch him, I always appreciate any interaction we can have. If I throw this toy for him he happily chases it and he has come to realize that if I have it in my hand that it is game time. He loves it so much it is falling apart, so I just ordered this multipack.
---
By dkgs on Mar 25, 2022
Perfect with one easy modification.
My 4 cats have gone bonkers for these..... we discovered them when one was included in a variety pack. They love them so much that we don't even have to use them on a wand. Two of my cats are formerly feral - one is probably more of a hunter than an average cat.... he survived as a Tom for over 4 years. Within 3 minutes of playing with the first one, he bit off the end, which caused little pieces to start coming off. We quickly remedied that by tying the end into a very tight knot. Did the same for the new ones and have not had any more issues.
---
By Andrea on May 2, 2022
My kittens are addicted
Our kittens go crazy with this on the end of the pole and we have to hide the pole after playtime because they will drag it around. However, they carry the worms around off the pole and bring them to us to throw for them. Yes, they play fetch. It is so much fun!
---
By PPPluto on Apr 29, 2022
Great Cat Teaser Toy
We have eight cats, and they all enjoy playing with this toy. Even the cat that never shows much interest in playing with anything! They like playing with it when it is attached to a pole, and they also enjoy just batting it around separately.
---
By 3KittyMom on Apr 17, 2022
A Favorite!
All three of my cats love the wiggly action of this toy. It's a good thing they come in a multi pack because they really love to stalk and pounce on them! They are pretty rough on them. I can't leave it with them unsupervised. It's a favorite toy.
---
By BorderMama on Feb 10, 2022
Yikes! Too Fun!
My Maine Coon goes crazy over these. I'm so happy to find replacement wormies! He knows what it is, brings it to me if I ask where his wormy is, and I caught him opening a cupboard and getting the new bag of them out. I leave it attached to the original fishing pole so it doesn't get lost under furniture because he drags this from one end of the house to the other all day long. My other kitty would love to play with one but it's "not allowed" by her big brother. (We sneak in play when he's not looking.) As others have mentioned, no they don't last forever, but honestly if you're having that much fun, who cares. I find we need a new one about every 2 months. The 5 pack lasts a long time. If you have a cat(s), they said they want one!
---
By Nana on Mar 25, 2022
Squiggly worm replacements
My cat absolutely loves her squiggly worm wand with the squiggly worms on the end.So when I saw the replacement pack I ordered it at the same time as the squiggly one. Due to the fact that I had a feeling she would love this toy and I didn't know how long the warriors win last
---
By Laurie on Feb 27, 2022
Squigglies rock!
These squigglies are great when attached to a wand, but one of our cats loves them the most just loose. She also loves the brown sheets of packing paper from the Chewy boxes. I keep a big loose pile of them in our garage, like a pile of leaves. I throw a squiggly toy across the floor like a bowling ball toward the big pile of paper, and she runs and slides into it to fetch the squiggly - it's her favorite game haha!
---
By Thetrailbard on Feb 6, 2022
Addicting but not durable
Got these for my cat for Christmas and he FLIPPED over them! He can't get enough, he'll follow us around with it until he's done playing. Nothing tuckers him out like these toys, which is great since we live in a studio and need to wear him out so he doesn't get too hyper at night. He loves the way they squiggle across the floor and he'll do some really great purr-core off all the furniture to chase it - amusement for the whole family! The only bummer, and it's a big one, is that they fall apart SUPER easily. We got him these for Christmas and he's blown through all five before Valentine's Day.
---
By nettie on Jan 30, 2022
Cats Love This Toy!!
We have 3 lazy Persians, there is not much that gets them crazy, but if you shake these "squiggly worms", the cats really wake up & go crazy! There is a bell on the wand & the little worms are really soft & fuzzy. The cats wear us out by playing with this toy, they can go for a good half hour chasing it & catching it. Sometimes they drag the entire wand & worm around the house! I'm completely happy with the design of this toy! Even my older cats are interested in playing again!!
---