---
About This Item
Made with quality and durable materials, this mat is meant to last for years.
Helps keep your home clean by preventing litter from tracking all over your floors and furniture.
Keep litter out of your cat's paws while keeping it contained in one place.
Easy and hassle-free cleaning. All you need to do is shake the litter from the mat or vacuum it off.
This mat is made so that it can be washed with cold water and then air dried. This will keep the mat from harboring odor causing bacteria.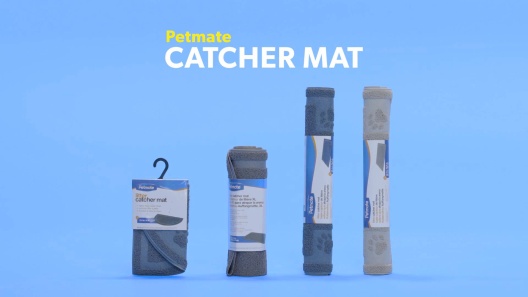 Learn More About Petmate From Our Team of Experts
---
---
Questions & Answers
12 Customer Questions
---
What are the dimensions of each size ?
Answer by • Jun 23, 2017
The Large is 35 x 23.5 x 0.3 inches, the Half Circle is 23.5 x 14 x 0.3 inches, and the X-Large is 47 x 32 x 0.3 inches.
---
Will this mat stop urine from leaking through? Sometimes my kitty misses the box.
Answer by • Nov 19, 2017
This item is made to catch litter, liquids may leak through.
---
Is this mat BPA free
Answer by • Mar 27, 2018
All of the materials Petmate uses in their products are BPA-free.
---
Could the X-large mat be used underneath a large dog crate to "catch" their shedding fur? It only mentions cat uses.
Answer by • Jan 22, 2018
This product is intended to catch litter that may fall off cats feet upon leaving the litter box.
---
---
---
By chaughton92 on Apr 27, 2022
Needing to sweep up cat litter less
I have 3 male cats that either kick litter or never wipe their paws so litter gets everywhere. I have 130 year old hardwood floors and was worried about the gradual damage litter could cause. I have some very large litter boxes and these mats do a great job at catching litter so i don't need to sweep as much. Yes, like previous reviewers mention, the material does have a slight smell (not strong at all) and does come pretty creased, but I only care that these do what they say they will. I'm sure the smell and creases will improve over time.
---
By LoveOurBoy on Mar 24, 2022
Have bought several of these mats
We were at one time multi-cat household and this mat would definitely come in handy with so much traffic to and from the litter box. Now, after moving from one state to another as a single cat household we had the task of finding litter that would work well since there were so many shortages all over due to Covid and shipping container issues causing shortages. Needless to say, some of the litters on the market would result in tracking. This mat helps contain quite a bit of that. But, now that we have found a better litter----thankfully, I got a break from all of the constant cleaning. I definitely would recommend this mat. We get the largest size we are able to since we have a large cat. Sometimes when they get bursts of energy they can get rambunctious in the box and kick litter quite a bit. This mat will also help catch that. I have swept litter off of it and if you need to take it outside it catches the littler so as long as you keep it upright you can take it outside and turn it over and shake it out. For big messes- like the occasional kitty hairball you can clean, hose it off and let it dry.
---
By AuntCat on Apr 5, 2022
Really catches clay litter!
I have tried many litter mats over the years. They get better all the time. This is definitely my favorite one so far. I use clay litter. I hate it all over the house and having to sweep every day near the litter boxes. This mat has been the best at holding on the the litter when my giant kitties jump out of the litter boxes. Haven't had to wash it yet. Had is about a month and have swept and shook the litter off.
---
By Catwoman on Mar 31, 2022
Keep it in the box kitty
My cat throws a party every night in the litter box, litter everywhere. This mat definitely helps catch and isolate the crumbles. Nothing drives me more crazy then having cat litter repeatedly stuck to my sock. This mat is also relatively easy to sweep with a broom between vacuum so the accumulation of litter out of the box can be minimized. Seems durable feels like rubber, but I haven't owned it for very long, better then one I bought in the past that was foamy and the cats just shredded.
---
By DMykala on Mar 20, 2022
Great Litterbox Mat
I went for nearly 2 years without a litterbox mat until I finally had enough of the mess from my two cats paws coming out of their litterbox! I needed a large mat that covered a big space and was also soft. This was the perfect mat from Chewy! I unrolled it and laid it out in the laundry room. Put the litterbox on one end and some of their toys on their so they would be enticed to walk on it. It catches all of the loose litter from their paws and it is keeping the laundry room a lot cleaner for us humans. I am happy with this purcase and highly recommend that if you don't have a mat and are constantly dealing with litter under your bare feet...this mat is a MUST!
---
By Fancylion on Mar 27, 2022
Smells awful and arrives bent
When i received this it was rolled up nicely but when i unrolled it there were creases in it that wouldn't flatten out. Had it a few weeks now with things sitting on it to help and it is slowly getting flatter. I like that it vacuums easily (aside from the creases). But it smells terrible.
---
By Barb on Mar 31, 2022
Works great
So one of my cats love to stick their paw in the water bowl when they drink. The bowl gets disgusting on the bottom from the cat litter on her paws. Since I've used this catcher mat, their water is clear. I was pleasantly surprised that it would work that well
---
By Leroy on Feb 5, 2022
Playmate litter mat
Love this Mat. I use corn litter, which is lite, and gets all over the place. This mat covers a large area like a throw rug. I don't find it hard to clean because I just run the vacuum over it and the fine litter comes right out. some people say it's hard to clean but maybe it's the type litter they use. The price was perfect on sale! And works for me!
---
By Lauren on Feb 1, 2022
Works well
The mat works to keep most of the litter contained! Some litter still makes it off the mat, but overall it does a pretty good job of catching it. My one criticism is the color. The "ice blue" is a lot darker than I thought it would be, and shows the litter more than I'd hoped. My old mat was a lighter blue color and concealed the litter way better.
---
By CatLover on Jan 16, 2022
It works well
This works really well, it leaves very little litter trail. It is very easy to clean, vacuum or shake it out. We recently put in vinyl plank flooring and it shows everything, so I was very pleased to find this mat. Someone had asked a question regarding using this on vinyl flooring, it is made from PVC and my husband said this will not harm the floor. So not my fault if it does, if there are any issues I will update.
---