PetSafe 96-in Sliding Glass Pet Door
Frequently Bought Together
---
About This Item
Made of durable aluminum frame, this attachment allows your pet to come and go as he pleases through your sliding glass or screen door.
These panels feature a heavy-duty aluminum construction and shatter-resistant, tempered safety glass.
Equipped with the energy-conserving UltraSeal flexible flap system designed to keep the heat and cold outdoors.
Installation is easy, with no cutting required. Simply slide the panel into one end of your sliding door track, secure it to the frame, and add the weather stripping.
Fits left or right sliding glass doors, 91 7/16 to 96 inches tall. Does not fit recessed sliding glass doors without additional hardware.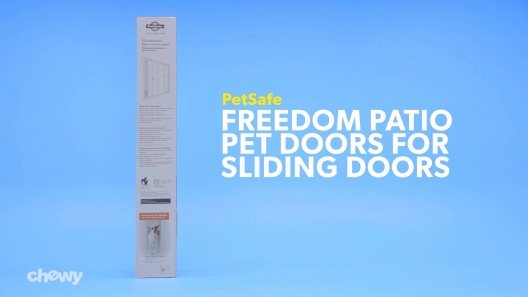 Learn More About PetSafe From Our Team of Experts
---
---
Keeping Pets Happy & Safe Since 1998
PetSafe has helped millions of pet parents care for their pets through every stage and season of life.
US-Based Customer Care
The PetSafe team of customer care experts is available 5 days a week via live chat, email or phone.
Healthy Pets, Happy People
PetSafe is dedicated to helping pet parents keep their furry family members healthy, safe and happy. From irresistible toys to life-protecting pet fences, their innovative products are designed to help bring pet families closer, for a lifetime of love.
Pick of the Litter
What sets PetSafe apart is a team of pet experts who come to work every day with one goal: making the world a happier place for pets and their people. They work with professional trainers, veterinarians and pet behaviorists to keep up on the latest research and insights and use that in developing their products. They rigorously test every product for safety, quality and efficacy, too – because your pet deserves the best!
About PetSafe
PetSafe has been a global leader in pet care since 1998. They pride themselves on empowering pet parents through innovation, education and experiences. Their goal is to strengthen the bond between people and their pets, providing them with thoughtful products, expert advice and compassionate support. PetSafe's US-based customer support team is always ready to help you get the most out of your life together with your pets!
Shop PetSafe
Compare Similar Items
| | | | | | |
| --- | --- | --- | --- | --- | --- |
| | | | | | |
| Customer Rating | | | | | |
| Price | | | | | |
| Material | Aluminum, Plastic, Metal | Aluminum, Plastic, Metal | Aluminum, Plastic, Metal | Plastic, Vinyl / PVC | Aluminum, Plastic, Metal |
| Breed Size | Medium Breeds, Large Breeds | Large Breeds, Giant Breeds | Medium Breeds, Large Breeds | Large Breeds | Small Breeds, All Breeds |
| Features | Locking | Locking | Locking | Insulated, Locking | Insulated, Locking |
| Door Type | Standard | Standard | Standard | Standard | Standard |
| Assembly Required | Yes | Yes | Yes | Yes | Yes |
| Lifestage | Adult | Adult | Adult | Adult | Adult |
---
Questions & Answers
36 Customer Questions
---
My track with is 1 3/4". Will the Tall/Large dog door work with this track with?
---
Does this have a top height adjuster? The large size clearly says so, but the medium one doesn't.
Answer by • Jun 24, 2018
All sizes feature a height adjuster.
---
Can this door be mounted on a screen door track? Can it slide on the track, or is it to be permanently fixed in place?
Answer by • May 24, 2018
PetSafe Freedom Patio Pet Doors for Sliding Doors allow your pet to come and go as he pleases, through your sliding glass or screen door. Simply slide the panel into one end of your sliding door track, secure it to the frame, and add the weather stripping.
---
Is the slidding door usable after installation? The sliding g door is our only access to the backyard.
Answer by • Aug 03, 2019
Sliding doors can still open and close after installing this pet door.
---
---
122 Customer Reviews
---
Filter by reviews that mention
---
By PM22 on Sep 30, 2022
Great Patio Pet Door
This door was the perfect solution to letting the cat in, letting the cat out, letting the cat in, over and over. Fit right in next to current sliding door into our screened patio. We have the flap taped up until he gets used to it. The cat is as happy as we are.
---
By Babydoll on Nov 7, 2022
Pebbles loves
I was a bit concerned when we first installed as my baby was not sure plus she is very leggy. She absolutely loves the freedom of going outside whenever she wants.
---
By Puppymama on Jul 31, 2022
Could be much better
I did a lot of research and comparing of these types of doors before choosing this one, and thought I was making a good choice. I followed all instructions, but unfortunately it just fell way short. The screws for the t-bar up top, as well as the screws to secure the adjustable top in place simply won't screw in. There is also now no way to lock my door. It does come with a bracket piece that gives you the option to lock your sliding door in place, but it's permanent and therefor takes away your ability to open and close the door for humans to go in and out. There's also a significant gap that the weather stripping was not sufficient to seal. I had to go to the hardware store and purchase a thicker one to fill in said gap.
---
By KKri on Jul 20, 2022
Great Door! Works With Double Slider!
This door saved me. I got sick a couple days after installation and it allowed me to be in bed and not worry about my dogs potty needs. I live in an area that, during the long summers, regularly reaches above 100 degrees. Now I'm not stressed at work worrying about my dogs being outside as they can stay inside and I don't have issues with them peeing or marking in the house. It does not come with insulation strips. Save yourself time and money and get the EXPANDABLE weatherstripping. I tried a regular weatherstripping tape (usually stocked by the dog doors in the hardware stores) and it just didn't accommodate the irregularities of the small gaps, screws, and latching mechanisms. I have a double slider. I cut a board to fit in one track of the slider to immobilize that one side. I popped this door in as straight as possible (did not install with screws, so it can easily be removed). The expandable weatherstripping sticks on the edge of the pet door that will meet the side of the slider that is mobile. I also added Backer Rod to shove in the gap between the door and overlapped trim on the immobile door (usually would overlap where the two sliding doors meet and latch). Also shoved this in the gap between the immobilized slider and glass pane (overlap) but that gap is a little too big for the Backer Rod to be effective. I plan to cut strips from a pool noodle to shove in that area. For security, I cut a board for the track of the mobile door. It actually feels more secure than it did with just the locking mechanism. I wish it was double pane with less heat transfer. But it is a fantastic door, since I wasn't willing to pay double (or more) for an insulated door without knowing if I could make this work with a double slider. Chewy is always wonderful, so I had no concerns ordering this door, hoping it would work.
---
By Luvallrkds on Jul 23, 2022
Worth Every Penny
At first I wasn't sure if the large size was the right choice & was debating whether to get the medium size. I have 4 Poodles & 1 Maltese. 1 poodle (Bandit) is about 7lbs & Is a small toy. I wasn't sure if the 4 inch raise from the bottom was too tall for his legs to go over through the door. The largest poodle was about 13 1/2 inch's tall & would've been too small. If the raise on all the doors were the 1 1/2 inch I think it would've been perfect. Although that was a dilema before ordering, Bandit gets out just fine over the 4 inch raise. I absolutely love this door. The door flap occasionally won't close right , but it's an The dogs go out whenever they want, which means less presents left for me. I do have another doggie door which was installed on the lanai & my fur babies have been using that door for a few years. I don't know why I didn't think of getting a door for the glass sliding door sooner. It is worth every penny & I'm so glad I bought this door.
---
By MasonJ408 on Oct 31, 2022
Poorly assembled, unusable.
Unfortunately my product must have been built on a Friday. Large gaps because of poor assembly at the factory. Unusable.
---
By Redneck on Jul 16, 2022
This is well worth the money
This was definitely worth the money. We purchased it for our two dogs and it took a couple of days to get them used to it, but it works great. There is a magnet at the bottom which helps to seal it shut when not it use, but it is light enough that it doesn't inhibit the dogs from pushing it with their noses. Installation was also very easy and it came with everything we needed.
---
By Charlydoodle on Sep 7, 2022
96" pet door
Fit perfect for our golden doodle only thing I added is a stick on insulation 1/2 wide by 3/4 thick to close the gaps so hot air doesn't come in constant from outside
---
By Sparky on Aug 30, 2022
Lacks insulation
For the price, it could be a lot beefier/thicker and be as wide as the door track instead of only half of it.
---
By Petdoor on Apr 19, 2022
PetSafe Patio Pet Door
The PetSafe patio pet door works really well. It does not come with weather stripping so be sure to order two different thicknesses of weather stripping. Reason for this is if your door isnt perfectly 90 degrees there will be a narrow space between the pet door and the patio door. The space will narrow towards one end. the thinner size is for the narrower part snd the thicker stripping is for the wider. Our dogs love it!
---