PetSafe Easy Walk Dog Harness
Must enter code FALL2022 at checkout to redeem
---
About This Item
This no-pull harness was created by a veterinary behaviorist in 2004 and is paw-fect for dogs who pull during walks.
The patented martingale loop design safely stops pulling by placing gradual pressure on your furry friend's shoulders.
Unlike collars, this harness rests across your dog's chest, so you don't have to worry about him gagging or choking. The leash attachment on the front lets you direct your dog during walks.
Designed with quick-snap shoulder and belly straps for easy fitting. The different color belly strap makes the harness easy to put on.
With less coverage than many other harnesses, this breathable harness keeps your canine companion cool during your walks.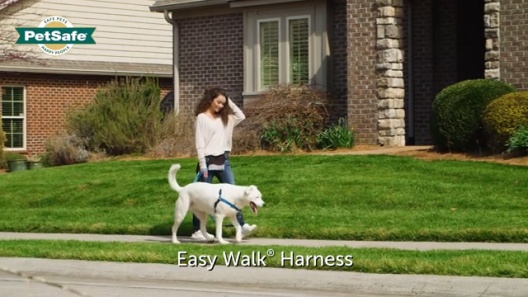 Learn More About PetSafe From Our Team of Experts
---
Compare Similar Items
| | | | | | |
| --- | --- | --- | --- | --- | --- |
| | | | | | |
| Customer Rating | | | | | |
| Price | | | | | |
| Material | Nylon, Synthetic Fabric | Nylon, Synthetic Fabric | Nylon, Synthetic Fabric | Nylon, Synthetic Fabric | Polyester, Synthetic Fabric |
| Harness Type | No Pull, Front Clip | No Pull, Front Clip | No Pull, Back Clip, Car Safety, Front Clip | No Pull, Front Clip | No Pull, Back Clip, Front Clip |
| Leash & Collar Feature | Waterproof | Reflective, Waterproof | Dual Clip, Reflective, Waterproof | Waterproof | Dual Clip, Reflective, Training, Waterproof, Padded |
| Breed Size | Large Breeds | Large Breeds | Giant Breeds | Large Breeds | Giant Breeds |
| Lifestage | Adult, Puppy | Adult, Senior, Puppy | Adult | Adult | Adult, Puppy |
| Pattern | Solid | Solid | Solid | Solid | Solid |
| Closure Type | Quick Release | Quick Release | Quick Release | Quick Release | Buckle |
---
Questions & Answers
38 Customer Questions
---
The process for the chest measurement isn't clear. Am I measuring the chest from the front of one foreleg to the other? Or from the back of one foreleg to the back of the other?
---
My baby is a chi jack with a 5.5 chest and 17 girth. What size is best?
---
Can you turn it so the leash clips on the back?
Answer by • Jul 02, 2018
It's not recommended to alter this harness in any way. The D-ring is meant to be in the front. The martingale loop at the chest prevents twisting and The chest strap rests across your dog's chest instead of putting pressure on the delicate throat, so there's no choking or gagging.
---
Are these Recommened for puppy's?
Answer by • Jul 13, 2018
A harness may be worn by a puppy, adult or senior dog.
---
---
---
By EmRL on Sep 14, 2022
Effective, but weird
This harness has definitely reduced my anxious little dog's pulling on walks. If we walk alone, he even acts like he's been to a trainer-- walks right next to me the whole time. The way the harness is designed works best if your dog is walking next to you, or just a few feet in front. If they're farther away than that, the harness is against their side. My dog does a neat little dance move where he either walks completely sideways like a little tap dancer, or just tries to walk with his butt out to one side. Any excess strap at the front of the harness pulls out to the side as well. The asymmetrical nature of the harness is so horrifying to my FIL that he puts the harness on upside down, with the lead coming from behind the shoulders. This works in a pinch. Overall, this harness has improved our walks.
---
By Gena on Sep 17, 2022
Works Beautifully!
The Easy Walk Harness was recommended to me by a Save A Pet foster "mom". We adopted a 3 yr old Great Dane who needed a home, did not walk well on a leash and weighs 166 lbs. He responds well to it and it has been a pleasure to walk with him and not feel like his neck is being yanked at. It is easy to put on and off. The straps are labeled for shoulder & chest thank goodness. Once I had it adjusted to our dog, I now try to only unclip the chest strap to remove it each time. Then it is easier to put on for next time. Proper fit is key, I measured and re-measured in order to make sure it is comfortable for him. Wish I had this for the two Danes we had years ago!
---
By Chester on Sep 9, 2022
Great Harness
I have a big dog. He is 80lbs and can be a bit unpredictable because he is still a puppy. I have a tethered system for him in the backseats. He loves the sun roof and loves the center console to lay his head on. The problem that I have been dealing with is that I attached the tether to his collar because he hates wearing harnesses. That can be fatal in a car accident. Therefore, I decided to give this harness a try for the tether system. To my surprise it works perfectly. My dog doesn't attempt to take the harness off and he can now be safe and comfortable in the back seat of our car. I bought a Large and it fits about two fingers loose which for us is perfect since he is still growing.
---
By Alks on Sep 4, 2022
Not durable
We finally opened up the package and got it on my sister's dog. Fit great, she's a 60 lb pit mix. We didn't even make it past the front door. She chewed the strap and broke it. This was in less than a minute. We didn't even see it happen it was so fast. Disappointed it was so easy to break. This dog is a menace lol.
---
By Jojo on Sep 23, 2022
Best Harness for Pullers
As a dog professional, I have walked hundreds of dogs and tried every kind of collar and harness. The Easy Walk is the best, you can walk any dog with one of these. I would just emphasize to follow the directions on the initial fitting, get the fitting right, and enjoy the walk for a change.
---
By Honeybee on Aug 29, 2022
Not So Easy
I bought the Easy Walk harness because Hanalei doesn't like the Gentle Leader on her face, although it works like a dream to stop her pulling. This product was recommended by a gentleman in our dog park (who has gentle, slow dogs to begin with). Although comfortable to Hanalei, she almost pulls me down every time I try to use it with her. It definitely doesn't work with a young, rambunctious Doberman Pinscher.
---
By Beth on Sep 11, 2022
Caused a wound
I bought this harness for my dog following size guide and instructions for fitting. After my dog wore it a few times I noticed she has a large flesh wound on her chest from it rubbing against her skin, and missing chunks of hair. I am very displeased with this product and urge others to not buy this product.
---
By harness on Sep 5, 2022
too complicated
I simply can't get this on my dog easily. I have adjusted it, readjusted it and even had my husband attempt to make it work. We don't find it as easy to put on our dog as we were hoping. We have gone back to our old harness, which doesn't help with pulling but at least I can get it on him quickly.
---
By Judy on Aug 5, 2022
Great harness!
I like this harness better than others I have tried. This is the first harness that really keeps my dog from pulling. Walks are much better now. I am going to get a second one for my other dog. I ordered a large, but I am going to get a medium/large for the second dog because it is just a little loose on its smallest setting (2 border collies). I was worried that if it was too small it would rub off their fur (which has happened with other harnesses in the past). This harness does not rub under their front legs.
---
By GingerNinja on Jul 25, 2022
Super impressed with this solution!
Our 7 month-old Lab/Boxer mix does well not pulling on walks, until she sees a squirrel/bird/person/bicycle, and then it's chaos. She's not aggressive, just very, very enthusiastic. One day she lunged at a little boy and his grandmother out on a morning walk, and they RAN AWAY. I was so mortified, I decided right then and there that something needed to be done. After a neighbor told me about her harness she used for her dogs, I looked up this harness. I thought it was surely too good to be true...people reporting near instant results. But this thing seriously works. Indie wasn't a fan of it when we put it on...leaning against walls to itch herself, etc. But she's gotten used to it after a week. And the pulling has almost entirely stopped. She's a "teenager" so of course she still has her reactive moments, but she's so, so much better. I did see the reviews with the pets who had rashes/abrasions after one or a few uses of the harness, so I purposefully kept it a little loose across her chest and under her "armpits" so it's not rubbing her skin. Haven't noticed a detriment to the harness's performance and it hasn't harmed her in the least. Finally, even though I measured her girth, I still ended up with the wrong size. Chewy not only replaced it with the right size and took care of shipping, but left the wrong-sized harness with me to donate to my local shelter...who, of course, lists "Easy Walk" brand harness as a wishlist donation item. :)
---