PetSafe Quick Snap Buckle Nylon Martingale Dog Collar
Temporarily Out of Stock
Get notified when this item is back in stock.
---
About This Item
Prevents dog from slipping out of the collar, doesn't cause matting & bald spots like some standard collars.
Tightens when dog pulls and loosens when dog stops, perfect for "escape artists" and breeds with necks larger than their heads.
Durable nylon collar's custom fit is perfect for growing puppies.
Quick-snap buckle for easy on and off, safer & more comfortable than a choke chain that's always tight.
Not recommended for tie-out use or during group play sessions.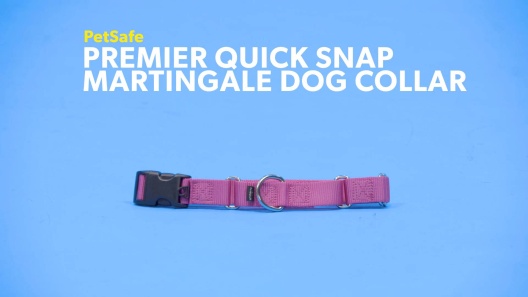 Learn More About PetSafe From Our Team of Experts
---
---
Keeping Pets Happy & Safe Since 1998
PetSafe has helped millions of pet parents care for their pets through every stage and season of life.
US-Based Customer Care
The PetSafe team of customer care experts is available 5 days a week via live chat, email or phone.
Healthy Pets, Happy People
PetSafe is dedicated to helping pet parents keep their furry family members healthy, safe and happy. From irresistible toys to life-protecting pet fences, their innovative products are designed to help bring pet families closer, for a lifetime of love.
Pick of the Litter
What sets PetSafe apart is a team of pet experts who come to work every day with one goal: making the world a happier place for pets and their people. They work with professional trainers, veterinarians and pet behaviorists to keep up on the latest research and insights and use that in developing their products. They rigorously test every product for safety, quality and efficacy, too – because your pet deserves the best!
About PetSafe
PetSafe has been a global leader in pet care since 1998. They pride themselves on empowering pet parents through innovation, education and experiences. Their goal is to strengthen the bond between people and their pets, providing them with thoughtful products, expert advice and compassionate support. PetSafe's US-based customer support team is always ready to help you get the most out of your life together with your pets!
Shop PetSafe
---
Questions & Answers
20 Customer Questions
---
MY WIRE HAIR FOX TERRIERS NECK IS 11 INCHES. DO I GET THE SMALL OR THE MEDIUM?
Answer by Gidge • Feb 15, 2022
Medium
---
Does this collar have a chain training loop?
---
Does this collar help with a dog that pulls on the leash?
Answer by • Aug 30, 2017
This collar tightens when the dog pulls and loosens when the dog stops. It's perfect for "escape artists" and breeds with necks larger than their heads
---
Are your Martingale collars made in the USA?
Answer by • Mar 20, 2018
This collar is made in China.
---
---
---
By RTHH on Nov 28, 2022
BEWARE OF SIZING!!!
I purchased two of these for my dog whose beck measures 16 1/2 inches. The large sizing says it is for 13-20 inches. I'm not sure whose measuring tape they used, but it is absolutely wrong. According to my tape, the shortest is 19 1/2 inches and the longest was 25 1/4 inches. I am really tired of these sloppy descriptions when I have to mail order things, so I will definitely be returning these to get my money back. Chewy, please do better!
---
By austen on Dec 3, 2022
Easy & Effective
I wanted to try a martingale collar for my dog that has some mild reactivity on walks, I feel much more in control of him and makes him less nervous. It doesn't choke him or hurt, he has pulled on it and hasn't made any noises of stress or discomfort. The snap buckle is easy to put on and off. Overall just what I needed. Good quality.
---
By ChompsMom on Dec 6, 2022
This runs BIG
Order down. 4 for quality, 1 for size accuracy. My dog has a 17 inch neck and his head slid right out of this. I ordered a large that was stated to work for 13 inch or bigger and was still too big. Nice quality though. Will try to get a medium in on my next order.
---
By Acey on Dec 4, 2022
Mislabeled sizes - beware!
Wish I heeded the reviews! I ordered the large and the item that arrived had a label that said large with the correct 13-20" range. It was MASSIVE around my dog's neck and when I measured with the tape measure, it was close to 20" on the smallest setting. Grr!
---
By collar on Oct 18, 2022
good collar
it's a good collar, I've gotten one for all my dogs now. despite the size chart being funky, the one flaw I've noticed is the fabric holding the tag clip to the collar is pretty thin. I've had one that's still lasting my docile dog for the past 3 years and another that was completely ripped off my rough players after 7 months
---
By ALRWMN on Nov 16, 2022
Size runs large
Teddy's regular collar measures at 17 inches so I purchased a large. On its tightest setting it hangs loosely around his neck. Medium would be a better fit. The outward webbing edge is also quite sharp looks like a heat cut to prevent fraying.
---
By debDaisy on Oct 27, 2022
Best Collar
These are my favorite collars. I've tried a few and I wasn't sure about these at first. No problems with slipping out, she doesn't pull against it as a rule, so far so good. We went to the vet for the first time and these collars are highly recommend. I have trusted this person with two of my treasures. Her word means a lot.
---
By DadofChihuahuanPits on Nov 20, 2022
Durable collar
This is a durable collar for dogs. I use these for my dogs. I never have to worry about it breaking. I have dogs that like to pull and I notice they do best with these and dont pull as much. Great quality.
---
By RescueDad on Sep 4, 2022
sizing is off
Ordered the martingale collar for my escape artist rescue. After doing much research into escape proof harnesses and collars i settled on a martingale style collar. The product was delivered quickly and appeared to be of good quality. I set it to about what i figured would be the correct size and tried it on her. then set it smaller, then to the smallest size. it was still super loose. Her neck is 16 inches and the chart said the size was from 13 inches to 20 inches. Since I had the product in hand I decided to test it on myself to see what it would feel like to a dog and get a better idea how it works. I can honestly say it doesnt hurt or pull hair like a chain would. It also makes it nearly impossible for an escape artist pupper to get free. I would recommend to others just with the understanding to order a size smaller than the chart indicates. I am giving the product 3 stars only because of the size issue. Because I already have the collar and a huge supporter of our no kill shelter that we got both our puppers from, I will donate the collar to them and get a smaller one. TLDR Order a size smaller than the chart says.
---
By Janice on Sep 29, 2022
Nice, well made collar
This is a very well made collar from the looks of it! My only reason for not giving it 5 stars is that it's a bit heavier than I'd like for my 16 pound dog. It's replacing a collar lighter in weight in the same width which I think is a bit more comfortable for my girl. I'll probably donate this one to our local shelter and look for a different one. As always, my order came speedy fast!
---