Petstages Dental Kitty Chew Wheel Cat Chew Toy
By Petstages
---
About This Item
The ring offers a durable surface for your cat to chew.
Spikes around the ring feel good on your feline's teeth and gums.
The round, ring shape helps exercise your cat's jaw muscles.
100% non-toxic, so you can feel safe giving this toy to your favorite furry friend.
Helps kittens and cats of all ages fulfill their desire to chew.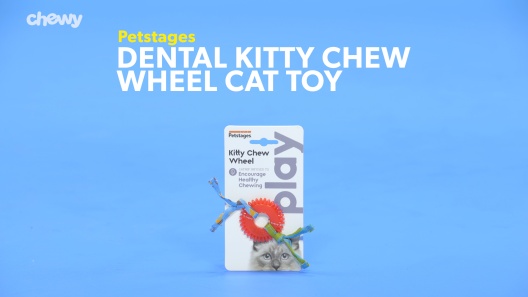 Learn More About Petstages From Our Team of Experts
---
---
About Petstages Toys for Cats
Play Helps Cats Thrive
Cats love to play, and playtime is essential to your cat's health at all life stages. Felines also need to exercise their brains to prevent boredom. You should provide your cat with a healthy amount of attention and stimulation to help avoid bad behavior and unhappiness. Petstages can help keep your cat happily playing. Choose from active toys, calming toys, scratchers, catnip and dental toys!
A World of Fun for Your Cat
Let your cat chew, bat, chase and scratch her way to happiness with Petstages cat toys and products. They can help keep your kitty active and feeling her best.
Catnip And Dental Toys
Great to bat and carry, these toys have catnip and unique netting that helps floss teeth and remove soft tartar as your kitty chews.
Tracks And Chaser Toys
Designed to satisfy your cat's hunting instincts, Petstages ball and track cat toys a fun and interactive way to get indoor cats moving.
Scratchers And Hunting Toys
Scratching is natural for cats, and Petstages offers a variety of scratching and hunting toys to keep cats entertained and nails healthy.
Tower of Tracks
Toys like Petstages' Tower of Tracks are the perfect way to give your curious kitty the mental and physical exercise she needs. Watch your cat paw at the balls and try to dislodge them—but don't worry, the balls won't come loose! Your cat will love the Tower of Tracks no matter how she chooses to use it. It's perfect for solo play or interactive play with you or other cats!
Easy Life Hammock
The Easy Life Hammock doubles as a lounger and a scratcher. Cats stretch their paws to leave their scent and when they stretch, their claws come out and leave their mark. Scratching can also help remove the dead outer layer on your kitty's claws. This lounge scratcher will not only help keep your cat's nails tidy, but it can also help keep her feeling nice and relaxed.
Purr Pillow
If your cat likes to cuddle soft and cozy things, the Purr Pillow may be just what she needs. It has a touch-activated, integrated module that makes a gentle purring noise every time your cat cuddles it. The purring sound lasts for two minutes and can soothe and calm cats of all ages. It is ideal for separation anxiety or any time your feline needs extra comfort.
About Petstages
Petstages is made up of passionate pet lovers. Their mission is to create innovative products that solve everyday problems—whether your dog eats too fast, your cat is scratching something she shouldn't, or you need a little help getting your pup in the water. Whatever you need to make life with your pet a little fuller, Petstages has something for you!
Shop Petstages
Compare Similar Items
| | | | | | |
| --- | --- | --- | --- | --- | --- |
| | | | | | |
| Customer Rating | | | | | |
| Price | | | | | |
| Toy Feature | Dental | Dental, Crinkle, Catnip | Dental | Dental, Catnip | Dental, Crinkle, Catnip, Feather |
| Toy Type | Chew Toys | Chew Toys | Chew Toys | Mice Toys, Chew Toys | Chew Toys |
| Material | Thermoplastic Rubber | Polyester | Polyester | Polyester | Polypropylene |
| Sport Team | N/A | — | N/A | — | N/A |
| Pattern | — | — | N/A | — | N/A |
---
Questions & Answers
4 Customer Questions
---
My cat likes to chew flip flops and the soles of tennis shoes would the texture be similar
Answer by • Oct 29, 2020
The Petstages Dental Kitty Chew Wheel Cat Chew Toy is made of 100% non-toxic thermoplastic rubber.
---
Where are these made?
Answer by • Jul 24, 2020
This toy is made in China.
---
Is this good for teething kittens?
Answer by • Dec 31, 2020
This toy helps kittens and cats of all ages fulfill their desire to chew.
---
Is there catnip in this toy?
Answer by • Jun 21, 2021
This toy is catnip infused to encourage healthy chewing.
---
---
By CCCCCC on Apr 12, 2022
Works Great for our Cats
This was a big hit with our kitties. They started out just being interested in the strings but then figured out they could chew the red part. It lasted a lot longer than I thought it would, but definitely towards the end we started finding bits all over the place and had to take it away. I'm sure they ate some parts but haven't had any issues from it. We will be repurchasing because it's the only chew toy so far we've found that they like and keeps them occupied for weeks.
---
By Keddy on May 13, 2022
Cat loved it
I took it out of the box, threw it and my cat went crazy for a long time. Even with her chewing and clawing it stood up to her very well. Im not sure how much benefit it is dentally but entertainment for the cost is worth it.
---
By rosie on May 12, 2022
Great throw toy
the cats love to catch this while in the air I believe they think it has wings LOL. I believe this toy is great for kitten stage for teething then for the junior/adult as a fetch catch and roll.
---
By LuvinThe253 on Mar 13, 2022
If you have a chewy, bitey kitten, this is perfect
Teething or not, I have one kitten that just likes to chew on everything, especially coming out of anesthesia (which he's unfortunately had to do a few times already in his short life). This & the other teething toy have been extremely helpful to help keeping him from chewing on things he shouldn't.
---
By LoLi on Apr 10, 2022
Too easy for cat to chew up and swallow
I agree with other reviews that these aren't good for cats that like to chew because my cats chew them up quickly and swallow the plastic chunks they chew off. Too bad because my cats love to chew them.
---
By HouseofThreeTails on Mar 10, 2022
my kitten loved it
My kitten was chewing on everything including my hands. I purchased this for her when she was about 4 months old. She chewed it every day and it helped soothe her anxiety. My older cat discovered it recently and I caught him gnawing on it too. Very very happy this toy redirected my kitten's anxiety
---
By IsVe on Jan 9, 2022
Has been great for our teething sphynx
We needed something for our sphynx kitten to chew on, as her other toys just were not doing it and we where worried she would start going after cords. This toy came up in a few different sphynx blogs so I added it to our order. Our little one loves to gnaw and play with it and it seems to help with her teething.
---
By ReadingCat on Feb 3, 2022
Just Nope.......
Really wanted to like this Dental Chew Wheel, but nope. Vivian was all excited with the Chewy box when it arrived. I cut this from the cardboard, and she had zero interest! Had given her the Petstages Wiggle Worm the day before and she loved it!
---
By TLee on Jan 27, 2022
Cats Weren't Interested
I was hoping my kitten would love this as a chew toy, but he just simply wasn't interested. I tried several things (treats, catnip, play) to get his attention, but unfortunately he wouldn't even bite it.
---
By charlotte on Jan 28, 2022
Cat is OBSESSED!
My younger cat loves to play with this toy. I cut the strings off since I was worried about my cats eating them, but it made it better. She loves chasing it around since it rolls. Great for teething.
---