Autoship
(Save an extra 5%)
Choose Autoship at checkout for regular deliveries.
Why Autoship?
FREE access to chat with licensed vets 7 days a week.
Save 5% on all future Autoship orders.
No fees, no commitments - cancel Autoship anytime.
Frequently Bought Together
---
About This Item
Lightweight crystals trap odor and eliminate moisture.
Strong enough for single and multi-cat households.
Changes color to indicate potential health issues.
Low dust and low maintenance.
Each 8-lb. bag lasts about two months.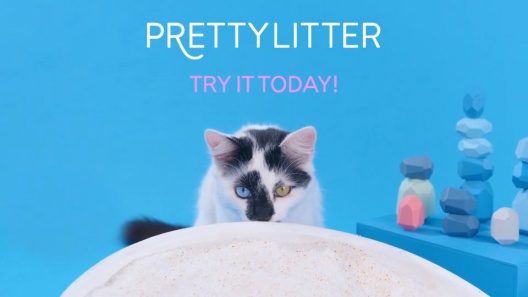 Learn More About PrettyLitter From Our Team of Experts
---
---
The Smartest Cat Litter
PrettyLitter is the color-changing, health-monitoring cat litter that keeps your home smelling fresh with its advanced odor control. Made for single and multi-cat homes, PrettyLitter is lightweight and low maintenance, and it allows you to keep daily tabs on your cat's health!
Typical
Dark yellow to olive green indicates urine within the typical range.
Acidity
Orange may indicate metabolic acidosis or kidney tubular acidosis.
Alkalinity
Blue may indicate certain types of urinary tract infections or increased risk of stone formation.
Blood
Red may indicate bladder crystals, feline lower urinary tract disorder, or certain types of kidney disease.
About PrettyLitter
PrettyLitter was invented to give cat parents peace of mind by letting them keep daily tabs on their cat's health. Their goal is to take some of the stress out of cat parenting, so you can focus on what matters most – living a long and happy life together. Both you and your cat will love this advanced, odor-controlling litter!
Shop Pretty Litter
Compare Similar Items
| | | | | | |
| --- | --- | --- | --- | --- | --- |
| | | | | | |
| Customer Rating | | | | | |
| Price Per Unit | | | | | |
| Price | | | | | |
| Autoship | | | | | |
| Top Ingredients | PrettyLitter is made of super absorbent silica-based gel which is non-toxic and not chemically reactive. It contains no crystalline silica and is household friendly.... | Silicate Gel and Water | — | — | — |
| Litter Feature | Non-Clumping, Health Monitoring, Odor Control, Unscented | Eco-Friendly, Health Monitoring | Non-Clumping, Odor Control, Unscented, Multi-Cat | Non-Clumping, Multi-Cat, Odor Control... | Odor Control, Unscented, Non-Clumping |
| Packaging Type | Bag | Bag | Bag | Bag | Bag |
| Lifestage | Adult | Adult | Senior | Adult | Adult |
---
Questions & Answers
2 Customer Questions
---
Does Pretty Litter contain Diatomaceous Earth?
Answer by • Oct 24, 2022
This litter does not contain Diatomaceous Earth. PrettyLitter is made of super absorbent Silica Gel, combined with a proprietary health indicating formula to help you monitor your cat's urine for acidity and alkalinity levels outside the average range, plus the visible presence of blood. Silica Gel litter is made from naturally occurring minerals, so PrettyLitter is safe for your cat and friendly for the whole household. PrettyLitter is manufactured in one of the world's largest and most trusted kitty litter plants sourcing its own silica microgels using carefully selected mineral sources. In addition, the manufacturing facility uses the highest quality control standards.
---
Is PrettyLitter safe to use with kittens?
Answer by • Nov 06, 2022
This litter is safe for use with cats of all ages. PrettyLitter uses naturally occurring minerals that are safe for cats, even when they breathe or ingest it. Of course, ingesting a lot of any type of litter is not great, so keep an eye on your cat if they love to munch on litter.
---
---
By katy on Nov 28, 2022
Yes and no
Overall I think I like pretty litter but I don't know if I will be a repeat customer. It is very reassuring to know that you can monitor your cats health when you clean their box, and it is a really good odor fighting litter, however there is something about it I dislike. First, the litter itself is really rough and my cat really doesn't like the texture. I had to mix the old brand with PL to get him to go in the box. I expected the litter texture to be less jagged being it is made of silica. My cat has adjusted to it but I feel bad for him and his little feet. Additionally, while the litter does it's job in keeping odor under control, it almost does it too well because there is a dusty scent that lingers when you clean the box. It doesn't feel nice to breathe and I can't help but think that can't be good for me or my cat. I think it is worth a try but beware of that texture. As for the scent, my cats box is in my living room but if your boxes are elsewhere you may be fine with it.
---
By SarahB on Nov 27, 2022
I like it, but don't love it
So it's been a month of the pretty litter. My cat is fine with it. So that went well. What I like, it's very absorbent. No mushy clay to dig out and stick to your scooper. Poop dries pretty quick and therefor doesn't smell. Its so light weight and not wasteful. It turns yellow...I'm still weirded out by that and not sure I wanted to keep it or change it after 2 weeks of it being yellow. I don't like the dust, it can be dusty...but it's not clay dust that makes you choke. And it tracks pretty easily. My husband says it's stinky....but honestly I don't think it is. For some reason out cat doesn't know she needs to cover her poop...just unsuccessfully paws at the sides of the box. So we have to mix it to get the poop covered. Overall, I think I'm going to try another month.
---
By KATELYN on Dec 1, 2022
Not worth the price
The only reason I gave this two stars instead of one is because I truly do like the health benefits that pretty litter provides. However, it tracks much worse than any litter that I've ever used. There is a very bad odor associated with this litter that I have not dealt with in other litters that I have used. For the price and all that it claims to do as a litter I feel that it does not hold up to that of what it says it does.
---
By Ilwi on Nov 18, 2022
we loved it
While I purchased this litter because I suspected my 1 yr old had a UTI, I will buy this litter again because of the odor control, fewer litter changes, and the light weight. I am a skeptic, but it really does have better odor control. I did have to mix in a little of our old litter to get the one yr old to use it. The kitten was a fan from the first day. I was changing our clumping litter biweekly, this litter I change every two weeks for two cats. We still have two litter boxes of clumping litter which the cats will only use occasionally.
---
By Maike on Nov 30, 2022
Very Disappointed
Single bag supposed to reduce order and last for two months. Manufacturer touts a 30-day guarantee. Within less than 2 weeks, the order has been substantially worse than my previous litter, and in a significantly shorter time period. I clean my litter box 2-3 times daily. This was a HUGE disappointment and I expect someone to make good on the 30-day guarantee.
---
By Rynlie on Nov 23, 2022
Not for Me
It is very fine so when it tracks out of the litter pans it's hard to see, but easy to hear as it spreads around the floor. If your cats have any issues with parasites, it is totally inappropriate as you should clean the litter pans and change the litter daily. Finally, kittens tend to eat it when they wash up and I don't believe it is healthy for that reason.
---
By Cate on Nov 20, 2022
Needs Some Improvements
I love the idea of this litter, because one of our cats has trouble getting to the vet, so this would be a great investment in monitoring his health. However, we noticed the litter does not control the urine smell well, and the fact that it doesn't clump the urine makes the litter seem more wet in consistency over time. The idea behind this is that you throw out the litter a lot more quickly than traditional clay litter, since it specifically doesn't clump urine (and traps it in the silica gel) but unfortunately this characteristic makes the litter really gross, really quickly. If you change to this litter, you need to be ok with changing your overall litter habits (throwing it out every 3-4 weeks and totally replacing, stirring/scooping every day to keep the urine from pooling). BUT this is an amazing idea, and I want to support the company working to make this innovative product. If it was possible for the litter to have this urinary monitoring benefit while clumping up the urine for easier disposal, this would be a 10/10 product.
---
By ash14 on Nov 6, 2022
Don't waste your money
Honestly, I don't know how this litter has any good reviews. I was purchasing from pretty litter directly, I had reached out to their customer service because after two weeks of using, my litter was so incredibly dusty while I was cleaning it that I ended up having to change the entire box. The pretty litter bags claim that this litter doesn't need to be changed for 1-2 months, which is why I was so disappointed. Customer service told me that it was possibly a faulty bag, so I tried one of the other bags that I had purchased and it did the same thing after 1.5-2 weeks. I tried probably 10 pretty litter bags before giving up and switching bag to my old litter. The odor control is not great either. I could smell urine from the other room.
---
By jwathas on Nov 17, 2022
The best litter ever!!!!
Let me start off by saying that I was a bit skeptical when I first heard about this litter. I feared it would just be overpriced garbage that was no different than any other litter; however, after a friend highly recommended that I at least give it a try, I was BLOWN AWAY! I have 6 indoor cats and always went through A LOT of litter and was constantly battling litter box odors. Pretty Litter is a GAME CHANGER! I just recently bought a new house and the very last thing I wanted was for it to smell like litterbox. This stuff does NOT disappoint! You would never know that there are 6 cats in this house. There is absolutely NO odor whatsoever! It's also 100 times easier to scoop than clumping clay litters and it lasts significantly longer in between box changes. It doesn't stick to the bottom of the box and scoops out with ease. I am so glad that I finally gave in to trying this litter. I will now never use anything else. It's well worth every penny! My cats are happy and I am happy!
---
By KittyMommy on Oct 22, 2022
Invaluable for monitoring health!
Pretty Litter has been a God send for monitoring my cats' health! I have a CKD kitty who's prone to recurring UTIs. This has allowed me to know right away, instead of waiting for her to show signs - which has always been after it's progressed and painful. Now I can take action and help her clear them up right away. It also alerted me to another kitty having a hidden issue. Got him to the vet and after much testing discovered he has a condition I never heard of, FIC. I'm so grateful for Pretty Litter! I did knock it down a star though, as I am not impressed with the urine absorption nor odor control. I find those lacking results as advertised, especially in a multi-cat household. Through trial and error, I did discover that I can achieve the best of both worlds by combining Pretty Litter about 50/50 with a light colored natural litter that still allows you to see the color change, such as fine wood or grass litter.
---