Simparica Trio Chewable Tablet for Dogs, 2.8-5.5 lbs, (Gold Box)
Autoship
(Save an extra 5%)
Choose Autoship at checkout for regular deliveries.
Why Autoship?
FREE access to chat with licensed vets 7 days a week.
Save 5% on all future Autoship orders.
No fees, no commitments - cancel Autoship anytime.
This item requires prescription approval.
---
Medications ship separately. Delivery times may vary.
---
---
---
We'll collect your pet's prescription information at Checkout.
---
---
About This Item
Help your furry friend fight off pests with Simparica Trio Chewable Tablets for Dogs! Every purchase comes with 6 treatments that are specially formulated for canine companions 8 weeks of age and older, weighing between 2.8 and 5.5 pounds. Simparica Trio is the first and only product that combines sarolaner, moxidectin and pyrantel in each treatment to help prevent heartworm disease, kill fleas before they can lay eggs, kill 5 types of ticks, treat and prevent flea infestations and treat and control roundworms and hookworms. And each monthly chewable tablet has a palatable liver flavor and can be taken with or without food!
Proudly sourced directly from the manufacturer or their approved distributor. Guaranteed genuine and backed by the manufacturer.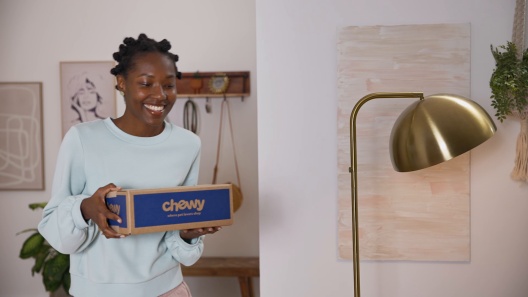 Learn More About Simparica Trio From Our Team of Experts
Dosage Chart
| Color on Box | Weight Range | Strength | Dosage | Product Page |
| --- | --- | --- | --- | --- |
| Gold | 2.8-5.5 lbs | 3 mg Sarolaner, 0.06 mg Moxidectin, 12.5 mg Pyrantel | Administer orally once a month | ✓-Click Here |
| Purple | 5.6-11.0 lbs | 6 mg Sarolaner, 0.12 mg Moxidectin, 25 mg Pyrantel | Administer orally once a month | ✓-Click Here |
| Caramel | 11.1-22.0 lbs | 12 mg Sarolaner, 0.24 mg Moxidectin, 50 mg Pyrantel | Administer orally once a month | ✓-Click Here |
| Teal | 22.1-44.0 lbs | 24 mg Sarolaner, 0.48 mg Moxidectin, 100 mg Pyrantel | Administer orally once a month | ✓-Click Here |
| Green | 44.1-88.0 lbs | 48 mg Sarolaner, 0.96 mg Moxidectin, 200 mg Pyrantel | Administer orally once a month | ✓-Click Here |
| Brown | 88.1-132.0 lbs | 72 mg Sarolaner, 1.44 mg Moxidectin, 300 mg Pyrantel | Administer orally once a month | ✓-Click Here |
---
---
About Simparica Trio for Dogs
Go With Simparica Trio
Give your dog triple protection with Simparica Trio. It's the first monthly chewable that provides defense against heartworm disease, fleas & ticks*, roundworms**, and hookworms***.
Triple Protection, Made Simple
Just one Simparica Trio dose does the job of two or three products, protecting against common parasites that can threaten the health of your dog. It is easy to give and can help simplify your routine as you protect your dog every month.
Use Simparica Trio for Puppies
When puppies are exposed to parasites, it can lead to serious health concerns. Make sure to protect your little ones from the start with Simparica Trio. It is demonstrated safe for puppies 8 weeks and older who weigh at least 2.8 pounds.
Enhance Your Dog's Protection
Just 1 monthly Simparica Trio chewable provided 100% protection from heartworm disease in a study.
The only combination chewable proven to kill 5 types of ticks. Competitive chewable brands are only approved to kill 4.
Kills fleas before they can even lay eggs. Starts killing fleas within 4 hours, with 100% effectiveness achieved in 8 hours in a study.
Treats and controls roundworms and hookworms to protect dogs from intestinal parasites.
IMPORTANT SAFETY INFORMATION
Use with caution in dogs with a history of seizures. Simparica Trio contains sarolaner, a member of the isoxazoline class, which has been associated with neurologic adverse reactions including tremors, ataxia, and seizures in dogs with or without a history of neurologic disorders. The safe use of Simparica Trio has not been evaluated in breeding, pregnant, or lactating dogs. The most frequently reported adverse reactions in clinical trials were vomiting and diarrhea. See full Prescribing Information.
Prescribing Information.
*Amblyomma americanum, Abylomma maculatum, Dermacentor variabilis, Ixodes scapularis, and Rhicephalus sanguineus. **Toxocara canis and Toxascaris leonina. ***Ancylostoma caninum and Uncinaria stenocephala.
All trademarks are the property of Zoetis Services LLC or a related company or a licensor unless otherwise noted. © 2021 Zoetis Services LLC. All rights reserved. STR-00337
About Simparica Trio
Simparica Trio is a once-a-month, easy-to-give chewable that helps simplify protecting your pet every month. With three active ingredients designed for defense, Simparica Trio keeps dogs protected from heartworm disease, fleas & ticks, and roundworms & hookworms. Dogs get all this protection with just one dose of Simparica Trio. Available by prescription only.
Shop Simparica Trio
---
---
By Brando on Jul 7, 2022
Not sure if it works
I'm honestly unsure if this works. I gave it to my new pup who was scratching. I had found a couple fleas on her, so I figured that was the issue. Simparica was recommended by the vet, and I was quite relieved to find it since its available for tiny dogs (I have a baby pom). She ate it no problem - so it must taste a lot better than some of the alternatives! That said, she's still scratching even weeks after giving her the Simparica. I haven't seen fleas, but it's hard to tell since her fur is so thick. I just remember giving a past pup Trifexis and it provided him immediate relief. This didn't have the same effect. It might be working, but its hard to tell since I haven't seen any behavior change in my pup.
---
By Beatnik on Jul 13, 2022
What do I think of Chewy
Love, love, Chewy! They have been awesome to do business with and they really care about animals.
---
By Happy on Mar 16, 2022
Great prices
I was more than happy when I saw the price of your pills that my dog Samantha needs. Seems like I can always count on chewy to have what I need and not cost an arm and a leg. Thank you
---
By Frida on Apr 12, 2022
Works great
Simparica Trio works great and fast, I'm so glad my Vet recommended this product for my fur baby!!
---
By AloG on Sep 16, 2021
Fast Results!
I love how fast the pill worked! I have a teacup Pomeranian and this was the only pill I found for her weight. No side affects what's so ever. Highly recommend this for a small dog.
---
By Capt on Mar 29, 2021
Easy savings !
Having a new chi-mix rescue these are a must in FL New to the Simparico brand however til she adds some weight at least she's covered. Fast Shipping and Easy ordering as always with CHEWY :)
---
By HeathersZoo on Oct 5, 2020
Genius & Pup loves the taste!
First of all, I've been waiting for a product like this for decades. I've always said, why has no one thought to combine them?! This product is genius - one pill for all 3 monthly duties. My chihuahua is picky but will eat this like a treat, no problem. We have seen zero side affects and I will gladly recommend to anyone!
---