Simparica Trio Chewable Tablet for Dogs, 44.1-88 lbs, (Green Box)
Must select Autoship for discount to apply.
Autoship
(Save an extra 5%)
Choose Autoship at checkout for regular deliveries.
Why Autoship?
FREE access to chat with licensed vets 7 days a week.
Save 5% on all future Autoship orders.
No fees, no commitments - cancel Autoship anytime.
This item requires prescription approval.
---
Medications ship separately. Delivery times may vary.
---
---
---
We'll collect your pet's prescription information at Checkout.
---
---
About This Item
Help your furry friend fight off pests with Simparica Trio Chewable Tablets for Dogs! Every purchase comes with 6 treatments that are specially formulated for canine companions 8 weeks of age and older, weighing between 44.1 and 88 pounds. Simparica Trio is the first and only product that combines sarolaner, moxidectin and pyrantel in each treatment to help prevent heartworm disease, kill fleas before they can lay eggs, kill 5 types of ticks, treat and prevent flea infestations and treat and control roundworms and hookworms. And each monthly chewable tablet has a palatable liver flavor and can be taken with or without food!
Proudly sourced directly from the manufacturer or their approved distributor. Guaranteed genuine and backed by the manufacturer.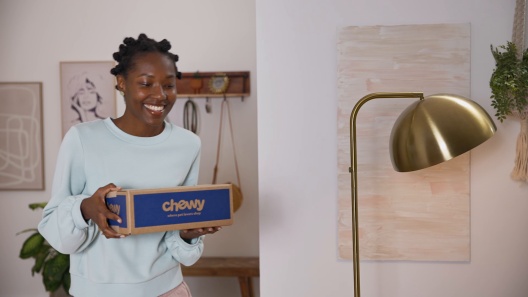 Learn More About Simparica Trio From Our Team of Experts
---
---
About Simparica Trio for Dogs
Go With Simparica Trio
Give your dog triple protection with Simparica Trio. It's the first monthly chewable that provides defense against heartworm disease, fleas & ticks*, roundworms**, and hookworms***.
Triple Protection, Made Simple
Just one Simparica Trio dose does the job of two or three products, protecting against common parasites that can threaten the health of your dog. It is easy to give and can help simplify your routine as you protect your dog every month.
Use Simparica Trio for Puppies
When puppies are exposed to parasites, it can lead to serious health concerns. Make sure to protect your little ones from the start with Simparica Trio. It is demonstrated safe for puppies 8 weeks and older who weigh at least 2.8 pounds.
Enhance Your Dog's Protection
Just 1 monthly Simparica Trio chewable provided 100% protection from heartworm disease in a study.
The only combination chewable proven to kill 5 types of ticks. Competitive chewable brands are only approved to kill 4.
Kills fleas before they can even lay eggs. Starts killing fleas within 4 hours, with 100% effectiveness achieved in 8 hours in a study.
Treats and controls roundworms and hookworms to protect dogs from intestinal parasites.
IMPORTANT SAFETY INFORMATION
Use with caution in dogs with a history of seizures. Simparica Trio contains sarolaner, a member of the isoxazoline class, which has been associated with neurologic adverse reactions including tremors, ataxia, and seizures in dogs with or without a history of neurologic disorders. The safe use of Simparica Trio has not been evaluated in breeding, pregnant, or lactating dogs. The most frequently reported adverse reactions in clinical trials were vomiting and diarrhea. See full Prescribing Information.
Prescribing Information.
*Amblyomma americanum, Abylomma maculatum, Dermacentor variabilis, Ixodes scapularis, and Rhicephalus sanguineus. **Toxocara canis and Toxascaris leonina. ***Ancylostoma caninum and Uncinaria stenocephala.
All trademarks are the property of Zoetis Services LLC or a related company or a licensor unless otherwise noted. © 2021 Zoetis Services LLC. All rights reserved. STR-00337
About Simparica Trio
Simparica Trio is a once-a-month, easy-to-give chewable that helps simplify protecting your pet every month. With three active ingredients designed for defense, Simparica Trio keeps dogs protected from heartworm disease, fleas & ticks, and roundworms & hookworms. Dogs get all this protection with just one dose of Simparica Trio. Available by prescription only.
Shop Simparica Trio
---
---
By Suzanne on Nov 17, 2022
Thank You Chewy!!!
When I could no longer get the heart worm medication that I have had my dogs on for years due to supply chain issues, I was concerned. I had to cancel the auto ship order and figure out what I was going to do. Chewy was wonderful and even sent me a 15% off coupon for my next order. After doing a lot of research I changed my dogs to Simparica TRIO. They love it and I love Chewy! They have always been helpful and understanding when ever I have had an issue with a shipment, which is not often, but things do go wrong occasionally. I love Chewy as much as my boys do!!
---
By ClevGolden on Nov 7, 2022
Great medication!
This medication was recommended by my vet. It targets heartworm, flea, and tick. I am very happy with the results, I have my oldest dog with the medication and during the second month of the treatment I got a puppy! The vet noticed that the puppy had flea, so he checked my older dog to see if he also had it, I was so relieved when he said he didn't My dogs are Golden Retrievers, so the oldest has a lot of hair to have those fleas. I will be continuing using this medication!
---
By ESLM on Nov 26, 2022
Great Product & Convenience
This Simparica TRIO product is great. My dog likes the taste of it, so I can give it to him like a treat on the 1st of each month. I am happy to know he is being protected from heartworms and other harmful parasites. I was happy to be able to conveniently get this delivered through CHEWY. Thanks to them for contacting my vet!
---
By Dani5358 on Nov 1, 2022
This really is effective!
I currently have two of my Bernese Mountain dogs on Simparica Trio. They have been flea, tick, heartworm, hookworm and roundworm free since beginning treatment. They have not experienced any side effects from the medication whatsoever. I thought for sure that they would have an upset stomach with diarrhea or vomiting because they both have very sensitive tummies. It's very comforting knowing that your pet has protection against all of these things.
---
By Molly on Nov 3, 2022
Great experience
My dog has been on this medication since she was old enough. Have never had any issues. Our vet just recently stopped selling it as they switched to a different product which I thought was going to be an inconvenience. But chewys was quick to contact my vet for approval and I had my dogs medication within a few days!
---
By JeanieRN on Nov 11, 2022
Much Easier!
Having to only give our dogs, one pill a month, rather than one pill, and having to chase them to put the flea medicine on them is much more convenient for. It makes my life much easier. Pill is big, but wrap it in cheese, and my dogs will eat anything.
---
By kass on Nov 11, 2022
Simparica Trio 10/10
I am a Vet Tech and my German Shepard has been on this medication since she was 8 weeks old and is now almost three!! I love it!! Won't use anything else for my fur baby. We also sell and promote this product at the Vet clinic! Amazing !!!
---
By stranger on Nov 15, 2022
good product
good product at a good price, but why have it shipped monthly instead of every six months. makes sense to use less postage, shipping and packaging. should encourage better rate for 6 months vs auto ship each month,
---
By River on Oct 26, 2022
simparica trio
Im very unsatisfied with Chewy at this time. I canceled my auto shipping because this box gives you 6 months. I canceled my subscription and they still send out a box the following month and of course charged me for something I cacnceled
---
By MissD on Nov 18, 2022
Dhaviatenn
Ms. Dhavia is special and has to be coaxed to get her to eat anything. Hopefully this will agree with her and she will continue with her pampered life.
---