Starmark Pro-Training Clicker Dog Training Aid
Compare Similar Items
| | | | | | |
| --- | --- | --- | --- | --- | --- |
| | | | | | |
| Customer Rating | | | | | |
| Price | | | | | |
| Lifestage | Adult | Adult | Puppy, Adult, Senior | Adult | Adult |
| Material | N/A | Plastic | Plastic | Plastic | Plastic |
| Breed Size | Extra Small & Toy Breeds, Small Breeds, Medium Breeds... | N/A | N/A | N/A | N/A |
| Leash & Collar Feature | N/A | N/A | Training | N/A | N/A |
| Bird Type | N/A | N/A | N/A | N/A | N/A |
| Toy Feature | N/A | N/A | N/A | N/A | N/A |
| Small Pet Type | N/A | N/A | N/A | N/A | N/A |
---
About This Item
Step-by-step training guide included
A scientific method of training safely and easily
With the method used at Starmark's Training Academy, you too can repeat positive behaviors
Comfortable and responsive ergonomic design, easy to hold and press
Raised button prevents missed clicks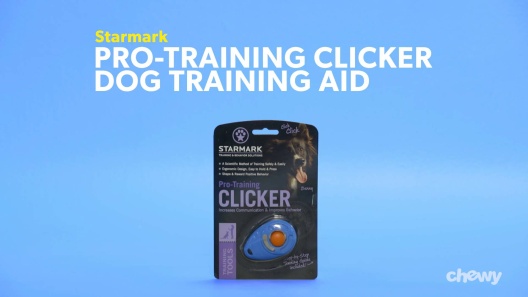 Learn More About Starmark From Our Team of Experts
---
---
Questions & Answers
12 Customer Questions
---
Is this clicker loud? I tried another clicker but my dog was afraid of it so I'm trying to find one that's a little softer.
Answer by • Apr 23, 2018
This clicker is loud enough for your dog to hear it but not scare them. The video above shows the clicker in action.
---
Can this be used to stop excessive barking
Answer by • Nov 08, 2017
This clicker is made to promote effective communication with your dog and help you shape desired behaviors, not to stop excessive barking.
---
Where is this made from?
Answer by • Mar 11, 2018
This product is made in China.
---
can this be used for peeing in the house
Answer by • Feb 14, 2018
This Training Clicker may be used to assist with potty training. When the pet goes to the bathroom in a desired area, they would then get positive reinforcement.
---
---
---
By Shikha on Nov 24, 2020
Good sound, hard to use
Maybe I lack thumb strength or something but it's really not that easy to click, which makes it hard to click for good behaviors on the fly due to the delay. When it does click it sounds good though. Would be better if it came with something to hang it from like a wrist strap but there is a hole if you want to add your own
---
By Kathy on Jun 25, 2020
Crisp audible sound
The click is crisp and audible which is key for me. Too many clickers on the market today barely make a sound. I took a chance on this one and am quite happy with my purchase. For those of you who say your dog is scared of the sound, I say when s/he learns that a reward is sure to follow the click, you'll see quick results when there is a clear signal. I bought a wrist band with a ring so the clicker is handy when I need it. My dog's recall (even when he's interested in something in the weeds) has improved by leaps and bounds using this clicker/method.
---
By Angelfmsac on Aug 4, 2020
Never got to use it
It clicked then just stopped. My friends and I all joke about the silent clicker. Maybe the non-existent battery ran out? Maybe it was the weather since you can only train your dog indoors?? Very odd but thankfully wasn't expensive.
---
By Liam on Jun 11, 2020
The Clicker Arrived In A Broken State
We're very unimpressed, because it arrived and is non-functioning. When pressed, the clicker doesn't produce any sounds. The metal within it must've warped and shifted around at some point during shipping. I'm sure we'd love the product if the one we received actually worked! My review would likely be a lot higher than one star.
---
By kappy on Jun 27, 2020
Faulty product
product did not work bedore I removed it from pkg. However I removed it thinking perhaps I was doing somthing wrong. No it just didnt work. Totally disappointed in product & in chewy for continuing to carry a product with as many bad reviees as this one.
---
By DelCurtis on Jun 5, 2020
Arrived broken
It looks like it would work, if it had worked. Broken - no clicks. Whatever makes the click doesn't appear to be there. Also it is kind of slippery to hold on too - when it didn't work I thought I was holding it incorrectly.
---
By SalemLab on Mar 17, 2020
My favorite clicker
I've used this clicker nearly every day for 1 year since bringing my Lab puppy home. It's small enough that it fits very comfortably in your hand. The actual "click" sound it makes is very crisp and clear - even in very fast training sessions where you're clicking multiple times in a short window, it doesn't "stick" or blur the click sounds, which makes it clear for puppy to understand the behavior you're reinforcing. I misplaced this for a couple of weeks and the replacement I picked up at the pet store couldn't hold a candle to this one - it was shaped like a whistle so was large to hold along with the leash. The "click" mechanism was tight and so it would often stick so that my click marker was delayed. This Starmark clicker is my go-to and it's always in my pocket. I've also dropped it on the pavement many times on our walks and it's held up well.
---
By JLBKC on Jun 15, 2020
Loud for a nervous dog
This clicker is kind of flimsy. It's also louder than ones we've received before in dog training class. Our chihuahua is terrified of the sound. Lol.
---
By 5CatAlpha on Feb 18, 2020
One of the better clicker training aids I've found!
I wanted to try clicker training with my newly adopted dog, but found the clicker I had used with my previous dog started sticking and missing clicks. I also found it hard to hold, as I'm experiencing the early stages of RA. So, I went online and found the Starmark Pro-Training Clicker Dog Training Aid. I like its ergonomic design and the clicks are spot-on--no more missed clicks. My dog is catching on to clicker training faster now. The only thing I don't like about it is that I thought it was bigger than most clickers; a larger clicker would be easier to hold along with a leash, but I see that I can attach a carabiner or something else on the leash to the clicker if I need to. Still, I'd get an extra one as it's so easy to use!
---
By NYCPJ on Mar 14, 2020
Dog is really scared of it
I watched YouTube videos and read ways to help dog overcome fear of clicker. But she doesn't even care about treats when she hears the clicker. One pro trainer puts poster tack on the dimple but I'm afraid to pry this thing open lest I break it. Any advice?
---