Tidy Cats Breeze XL All-In-One Cat Litter Box System
By Tidy Cats
---
About This Item
The 99.9% dust-free Breeze pellets help keep tracking to a minimum.
The extra large litter boxes for big cats offer more room to make your kitty's litter box experience a little more comfy.
The high sides on the Breeze XL litter box help prevent tracking and keep messes in the box.
Just like with all Breeze litter systems, this XL litter box works with any Breeze litter pads.
Purina Tidy Cats Breeze XL litter system only needs one kitty litter pad. Absorb. Toss. Replace.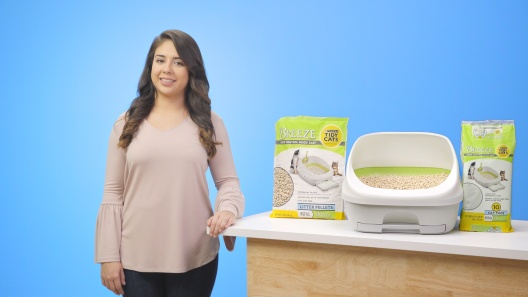 Learn More About Tidy Cats From Our Team of Experts
---
---
About Tidy Cats Breeze Litter System
Litter Made Easy
The Breeze Litter System provides simple, fast odor control you can rely on. Its anti-tracking pellets repel urine to keep the box dry, isolating solids on top for easy scooping. Urine passes through the grated tray and into the super absorbent pad, while the removable drawer allows for no-touch pad changes. Simply replace the ammonia-locking pads weekly and the mess-minimizing pellets monthly!
A Revolutionary New Litter System
Blocks Ammonia Odors
Each pad stops ammonia odor for 7 days, keeping unpleasant odors at bay so you can maintain a clean, fresh-smelling home.
Neat Neet. Neet Floors.
Anti-tracking pellets repel and wick moisture, keeping solids on top for fast scooping. Just replace the pellets once a month!
Highly Absorbent Pads
Each pad lasts up to one week and is super easy to replace—just use the removable drawer to toss it without touching.
Switching is a Breeze
Each Breeze system comes with easy, expert transitioning tips to help you and your cat make the switch smoothly.
About Tidy Cats
Tidy Cats knows it's their job to follow every road that leads to freshness. That's why they never stop searching for a better litter box experience. For over 50 years, they've fought odor, cut down on dust and helped simplify litter box maintenance. They always have a clever solution that's right for you and the other noses in your home.
Shop Tidy Cats
Compare Similar Items
| | | | | | |
| --- | --- | --- | --- | --- | --- |
| | | | | | |
| Customer Rating | | | | | |
| Price | | | | | |
| Litter Box Type | Pan | Pan | Pan | Pan | Pan |
| Material | Plastic | Plastic | Cardboard, Silicone | Plastic | Plastic |
| Litter Feature | Odor Control | N/A | N/A | N/A | N/A |
| Compatibility | N/A | N/A | N/A | N/A | N/A |
| Assembly Required | N/A | N/A | No | N/A | N/A |
| Potty Feature | N/A | — | N/A | N/A | N/A |
| Packaging Type | N/A | N/A | Tray | N/A | N/A |
---
Questions & Answers
47 Customer Questions
---
what are the dimensions of the Breeze XL ??
---
How are you supposed to keep a cat from peeing near the edges - where there is no pad? The box is larger, but the actual area to pee/poop ends up being the same if you can only put pellets in one small area.
Answer by • Feb 20, 2020
This system features a tray with a grated section over the pad to collect liquid. The tray slopes gently down towards the grated section so any liquid at the edges will be funneled down and collected in the pad. This design means the size of the litter box can be larger without the need for larger pads.
---
I like the system, but my cats fling the pellets out of the box. Will the XL box help with this?
Answer by • Mar 04, 2020
This XL All-In-One Cat Litter Box System is designed with high-sided walls that are nearly 2 times higher than the original system to keep the mess contained and help prevent tracking.
---
We have multiple cats, and I am curious if the pads would risk leaking/soaking thru. (I assume I would need to change them daily.) Our family has 6 cats and 7 litterboxes, so it won't be the only box used.
Answer by • May 19, 2020
One pad is guaranteed to last 7 days for one cat.
---
---
---
By Dottie on May 15, 2022
Excellent system!
I purchased this Breeze litterbox system because I had to take in 2 cats that were in grave danger where they were living. Unfortunately, the only place I had to put them was a small room in my finished basement that has access to an enclosed outdoor area for them. Regular litter is too dusty for in there and newspaper litter left too much of a smell. The Breeze truly is a breeze to keep clean and there is no urine odor at all. The cats are using it with no problem. It is a bit pricier to maintain with the disposable pads but the pellets are lasting a very long time. I recommend this system, especially for those with asthma.
---
By CmcG on May 10, 2022
Tidy cat litter system ck
Good structural unit. Though it's huge and I imagine perfect for bengals or Maine coon cats. The venting grates are 1). Same size as the original tidy cat litter box. 2) I imagine this will be very difficult to clean with only half the base vented. Will likely be very smelly. Unsure if I'll keep or not based on high price. Hence my lower rating. Probably will return and go back to original size tidy cat unit.
---
By Nikki on Mar 20, 2022
not great for kittens
My sister has a cat and she loves this box. We recently got 2 kittens and we decided to try this box also. The kittens were very confused by it. They tried to eat the pellets. They also really still wanted to bury their "stuff" which caused poop to get all over the box. I threw the box away after i set it up, so i ended up just throwing the litter system away too and going back to the original one.
---
By Maines on Apr 1, 2022
Odor control
We weren't sure if our cats would take to this (one of them tried to eat the litter pellets), but with patience they did. The odor control is much better than our previous litter. Only downside is that our cats kick the pellets out of the box so I'm always sweeping them up. But we like it enough that we're getting another.
---
By Dwin on Apr 13, 2022
extra box,
I have four cats. I wanted them to have a choice of the boxes. I have a big fluffy Noel, two tabbies, brother and sister, and a torti. They all like the new big litter box, now they have a choice, between the regular sized ones, and this one. They all share in it.
---
By CatDad on Mar 22, 2022
Best System but Expensive
I've tried a lot of different litter boxes and litter and always have had issues with tracking or odor. I have had neither with this but it's expensive! I go through a 7 pound bag of litter every week. I've tried washing the litter with a hose but it's a lot of hassle and takes some time to dry. So for about $100 a month you get an odor/tracking free system. Worth it.
---
By CatLady on Mar 14, 2022
Horrible Odor
I bought this from a friends suggestion and was hesitant because of the price point. I thought it was a good idea to get since I was tired of having litter all around my floor and having to sweep constantly but this was so much worse. since the pellets don't fully cover the poop and there's no top on this specific box, the odor was horrible throughout my entire house. my cat would step on previous pieces of poop then would have it on his paws and when I picked him up he'd smell like it - just gross! the way the pee funnels down into a lower level with a mat to absorb the pee is a great idea but again, the smell was just so bad I couldn't justify buying the pellets and pads every two-three weeks to change it all. overall I thought it would be great but the final product I was very disappointed with and have already been so much happier with the new litter box I bought from Chewy and switching back to actual litter instead of pellets. I'm just sad I spent $70+ on this box plus bags of pellets since those aren't cheap and now I'm stuck with (4) 7lb bags of pellets - if anyone needs them let me know!
---
By Chesterthecat on Mar 25, 2022
Breeze XL All-in-One Cat Litter Box System
Love the system; my Bengal fits in perfect and loves it. I have 2 other tidy breeze systems but they were too small for my cat's needs. I would have given 5 stars except both packages of litter came sliced opened and more than 1/2 of the litter from each package was lost in shipping.
---
By Rinda on Feb 5, 2022
My Kitties love it!
I upgraded from the regular sized box to the XL version and oh man, what an improvement! Not only the size but also the design of it. The slats are smaller which helps keeping the pellets from getting stuck in the holes, and personally, I like how the parts don't click together. Only reason I deduct a star is because the amount of litter they put into the box is not NEARLY enough to fill the box to the correct level. They add two 3.5lb. bags which is barely enough to cover the bottom. I added 7lbs. more which brings it to the right level. The cats didn't waste any time using it! All in all, highly recommend, just make sure you have enough litter pellets on hand. And there's a Bonus: a big new box for them to play with! :0)
---
By Koko on Feb 20, 2022
Best litter system
I just bought the XL Breeze litter system and love it. My 20lb., 18yr. old cat was having a problem using the regular size one lately (just lazy) so the larger one fit her better so I think she likes it better. I love the Breeze system as it is easy to clean and the pellets control the odor very well. And the pee pads work nicely. I definitely will recommend it to every cat owner.
---