Tidy Cats Free & Clean Lightweight Unscented Clumping Clay Cat Litter
---
About This Item
This unscented clumping cat litter has absolutely no fragrances or dyes and wows with an Ammonia Blocker that prevents ammonia odor for 14 days when used as directed.
The low dust cat litter allows for a clean, easy pour and is made with natural clay and mineral product plus a deodorizing system, helping you keep your home smelling fresh.
The lightweight litter is easy to carry, pour and store and means less weight, not less litter!
Great for your whole feline family, this unscented clumping cat litter features odor-absorbing activated charcoal and forms tight, light clumps for easy scooping.
This lightweight kitty litter is crafted by Tidy Cats, the brand most often recommended and personally used by veterinarians.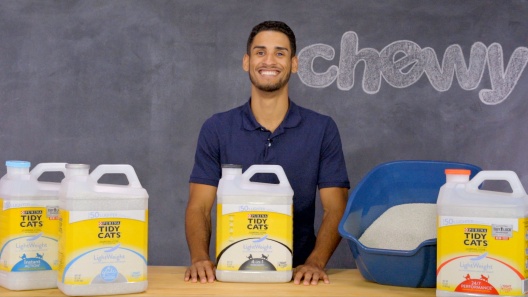 Learn More About Tidy Cats From Our Team of Experts
---
Compare Similar Items
| | | | | | |
| --- | --- | --- | --- | --- | --- |
| | | | | | |
| Customer Rating | | | | | |
| Price | | | | | |
| Autoship | — | | — | | |
| Top Ingredients | Natural Clay and Mineral Product with Activated Charcoal. | — | Natural Clay Product with Activated Charcoal. | Natural Clay and Mineral Product with Deodorizing System. | — |
| Litter Feature | Clumping, Unscented, Lightweight, Odor Control, Dust Free | Clumping, Lightweight, Scented, Odor Control, Dust Free | Unscented, Clumping, Odor Control, Dust Free | Clumping, Scented, Lightweight, Odor Control, Dust Free | Scented, Clumping, Lightweight, Odor Control, Dust Free |
| Packaging Type | Jug | Jug | Jug | Jug | Jug |
| Lifestage | Adult | Adult | Adult | Adult | Adult |
---
Questions & Answers
14 Customer Questions
---
If I normally buy my regular clumping litter in 40lb bags, how much of this will I need to get the same amount of litter volume-wise?
Answer by • Aug 31, 2018
This litter is over 50% lighter. The 8.5 pound jug equals 20 pounds of leading clumping litters. The 12 pound pail equals 27 pound of leading clumping litters and the 17 pound pail equals 35 pounds of leading clumping litters.
---
Is this plastic pail recyclable? Seems like a huge waste of plastic.
Answer by • Dec 15, 2018
This plastic pail is recyclable.
---
Does it has a handle to carry?
Answer by • Jul 09, 2019
The 17 pound box does not come with a handle.
---
What minerals are used in this product?
Answer by • Aug 02, 2019
Tidy Cats litter contains sodium bentonite, perlite, and charcoal in it. The lightweight core used in their LightWeight litter is composed of perlite. It is safe to use in consumer products or food. Scooping litters commonly contain Sodium Bentonite, but rest assured, all of Tidy Cats litter is non-toxic, as such, there are no ingredients that are harmful to people or pets. Tidy Cats conduct extensive testing of their litter products, including for dust, and a safety review by a veterinary toxicologist of all materials used in the manufacturing process.
---
---
---
By Alice on Aug 9, 2022
Lightweight works for Zelda
My cat Zelda squats a little too much when using the litter box so some of this litter sticks to her. She's predictable as to when she uses the litter box so I stand at the ready with tissues in hand to remove it from her backside as soon as she exits the litter box so she won't end up ingesting it when she cleans herself. I tried the pellet litter made from recycled paper but she couldn't (wouldn't?) get used to it so it's back to the lightweight litter in jugs, which is easier to carry. I like the 2 jug pack better than the bulk litter in a box (which leaked litter on the floor before I could get it to the litter box). Also like that it's unscented. Some of the scented brands are overpowering.
---
By DOADAO on Jul 28, 2022
Tracks EVERYWHERE
I really wanted to like this litter - it's light, actually does clump fairly well, and controls odor well. The problem is that it tracks everywhere! I have one small cat with very little paws. Somehow she manages to track the litter to every room in the house. And it is very dusty. She's black and when she walks out of her litter box she looks like she's wearing little grey boots. It just sticks in her paws and she spreads it all over the house. Sadly won't be buying again.
---
By Deb05 on Aug 10, 2022
Perfect travel litter
I ran out of litter on a trip and chose this lightweight litter for the ease of carrying it with low expectations. I was pleasantly surprised. My 8 month old kitten transitioned to it immediately. It clumped well, and no issues scooping. * I used about 1 & 1/2 inches of litter in my pan.
---
By MurielR on Jul 3, 2022
Absolutely love Tidy Cats Lightweight Unscented!
No more obnoxious scent that neither I nor my cats' like. Can't beat the lightweight formula. Oh man, remember the days of heavy clay litter that stuck all over the inside of the litter pan to boot? Those days are gone! Scoop poops and pee pucks 1-2x daily and honestly, litter does not get "gummy" and stick to the pan! It's like a miracle! ;) Even better, now packaged in a lighter weight and better able to be recycled cardboard box! Thank you Purina and thank you Chewy!
---
By Dee777 on Jun 27, 2022
Lightweight Tidy Cats
I have been using Lightweight Tidy Cats for about five years now. As I got older I have not had the strength to carry out heavy cat litter. Plus it does not make picking up your trash on trash day easy. The heavy litter weighs everything down. Even in the plastic trash bags. I like Tidy Cats Free and Clean Lightweight unscented litter because I know its good for my cat and recommended by our vet.
---
By zeabee on Jul 9, 2022
Best litter ever
I have been using this litter for years. It is the best I have ever used. Very low dust and clumps perfectly. Cats have extremely strong sniffers. Unscented is what my 4 cats love best. Love that it comes in a recyclable box and is lightweight. Thank you tidy cats
---
By Francis on Jun 20, 2022
Does not work well
I was really excited to order a lightweight version of the tidycats formula, but it is not as effective as their regular litters at all. It does not mask the scent of urine, does not clump well (the liquid stays on the surface of the litter, barely soaking into the clay, just making the clay wet and gross), and it's harder to scoop due to not clumping. It is lightweight as promised, though. Not worth it.
---
By spoiledcat on Jun 27, 2022
The cat did not like
My fussy cat did not like the litter. He would only use it for pee and left the rest someplace else. This litter forms a crust on the surface and I suspect the cat did not want to dig though that to do his business. The other light weight litter I used allows the pee to soak in and forms balls instead of the crust on the top. But that is just my thinking.
---
By Shotzy on Jul 9, 2022
Light-weight-free,cleanscent
I prefer lightweight litter and free & clear unscented is even better. When I go to the store here in town they don't often have this litter. It was convenient to order these 2-packs and save driving and not finding the product available.
---
By Phillysphinest80 on May 22, 2022
Delivery issues
Well I'm giving a 1 star review because I was a little upset with where my package was left when it was delivered. Well I ordered 2 different kinds of cat litters and 1 weighed 35 pounds while the other weighed 15 pounds and it was left on my screen door so I couldn't open the door from the inside. I had to call a neighbor to come move the packages away from my door so I could open the door but it came very fast I just wish the delivery person moved it a foot away from the door being as though it was 50 plus pounds!
---