Zoo Med Floating Betta Exercise Mirror
Frequently Bought Together
---
About This Item
Patent pending floating mirror promotes natural territorial behaviors in bettas.
Provides an enriching activity that reduces boredom and supports healthy exercise.
Your betta will "exercise" his fins as he sees himself in the mirror every time he swims by.
Easy to use by simply submersing mirror in aquarium with a convenient floating ball to keep it in place.
No assembly is needed and is designed to be used daily for short periods of time.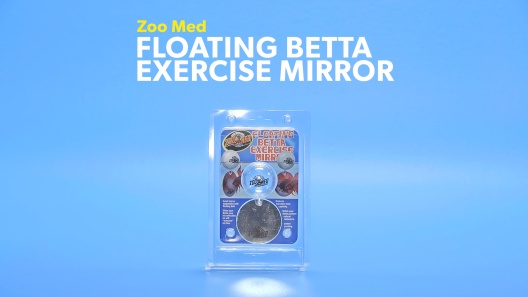 Learn More About Zoo Med From Our Team of Experts
---
Compare Similar Items
| | | | | | |
| --- | --- | --- | --- | --- | --- |
| | | | | | |
| Customer Rating | | | — | — | |
| Price | | | | | |
| Fish Type | Betta | Betta, Tropical Freshwater | Tropical Freshwater, Marine Invertebrate, Betta... | Tropical Freshwater, Marine Invertebrate, Betta... | Betta, Tropical Freshwater |
| Aquarium Type | Freshwater | Freshwater, Saltwater | Saltwater, Freshwater | Saltwater, Freshwater | Freshwater, Saltwater |
| Material | Plastic | Polypropylene, Plastic | Plastic, N/A | Plastic, N/A | Polypropylene, Plastic |
---
Questions & Answers
5 Customer Questions
---
Can I keep in the tank all time? Or is that unhealthy?
Answer by • May 15, 2018
This mirror can be used daily, but shouldn't be in the tank 100% of the time.
---
Will it take up to much room in a 2 gallon round bowl? Thank You
Answer by • Oct 09, 2017
This Mirror has dimensions of 7 x 4.5 x 1.25 inches and is recommended for use in tanks larger than 1 gallon in size.
---
Is there a chance this could stress the fish out?
Answer by • Dec 27, 2018
This exercise mirror can stress your betta if left inside their home for more than 5 minutes at a time, one or twice per day.
---
hello! i have two black moore goldfish living in a 30 gallon tank. i was wondering if this was suitable for them? i wanted something for them to play with. if not, i would love to know something else they might enjoy.
Answer by • Sep 26, 2019
The Betta Exercise mirror can be used with a goldfish but it will not get the same result as when used with a Betta. Goldfish are community fish and can be housed together. A Betta on the other hand is solitary and will fight with other fish it sees. The mirror shows them another fish which causes them to flare up and display.
---
---
---
By Jdawg on Feb 3, 2022
Lifted my betta's spirits
I was a little skeptical about this at first because most people who have seen a betta or owned one, knows if you hold a mirror up to them they will display, but so what? I've always thought it was just a parlor trick that mostly upset the fish but what I didn't think about was that it would be the equivalent of cardio-vascular exercise to a human. My betta had gotten kind of listless and spent a lot of time sitting on the bottom of the tank so I got this for him to try. It's going to sound strange perhaps, but it seemed to give him a renewed purpose! He is now much more active than he was and I've paired the 5 minute or less daily session with a treat food reward ("You scared him away again! Great job!"). I may be anthropomorphizing here but I think that the very occasional presence of this "foe" has given him something to defend and "care" about. At least that's how I explain it to myself. In any case, if you use this for like 5 minutes or less per day as the instructions recommend, it will be a beneficial time for your betta friend and you may just look forward to it as well!
---
By Crystal on Feb 22, 2022
They love it
It works... Maybe a little too well lol. Just be careful with the after affects. My dominate female betta gets easily aggitated for awhile from using this and takes it out on others [mainly other bettas or male fancy tail guppies]. I only put it in the tank every other 2 days or more depending on the situation.
---
By Lewis on May 15, 2022
Works pretty well
Works pretty well, but I think my betta gets a little too crazy with it
---
By KingNeptune on Feb 4, 2022
This is a great 5 minute exercise for your Betta that gets bored
Great & is easy to clean & easy to enjoy 5 minutes every other day & your Betta is happy & excercied.
---
By countrygirl97 on Sep 5, 2021
FOUGHT IT!!!!
I dont know who thought this was a good idea but all it does is cause my betta to want to fight the mirror and stress him out he hated it!!!
---
By Kelly on May 6, 2021
Causes stress
This is the worst idea for a product. Anyone that knows betta basics knows that they are fighters. They have excellent vision, are easily stressed and are definitely aggressive. I put one betta tank next to another (about 6" apart) and had to put a visual divider between the tanks to block their vision because one of them was obsessed with trying to attack the other, it caused both of them a lot of unnecessary stress. Bettas don't know what they look like and will see their reflection as another fish and will innately feel threatened (hence why they react). They aren't "exercising" they're trying to fight their reflection. As they will never come on contact with the fish in the mirror this will cause extreme stress, loss of color and possible illness. Don't fall for this cheap marketing trick.
---
By AJBordeaux on Aug 1, 2021
Cool activity
Such a cool little gadget. It's nice to do things that can keep your fish happy, entertained and busy!
---
By Vicki on May 11, 2021
Fun for you and your fish
Nothing is cuter than your little fish displaying it's fins! My betta instantly flared at this mirror.
---
By Buckeyesgirl on May 24, 2021
Fish mirror ball toy
This toy scared my fish! He would not go near it or play at all. Cannot use it.
---
By mybettakanye on Nov 3, 2020
please don't get this.
I know that it might be cool to see your betta "wagging it's fins" and "practicing natural territorial behaviours" but please just don't get this. No matter how long you leave it in for, it will stress out your betta! If a random person just showed up in your house and just stood there looking at you, even if it was for five minutes, wouldn't you freak out?? I know I would. These kinds of 'toys' aren't good for your male betta. If you plan to put your betta in a community tank after using this 'toy,' it might be hard to avoid fish fights due to their stress from the toy but also their mindset of "i have to be prepared at all times to protect myself!"
---