AA Aquarium Green Killing Machine Clip-On UV System, 3-watt
Must enter code FALL2022 at checkout to redeem
Frequently Bought Together
---
About This Item
Works in both salt and fresh water fish tanks by converting most waterfall-style filters into UV filtration systems.
Perfect for getting crystal clear water and removing cloudiness in aquariums up to 20 gallons.
Helps create a green-water-free home for your fish!
Clip-on design installs in under a minute without any tools and has been UL tested for safety and effectiveness.
Sealed housing unit prevents leaks and allows 3-watt bulb to last for up to 9 months of continuous cleaning power.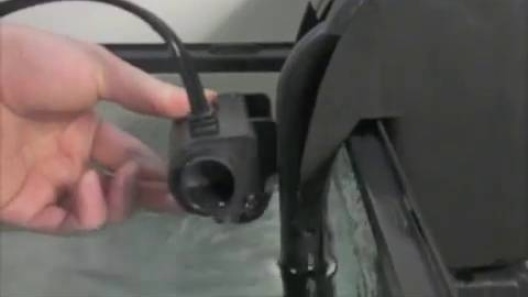 Learn More About AA Aquarium From Our Team of Experts
---
Compare Similar Items
| | | | |
| --- | --- | --- | --- |
| | | | |
| Customer Rating | | | |
| Price | | | |
| Aquarium Type | Freshwater, Saltwater | Freshwater, Saltwater | Freshwater, Saltwater |
| Fish Type | — | — | Tropical Freshwater, Marine Fish |
| Material | — | — | Plastic |
---
Questions & Answers
19 Customer Questions
---
How do you know if the bulb is working or not? The green light on the box is on. Does it turn red when the bulb needs replaced? I guess I expected there to be a noticeable bulb glow....
Answer by • May 28, 2018
When the LED light is off, it needs replacement.
---
If it clips onto the filter does it interfere with putting on the aquarium cover?
Answer by • Aug 17, 2020
This UV Sterilizer does not interfere with the cover of an aquarium.
---
Will it affect my live plants in tank? And will it stop the algae growth in tank?
Answer by • Jan 25, 2018
The UV will only affect cells that pass by the light. It will kill algae blooms in the water column, but will not affect surface algae nor your live plants.
---
Can this be submerged or does it have to sit above the water line?
Answer by • Apr 02, 2021
This system is designed to clip to any waterfall filter and should not be fully submerged. Only a small portion of filter water has to go through the UV. Slow water flow is key to making your UV unit efficient. Over time, all your water will go through the UV unit, and it may take a few days to totally clean up your aquarium depending upon the type and density of tank contaminants.
---
---
---
By Deee on Sep 16, 2022
Worth it!!
Just like everyone else, I had tried everything to get rid of my algae bloom, but nothing was working. I read the reviews and they all said that this thing worked....so I ordered. And, sure enough, within a week, my water started clearing up. This is the only thing that's gonna work guys....but it and you won't be sorry.
---
By Jude on Aug 3, 2022
Great buy!
We had an awful problem with green algae. We tried everything including constantly changing half the water and different chemicals. This UV light made a huge difference. It took a little over a week to start helping the cloudiness so be patient but it will work. Also keep the tank light off as much as possible. Great buy! Really works!
---
By Rachel on Jun 20, 2022
Tank is still green
I've had this thing on my 10 gallon tank since I got it and the tank is still green, with no change in clarity. I've changed the filters twice and I even resorted to using an algae controller as well. Nothing is working, even when the fish are in darkness. My next step is to drain the tank yet again and add all new, clear water. We'll see if this thing at least prevents this from happening again.
---
By Slim on Mar 2, 2022
No more algae bloom
Our tank had an algae bloom and wrapping the tank to darken didn't work Chemical treatment didn't improve it very much, so we researched and decided to use UV light. The Green Killing Machine worked perfectly over a 10 day period!
---
By Justin on Mar 3, 2022
DON'T WASTE UR MONEY
Trash product doesn't work at all. I've had it running for almost a month now and there's no difference in the color of my water. Not chewys fault at all. It's the company that made this products fault. Save ur money don't buy it and just clean ur filter and do weekly water changes.
---
By nogo on Jan 7, 2022
Frustrated
I bought this for my 10-gallon aquarium that was green with algae. It was a very simple setup, but i saw no indication of light coming from unit at all. I thought it might be very well encased and perhaps that's why I didn't see any light. However, after 3 days, there was absolutely NO difference in my aquarium's water. I don't believe the light came on at all. This is in no way Chewy's fault, it's just a faulty unit and I happened to get it. I went on Chewy's live chat and the customer service rep took care of the problem in less than 5 minutes, returning my money. This is the first time I've ever had any problem with anything I've gotten from Chewy.
---
By Attc on Jan 4, 2022
Works Great!
I was a bit skeptical if this device would clear up my 10 gallon tank that had a sudden surge in algea bloom. After 3-4 days of constant running I supplemented with a dose of cloudy water clearer (which had done nothing before I bought this item). The water cleared almost immediately and is crystal clear now. I now run this item periodically to maintain algea levels.
---
By Happyfish on Feb 18, 2022
Finally I can see my fish again!
My tank was so green I didnt think it would work. It worked & my tank is almost back to normal. It takes patience. It took 1 1/2 weeks but it worked. I can see my fish again.
---
By kelpro4 on Nov 24, 2021
Did it's job
It took about two good weeks, but this filter did an amazing job of giving me back my beautiful fish tank. I've been struggling with an algae issue for a while and was becoming frustrated. When I heard about a UV filter, I had to try it. I become a little discouraged at first because I didn't see results right away, but after about 2 good weeks, my tank is once again clear, and I can see my beautiful fish!
---
By MinB on Dec 15, 2021
So much better than algaecide and scraping
My aquarium was embarrassingly green. I'm sorry to say it was green to the point I couldn't be sure where the fish were. But reaching into a fish tank up to my armpits to clean the glass is not a highlight of my life. I turned it on and within a day the tank was practically clean. And turning a unit on every so often is so much nicer than algaecide and scraping!
---