Activ-Flora Planted Aquarium Substrate, 20-lb bag
Frequently Bought Together
---
About This Item
Bio-Activ, nutrient-enriched gravel contains a wide variety of essential minerals including phosphorous, magnesium, potassium, copper, zinc and many more.
Helps aquatic plants thrive and quickly achieve optimum growth; also contains iron, so you won't need to add laterite.
Micronutrients are slow-released over time, making Activ-Flora substrate indefinitely self-sustainable.
Live heterotrophic bacteria provides instant nitrogen cycling without altering your pH.
100% natural with no artificial dyes or additives; grain size of the lake gems color blend is 3.1-6.3 mm.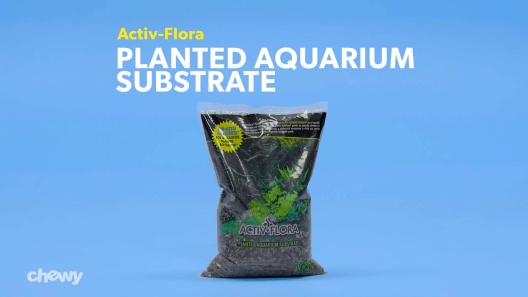 Learn More About Activ-Flora From Our Team of Experts
---
Compare Similar Items
| | | | | | |
| --- | --- | --- | --- | --- | --- |
| | | | | | |
| Customer Rating | | | | | |
| Price | | | | | |
| Fish Type | Goldfish, Koi & Pond Fish | Tropical Freshwater, Betta, Bottom Feeder... | Goldfish, Koi & Pond Fish | Goldfish, Koi & Pond Fish | Goldfish, Koi & Pond Fish |
| Aquarium Type | Pond | Freshwater, Saltwater, Pond | Pond | Pond | Pond |
| Material | Stone | Stone | Stone | Stone | Stone |
---
Questions & Answers
31 Customer Questions
---
Do we ever have to replace the substrate?
Answer by • Aug 21, 2018
Activ-Flora will last for the life of your aquarium and it's not recommended to clean the substrate. If you agitate the surface the loose particulars will begin to float and your filter system will remove it.
---
Is it okay for my betta to be in the water while it's all cloudy from the new substrate?
Answer by • Aug 09, 2018
It's recommended to add your fish back to the tank after the substrate settles.
---
Did I pre-wash the subrate?
Answer by • Mar 28, 2018
This product is pre-washed by a nutri-stabilizing process to preserve abundant trace elements and reduce cloudiness when introduced to an aquarium however, you can rinse it if you'd like.
---
Is this acceptable for a pleco or algae eater?
Answer by • Aug 16, 2018
This product is safe for both marine and freshwater fish.
---
---
---
By jojo on Jun 26, 2022
Activ-flora
I followed direction listed on the activ-flora. I did not rinse the gravel. There was a bit of cloudy water but was all gone in a day. My seeds seem to love it. Pictures show a 7-10 growth. My only negatives are the smell and the slim....
---
By Jacqui22 on Jun 15, 2022
pretty good
So, I set up a new tank and followed the directions. My tank was still cloudy for over a week, but after a water change it was all good. My tank also cycled in 1.5 weeks, so I think this product did help speed up the cycle. And I like how it looks. All in all, a solid product.
---
By Julie on May 6, 2022
Awesome!!!!!
This substrate is awesome. It's a really beautiful blend of stones and colors. The bacteria in it is helping my tank to cycle quickly and I'm really happy with how things are going so far. Love this substrate
---
By Tacticalbassfisher on Jan 28, 2022
Trash dont waste your money
Two years in fish are still alive every decoration is in the same place but I cant get a single thing to grow in it well hair algae grows fine I couldn't even get floating plants to live that's with co2 and a fluval light I regret buying this trash
---
By Drigale on Dec 21, 2021
So far so good
So far so good. Followed the instructions for the most part. Though I did it a little backwards, then let the filter do its thing for a day, and it's beautiful. The plants look great too. Will keep an eye on it and edit if need be. Just gotta let the sediments settle and/or filter out
---
By Andrea on Dec 10, 2021
Nice substrate
Beautiful substrate for my 29 gallon, i ordered 2 bags. Water did cloud some but was clear after 24 hours, do not rinse this stuff or you loose all the nutrients for your plants. Gives a natural look and not dark colored, also the rock is mostly rounded and smooth as well
---
By sierra on Oct 8, 2021
This gravel is worth the hassle of "installation"
So first off, I will say that even when you follow the instructions to a T, and pour your water in slowly, there is still a murky look for a day or two after "installation." But that doesn't really bother me, especially with how wonderful this product is. I have had an Anubias Barteri for about 3 years, and even with good lighting practices and water quality, it never really flourished. It would very occasionally pop out a tiny leaf that would take ages to grow larger, but overall it seemed like it was just "getting by." Within 1.5-2 weeks of this gravel being in my tank, the Barteri started growing a new leaf; even rolled up I could tell it would be as big as the old growth when unfurled. That aside, my Barteri just looks greener and deeper and more lush. My Marimo moss balls are a deeper, more vibrant green as well. I'm really pleased with the effects thus gravel has had and I will be purchasing it again in the future. Here's a pic of my tank for fun :)
---
By Moonshine on Dec 16, 2021
Good bio-active substrate
Settles fairly quickly after addition of water and live plants. Water is still tinted slightly but it's not a problem. My plants are growing well and my Betta fish is happy.
---
By Becky on Oct 23, 2021
I really like this stuff
Beautiful nourishing little rocks with plenty of liquid to keep everything healthy. I did not rinse the rocks nor did I drain the liquid for reasons of loosing any good nutrients. My plants needed this so badly. I have another 5 gallon tank that I will do today. So happy with how it looks too! Thank you!
---
By Jodi on Jun 20, 2021
Must strain. Do Not rinse.
I drained my entire tank and put this gravel into a 5 gallon bucket. I should have ordered a second bag to make planting easier but meh. I did not rinse it at all.I used my fish net to remove the gravel from the bucket and strain it. No problems or anything fascinating there. Once I had the gravel in the tank I did as another customer and laid the bag chewy sent the gravel in over it in the tank. I then placed my betas floating log on the bag. I added water directly into the log. Some what slowly and some what impatiently. Kept the bag in until about half full. Then I pulled the bag and continued to use the floating log. Over all I'm happy. I did not give it a 5 star because I have no idea on how it will be for my plants' growth.
---