Bravecto Chew for Dogs, 44-88 lbs, (Blue Box), 1 Chew (12-wks. supply)
This item requires prescription approval.
---
Medications ship separately. Delivery times may vary.
---
---
---
We'll collect your pet's prescription information at Checkout.
---
---
About This Item
Bravecto provides up to 12 weeks of protection against fleas and ticks and may terminate Lone Star ticks for up to 8 weeks, and kills 98.7% within 24 hours. Protect your dog from ticks and fleas the easy way with Bravecto. These chews terminate adult fleas, help treat and prevent flea infestations and help treat and control tick infestations. Best of all, each chew is flavored, so your dog will actually look forward to taking his medication for a change. Bravecto also comes in a topical solution for dogs and cats.
Proudly sourced directly from the manufacturer or their approved distributor. Guaranteed genuine and backed by the manufacturer.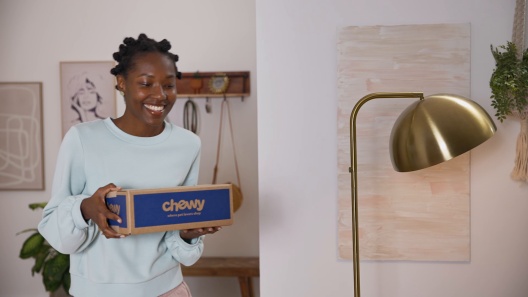 Learn More About Bravecto From Our Team of Experts
Dosage Chart
| Color on Box | Weight Range | Strength | Dosage | Product Page |
| --- | --- | --- | --- | --- |
| Yellow | 4.4-9.9 lbs | 112.5 mg Fluralaner | One chew every 12 weeks | ✓-Click Here |
| Orange | 9.9-22 lbs | 250 mg Fluralaner | One chew every 12 weeks | ✓-Click Here |
| Green | 22-44 lbs | 500 mg Fluralaner | One chew every 12 weeks | ✓-Click Here |
| Blue | 44-88 lbs | 1000 mg Fluralaner | One chew every 12 weeks | ✓-Click Here |
| Pink | 88-123 lbs | 1400 mg Fluralaner | One chew every 12 weeks | ✓-Click Here |
---
---
---
By LabMom on Sep 30, 2022
Easy & Quick
When I read the part that they'd have to call my vet to get approval, I was a little anxious it could take a while. I called my vet to give them a heads up and they must have quickly approved because we quickly got a notification it had shipped. Granted, they knew Jax (our lab) needed this because I told them I lost the one they had sent us home with. All in all, one 2minute phone and Chewy saved me a solid drive and time going back to the vet to get. Very pleased will order again from them.
---
By Piksmom on Aug 4, 2022
Inedible waste of money
My dog (9 year old Australian shepherd) absolutely refuses to eat bravecto chews. It's gotten worse each time. I've tried peanut butter, ice cream, cheese, hickory smoke pill pockets, grinding them up, etc. $65 down the drain. There is something that he smells in the chews that makes him clamp his mouth closed and run. He is a sweet food driven guy who thinks heartworm chews are terrific. But this is impossible to get into him. I ended up calling my vets office and asking for an alternative.
---
By OESowner on Aug 25, 2022
Excellent product - Keeps flea and ticks away
I have been using bravecto on my dogs for years and have never found a flea or tick on them. None of my dogs have had any reaction and it brings great peace of mind knowing that giving them a pill every three months ends any worry about the tick/flea threat.
---
By Thor on Aug 11, 2022
Stuff works
I love having a fle and tick control for all my GSD x 3 here in Texas my dogs sleep with me and I've never had an issue while using these . I just wish they weren't so big my Thor doesn't like taking them I have to break it up and put inside cheese Brie is his favorite
---
By Never on Aug 26, 2022
Waste of $$ - 0 protection
I've had dogs my whole life & used a combo of essential oils plus an over the counter flea/tick med. this was my 2nd time using Bravecto for my 50lb amstaff & it offered No protection against tics. Never have I had such an issue
---
By Buddy on Sep 8, 2022
It 100 percent works!!!
I give my dog the 3 month chew and it lasts even longer. I also don't need to give my indoor cats flea medicine since my dog doesn't bring them in the house anymore every time I walk him!!!
---
By Alex on Aug 6, 2022
Chewy's pharmacy
I ordered Bravecto from Chewy. Easy and prompt typify the service from Chewy. They called the vet, verified eligibility and sent the product to us. Same great service as with food and treat orders. We've been customers of Chewy for almost eight years. Great service throughout.
---
By Bravecto on Aug 5, 2022
Bravo for Bravecto
I've tried the topical flea & tick preventative with little to - results(my current dog lost fur on her sides after ! application), I can't say for sure it was the treatment but the timing was suspicious. But Bravecto does not irritate my dog & she likes the taste(Beef flavored).
---
By MichelleB on Jun 19, 2022
Working great
We have an 80# Pyrenees who we adopted heart worm positive. She had to have topical med monthly to treat it per vet instructions. She didn't react well to it for a day or so each application. She wouldn't eat and she would have a couple accidents in the house. We didn't use topical flea and tick during this time, because it was winter. Enter spring... she needed something. She was becoming a little tick magnet, because she loved tall grasses. Coworker of mine recommended this, we asked our vet, and we got it. She took it probably 2.5 weeks ago and has had no ticks on her since. She's gone camping, she's gone in the tall grasses, nothing. She had no reaction to it, and it's working great!
---
By KimE on Sep 18, 2022
Love Bravecto
We love Bravecto! One pill lasts several months. Super easy and most effective. No worries when we're out walking around the neighborhood and in the woods
---