CaribSea Eco-Complete Planted Aquarium Substrate, 20-lb bag
Autoship
(Save an extra 5%)
Choose Autoship at checkout for regular deliveries.
Why Autoship?
FREE access to chat with licensed vets 7 days a week.
Save 5% on all future Autoship orders.
No fees, no commitments - cancel Autoship anytime.
---
About This Item
Ready-to-use with volcanic basalt rich in minerals and essential elements to support plant growth and health.
Bi-modal grading separates into a fine bottom layer for root development, and a coarse top layer to enhance root oxygen uptake.
Dual-biotic formula contains heterotrophic bacteria to convert fish waste into plant food, and mycorrhizal symbionts for strong root development.
Biologically complete with beneficial microorganisms that help cycle new aquariums faster; it comes packed in Liquid Amazon™ water conditioner.
Natural deep black color encourages vibrant fish colors and reduces stress, with no artificial dyes, paints or chemicals.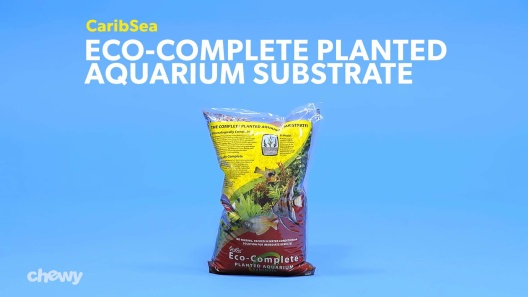 Learn More About CaribSea From Our Team of Experts
| | |
| --- | --- |
| Soluble Potash | 0.28% |
| Calcium | 0.10% |
| Magnesium | 0.21% |
| Iron | 1.76% |
Derived from: Shale.
| | |
| --- | --- |
| Humic Acid | 0.03% |
| Bacillus Amyloliquefaciens | 1166 cfu/g |
| Bacillus Licheniformis | 1166 cfu/g |
| Bacillus Subtilis | 1166 cfu/g |
| Glomus Intraradices | 0.002775 spores/g |
| Glomus Mosseae | 0.002775 spores/g |
| Glomus Aggregatum | 0.002775 spores/g |
| Glomus Etunicatum | 0.002775 spores/g |
---
Compare Similar Items
| | | | | | |
| --- | --- | --- | --- | --- | --- |
| | | | | | |
| Customer Rating | | | | | |
| Price | | | | | |
| Autoship | | — | — | — | — |
| Fish Type | Goldfish, Koi & Pond Fish | Goldfish, Koi & Pond Fish | Goldfish, Koi & Pond Fish | Goldfish, Koi & Pond Fish | Goldfish, Koi & Pond Fish |
| Aquarium Type | Pond | Pond | Pond | Pond | Pond |
| Material | Stone | Stone | Stone | Stone | Stone |
---
Questions & Answers
23 Customer Questions
---
how long can I store in original bags I am not planning on setting up my tank until spring but this is to good a price to pass up also how much will I need for a least a 2" bed in a 55 gal tank
Answer by • Nov 10, 2018
Eco complete has no shelf date on the product itself because it is good for many months into years if stored at room temperature. The bacteria in it are spored and do not become active unless they are exposed to a food source. To fill a tank 1 inch thick with substrate, it is roughly equivalent to 1 pound of substrate per gallon. To fill a tank 2 inches thick with substrate, it is roughly equivalent to 2 pounds of substrate per gallon.
---
Is this used as a base layer with other substrate layered on top of it?
Answer by • Dec 20, 2018
This substrate is biologically complete, with beneficial microorganisms that help cycle new aquariums faster. However, it may also serve as a bottom layer with your choice of non-carbonate substrate.
---
I have a 180 gallon tank. I plan to use tap water and treat it with a water conditioner to remove chlorine and heavy metals. Should I put the substrate in after the water has been treated?
Answer by • Feb 05, 2019
For new aquarium setups it's recommended to pour in the substrate and then fill the aquarium with de-chlorinated tap water.
---
Is there a difference between the red and black version? I don't want to harm my fish by choosing the wrong one.
Answer by • Aug 05, 2019
The only difference is the color. Please note, this may elevate pH above neutral and may not be suitable for Discus sp., P. alta and sensitive freshwater shrimp.
---
---
---
By Fred on May 8, 2022
Material is good. Not great though.
My only real issue with the product is the sediment that comes in the bag. The gravel itself is supposed to have at least some and I wasn't misunderstanding about that. The amount of sediment these had in them was crazy though. I already had 3 bags of black in my tank and adding 3 red clouded the water for a day easily and then there was so much that settled out, everything in the tank was brown. Took 3 days of intermittent vacuuming to clean it up. The bags also arrived damaged and leaking.
---
By ProactiveAgony on Apr 14, 2022
A Must For Planted Tanks!
This substrate is heavy enough to root plants and is a vast improvement over others of its kind. Just make sure you get enough. I recommend two 20 pound bags for a 30 to 40 gallon aquarium if you intend to cover the entire bottom. My plants were visibly healthier with new growth after just one week. Some half-dead plants from a lesser tank came back to life! I will definitely be using this as I convert other tanks to planted. For scaping ideas, look up Serpa Designs if you find black substrate unappealing. I did a white sand "beach front" in my main planted tank and sloped it back to blend with the Eco-Complete substrate. Amazing stuff, and it has a minimal effect on the PH if you do everything correctly.
---
By Chaz on Apr 24, 2022
Nice substrate, needs better packaging.
I ordered several bags, and they arrived in three shipments. Two arrived quickly, and while the bags were intact, they weren't protected at all. They went into the aquarium easily, plants are thriving. The remaining bags arrived later and had ruptured. Didn't have much luck with customer service, so I gave them a shot. The nutrients were probably a bust since the substrate had mostly dried, and it is behaving differently. I'd be cautious with a large order.
---
By Wolfpets on Apr 25, 2022
HOLE in bag....
When I opened the package I noticed the bag was a little wet, but didn't think much of it. About an hour later I realized there was a small hole at the bottom of the bag, so I put it in a bucket. It's leaking a ton of water and its gonna have to sit for at least two weeks until I get all the supplies for the tank... Hope its still usable...
---
By WyattBriar on Apr 11, 2022
With Adding Clarifier Afterward, Perfect
This stuff clouds water something awful; I literally couldn't see 1/2 inch into the tank after adding it. I had some water clarifier on hand, add it and, by the next morning, perfectly clear. Fish and plants seem happy so far.
---
By Toby on Feb 10, 2022
Not ideal, use with care
The product description neglects to include a piece of information on the back of the bag - this substrate "can raise pH", and in my case rocketed the pH up to 8.2 even mixed with other substrate. Be prepared to chemically adjust your pH, possibly substantially, for most environments. The gravel is also very rough, which may not be suitable for bottom dwelling fish, and very lightweight compared to some other substrates for live planting, which makes planting into it tricky as everything tries to float away. I won't base a tank with this again.
---
By Mazzy on Jan 28, 2022
Good but not perfect
This substrate claims to be cycle free but i know better. About a week and a half in i had high nitrate and nitrite. So make sure you cycle you tank. It looks good though and I'm finally seeing plant growth about 3 weeks in
---
By ColeD on Mar 11, 2022
Best planted substrate
I've been in the hobbie for years now and I will always pick this for my planted tanks.
---
By JJMom on Dec 15, 2021
Substrate for planted tank
I haven't had this substrate long enough to know how plants will grow in it. But, I'm pretty confident that it will be awesome. It was super easy to work with, no rinsing required and it has not spiked ammonia.
---
By FishMan on Feb 2, 2022
Great Product!
Highly Recommend this product. Not only looks great but is great for all plants and fish.
---