Feline Pine Original Non-Clumping Wood Cat Litter
---
About This Item
This chemical and clay free litter uses highly absorbent pine fibers absorb liquid to lock ammonia odors away for 100% natural odor elimination.
Clay-free formula means no messy cloud of dust, so you can pour with ease.
Non-clumping litter makes your life easy, leaving behind a naturally fresh scent.
Improved formula absorbs liquids 2 times faster than the original Feline Pine.
Uses no harsh chemicals, additives or synthetic perfumes.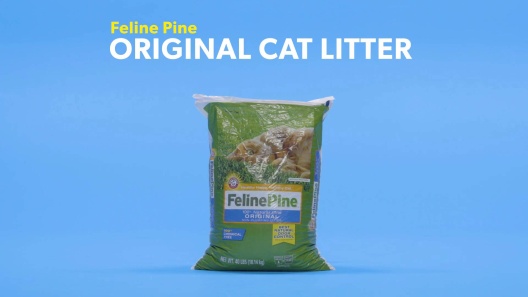 Learn More About Feline Pine From Our Team of Experts
---
Compare Similar Items
| | | | | | |
| --- | --- | --- | --- | --- | --- |
| | | | | | |
| Customer Rating | | | | | |
| Price | | | | | |
| Autoship | — | | — | | |
| Top Ingredients | N/A | N/A | N/A | 100% Ponderosa Pine. | N/A |
| Litter Feature | Non-Clumping, Unscented, Odor Control, Natural | Multi-Cat, Natural, Odor Control... | Clumping, Unscented, Odor Control, Natural | Non-Clumping, Odor Control, Unscented... | Odor Control, Non-Clumping, Unscented... |
| Packaging Type | Bag | Bag | Bag | Bag | Bag |
| Lifestage | Adult | Adult | Adult | Adult | Adult |
| Litter Box Type | N/A | N/A | N/A | N/A | N/A |
| Material | N/A | — | — | — | — |
---
Questions & Answers
46 Customer Questions
---
I've always used clumping clay litter, but thinking about switching. Do you need a sifting litter pan for best results with Feline Pine and do you need to dump the whole thing occassionally? Just trying to figure out how best to use this product! Thanks!
Answer by • Sep 04, 2017
The Feline Pine litter doesn't require a sifting litter pan for best results. The litter can be changed as needed with adding 1-2 inches, you can dump occasionally to fully clean out the litter box.
---
If the pee makes the pellets turn into sawdust, how do you remove it from the box? Thanks
Answer by • Mar 03, 2020
Sawdust byproduct from lumber mills is collected and compressed into tiny pellets. These pellets act like tiny sponges that absorb urine and break apart into sawdust. Scoop the solid waste daily, and gently shake the box so the good pellets float to the top and the sawdust drops to the bottom. Leave the sawdust in the box as it will still work to absorb moisture and odor. When the box is about 90% sawdust it is time to dispose of it and start with new litter.
---
Is this flushable?
Answer by • Jun 21, 2017
This product absorbs moisture and may expand causing a clog. It is not recommended to flush this litter.
---
Can cats get respiratory allergies to pine litter?
Answer by • Nov 22, 2017
It's possible cats can get respiratory allergies to pine litter & shavings.
---
---
---
By Masha on May 19, 2022
Cat with allergies
Masha is a 6 yr old rescue cat and had been in and out of various homes. She's a very sweet cat, but had been returned several times due to her allergies. She licked a lot of fur off her legs & tummy and had mouth sores, etc. It was assumed food allergies were the problem but when I brought her home I wanted to make sure the litter wasn't also a part of the problem. My research led me to the Feline Pine litter. Very happy with it. Masha adjusted to it very well and it actually lasts longer than other litters I've used.
---
By Cathy on May 23, 2022
Dust free litter
I had been using clay litter for years. My daughter has just been diagnosed with Asthma so I needed to find something better. I've never liked all the dust from clay litter but now it's a health issue. Wish I had changed to this brand sooner!! The cats adjusted to it easily and the dust is gone. Just save some of your original litter to place on top for a few weeks. Cut back how much you use each week. It only took two weeks for mine to be ready for just the pine litter.
---
By Meme on May 16, 2022
Still Messy
I have gotten rid of the regular brands of cat litter ie: Fresh Step and tried the walnut shells; because they stick to my cats paws and go all over the floor. Even with a carpet in front of her litter litter box she still left litter on the floor and even on the beds. So I'm trying this pine which is better but still left with her paws having some of it on them and I'm worried that when she licks her paws it may make her sick. Still trying new brands.
---
By Bean on Apr 20, 2022
Finally a litter that doesn't smell
We've been using this litter for a few years now and I'll never go back to standard clay clumping litter. We tried a few kinds before this including some pricey options and all of them had the same issues, that very unpleasant litter smell (that only intensifies after your kitty "goes"). The pine pellet smell is similar to sawdust or a hardware store and eliminates all bathroom smells. Just going off smell you would never know a cat lived in our tiny apartment. On top of the smell benefits there is so much less dust and tracking compared to regular litters. Plus the price is amazing! My kitty took right to it but there are instructions on how to transition if you have a finicky kit. I recommend this to all of my cat parent friends!
---
By Jojopeaches on May 17, 2022
Cat litter pellet
Yes I had bought a 40 lb bag I've cat litter pellets that you guys said that was equal to Breeze cat litter pallets and they are nothing like them I use them one time and through the rest of the 40 lb bag out the palace that I bought over you actually fell apart and the ones from Breeze Stay Together and do not fall apart at all the whole time you use them
---
By Rich on Apr 15, 2022
Wood particles over clay dust any day of the week
I used to use Everclean clumping cat litter for years and it was good at keeping odor down and clumping around waste, but having dust all over the house was always an issue. Finally, I got fed up with it and looked for another solution and tried Feline Pine. Feline Pine has been great! The wood particle pellets do an excellent job at absorbing urine and there's far less litter outside of the box when my cats step out after doing their business. I also like how it's much lighter than clay. I use a large plastic storage container with one side partially cut out as a cat litter box and it can get heavy so it makes it much easier taking the box outside every time I wanted to scoop out the waste from the litter box. Highly recommended!!
---
By Pickycat on May 3, 2022
Fresh pine scent
Tried the others. Expensive stuff thru the mail, thanks Martha, it stinks. Little crystals all over the floor. Tried paper pellets but it smells like urine after a short while. Clumpy stuff. So heavy. The pine pellets don't hardly track outta the box and the smell is tolerable, as long as I clean the box regularly. Not perfect but so far the best we've tried.
---
By Patherndon on Apr 11, 2022
Excellent litter
The whole description is very accurate. I only use non-clumping litter with my cats and I decided to try in something more natural, because two of my four cats prefer to go outside, to my backyard where we have many pines. The difference in the odors is incredible. There is no pine smell, is more like a woodwork shop, but it destroys the urine smell, and it lasts longer than clay. It is cleaner indeed. One of my cats has asthma and he did not have special or different problems with the change. And, of course, I love that this product is made from reclaimed lumber.
---
By BillyBoy on May 21, 2022
Nice product
We recused a 14 lb cat who had pellets in his cage. We have carpeting in the room where we contained him until he could get used to a new place and new odors of our other cat on the other side of the door. No clumping litter in the carpet. Easy to clean out of the pan.
---
By Nope on May 6, 2022
Never again
Well I have tried to get my cat to use this for a week now and he absolutely refuses and goes outside litter box. A couple of days ago I even tried adding some clay litter a cup or two to the pine litter and no that didn't work either. I'll be donating it to the shelter there's no way I'm trying this any longer.
---