Feline Pine Original Non-Clumping Wood Cat Litter
---
---
Try This Similar Item By Chewy
---
Frequently Bought Together
---
About This Item
This chemical and clay free litter uses highly absorbent pine fibers absorb liquid to lock ammonia odors away for 100% natural odor elimination.
Clay-free formula means no messy cloud of dust, so you can pour with ease.
Non-clumping litter makes your life easy, leaving behind a naturally fresh scent.
Improved formula absorbs liquids 2 times faster than the original Feline Pine.
Uses no harsh chemicals, additives or synthetic perfumes.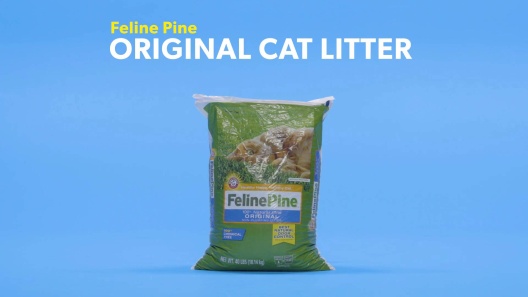 Learn More About Feline Pine From Our Team of Experts
Ingredients
100% Pure Pine.
---
Compare Similar Items
| | | | | | |
| --- | --- | --- | --- | --- | --- |
| | | | | | |
| Customer Rating | | | | | |
| Price | | | | | |
| Autoship | — | — | | — | |
| Top Ingredients | N/A | N/A | N/A | N/A | 100% Ponderosa Pine. |
| Litter Feature | Non-Clumping, Unscented, Odor Control, Natural | Clumping, Unscented, Odor Control, Natural | Multi-Cat, Natural, Odor Control... | Clumping, Scented, Odor Control | Non-Clumping, Odor Control, Unscented... |
| Packaging Type | Bag | Bag | Bag | Bag | Bag |
| Lifestage | Adult | Adult | Adult | Adult | Adult |
---
Questions & Answers
49 Customer Questions
---
I've always used clumping clay litter, but thinking about switching. Do you need a sifting litter pan for best results with Feline Pine and do you need to dump the whole thing occassionally? Just trying to figure out how best to use this product! Thanks!
Answer by • Sep 04, 2017
The Feline Pine litter doesn't require a sifting litter pan for best results. The litter can be changed as needed with adding 1-2 inches, you can dump occasionally to fully clean out the litter box.
---
If the pee makes the pellets turn into sawdust, how do you remove it from the box? Thanks
Answer by • Mar 03, 2020
Sawdust byproduct from lumber mills is collected and compressed into tiny pellets. These pellets act like tiny sponges that absorb urine and break apart into sawdust. Scoop the solid waste daily, and gently shake the box so the good pellets float to the top and the sawdust drops to the bottom. Leave the sawdust in the box as it will still work to absorb moisture and odor. When the box is about 90% sawdust it is time to dispose of it and start with new litter.
---
Is this flushable?
Answer by • Jun 21, 2017
This product absorbs moisture and may expand causing a clog. It is not recommended to flush this litter.
---
Can cats get respiratory allergies to pine litter?
Answer by • Nov 22, 2017
It's possible cats can get respiratory allergies to pine litter & shavings.
---
---
---
By Jasmine on Jun 16, 2022
pros and cons
For starters, my cat enjoys this litter, it was the liter they used at the shelter when I adopted her. I find that it rarely has a smell and it mostly gives off a woody fragrance when I clean it. Pros: Smell and price! As for the cons, I'd say that it obviously doesn't clump BUT it does help to dry out poop and make it have the least possible smell. It is harder to use only because when my cat pees, the wood pellets dissolve into dust. The dust doesn't fully go through the holes because it doesn't have any space to go to. I would love to find a liter that has like little "feet" that help the dust fall through the holes on the liter box. Aside from that con, I feel like if you clean it everyday and make sure the dust falls between the holes, it's super affordable and lasts a very very long time. I will be looking for a liter box that has those little "feet" to help. Highly recommend if you're a first time cat owner such as myself. 4/5 stars
---
By Dewey on Jun 22, 2022
My favorite litter
I've tried standard clumping litter, non-clumping litter (for the garage more than for the cat), lightweight litter, even the weird crystal litter (which the cats did not approve of), but this one ... the pine pellets ... this is Mouse's favorite litter & I'm a fan too. I can't speak for the cat, but for me, I like it because: It's not dusty. It's easy to scoop. I even like the containers - less weight of plastic to throw away per 20 lbs of litter than a bucket or the plastic jugs with the handle. This is our go-to litter. Also, the 40 lb bag is pretty fantastic for workouts. In case you're into that...
---
By Cheye on Jun 16, 2022
Love this stuff
I've been using pine pellets for 5+ years now and it controls odors so much better than clumping litter. Although all cats are different and some can be extremely temperamental when it comes to their litter boxes, mine have always taken to pine pellets easily. It's also cost effective and eco-friendly, which makes me happy! :) I clean out the poops every other day with a scoop and change the whole box weekly. Currently, for 1 cat (2 litter boxes) it takes me 2+ months to go through a 40 lb bag.
---
By Stephanie on Jun 11, 2022
my cats LOVE IT!! recommended!
I've been so surprised. I'm slowly moving my girls over from litter to pellets. I knew Neesha wouldn't be an issue. She's never cared about litter or the type. She just goes. Nala is super finicky. I thought I'd give it a shot. A few weeks ago I put litter on the bottom, pellets in the middle then litter on top. Nala didn't even hesitate and went straight in. Afterwards, she stuck her face in the pellet bag and just sat there and smelled it. I could tell she LOVED the smell! I am slowly using less and less litter - probably within about 2 weeks it will be all pellets. The litter isn't all over my apartment anymore and the pine pellets smell good - naturally masking the odor and pine pellets cost less and you get more. A win win!
---
By NYTammi on Jun 15, 2022
This is kitty heaven
I was tired of having cat litter ALL OVER my house. No matter how hard I swept, vacuumed and swept some more I couldn't get a handle on the litter. It was all over my couch, in my bed just YUCK!! I went searching for an alternative to cat litter. I came across this and figured I'd give it a try. It took them a little while to get acclimated to the different texture but they all use it without an issue. It's much lighter than scoop-able clumping litter and so easy to just dump the whole thing in a bag, seal it up and dump new in. I highly recommend this!!!
---
By woodwmn on Jun 15, 2022
Cat refuses pine pellets
I tried this litter when my usual brand was discontinued. It consists of hard pellets of pressed pine wood about 1/2 inch long and 1/4 inch in diameter. There is a mild pine fragrance. It looks uncomfortable to stand on so I scattered some on top of the old litter. The cat refused to use the box. Your cat may be less fussy, but it didn't work for mine. P.S.: I called Chewy for help in purchasing. The rep described the litter and several others. She did her best.
---
By Tippy1236 on Jun 21, 2022
Lacks pine scent when used
I purchased 2 bags of the pine litter pellets. We purchased this to try out because our kitties are indoor/outdoor & we thought the pine scent would correlate the 2... however, the litter SMELLS terrible! The pine scent is masked by kitty poo instead of the other way around. I don't recommend for cat litter purposes.
---
By Skari on May 28, 2022
Tried and true
Been using this for 5+ years now and would never switch back. No dust and very few particles actually make their way out from the box (those that do usually don't get very far, either). My cat grew up on clay litter and adjusted to this just fine, although I know others could be much pickier. I'm really happy with how it works and how much cleaner and safer it seems to be. I ordered litter pans direct from Feline Pine and they work fantastic for this as well. HIGHLY recommend!
---
By Masha on May 19, 2022
Cat with allergies
Masha is a 6 yr old rescue cat and had been in and out of various homes. She's a very sweet cat, but had been returned several times due to her allergies. She licked a lot of fur off her legs & tummy and had mouth sores, etc. It was assumed food allergies were the problem but when I brought her home I wanted to make sure the litter wasn't also a part of the problem. My research led me to the Feline Pine litter. Very happy with it. Masha adjusted to it very well and it actually lasts longer than other litters I've used.
---
By Cathy on May 23, 2022
Dust free litter
I had been using clay litter for years. My daughter has just been diagnosed with Asthma so I needed to find something better. I've never liked all the dust from clay litter but now it's a health issue. Wish I had changed to this brand sooner!! The cats adjusted to it easily and the dust is gone. Just save some of your original litter to place on top for a few weeks. Cut back how much you use each week. It only took two weeks for mine to be ready for just the pine litter.
---