Frisco Bird Teaser with Feathers Cat Toy
By Frisco
---
About This Item
Colorful feathers, string and crinkle material make this cat teaser wand toy a playtime go-to.
Spiked with Canadian catnip to make playtime even more exciting.
Stimulates your kitty's natural hunting instincts to spark up play and exercise.
Perfect way to provide cats with the daily exercise and mental stimulation they need.
Interactive toy helps turn playtime into bonding time for you and your cat.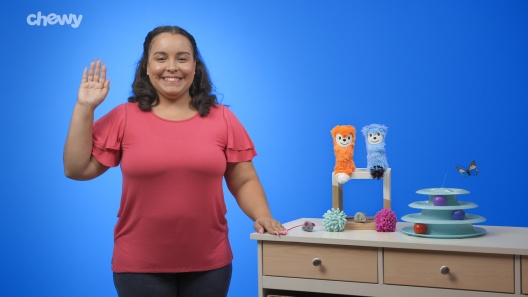 Learn More About Frisco From Our Team of Experts
---
---
Fun For
Let the games begin! With the textures, shapes and sounds cats go wild for, these toys turn up the excitement for all kitties. Some are even spiked with catnip to level-up playtime. Bring them out for a pouncing, kicking, chasing and batting good time!
The Thrill of the Hunt
Mice, string and catnip—pretty much every kitty's idea of fun! Let your cat flex those hunting muscles to promote play and exercise. How about a chase after a catnip-spiked, string-tailed mouse? Ready, set, pounce!
Nip, Play, Love
Bounce into playtime with a fuzzy mouse on a bungee cord, or toss around a skinny mouse that's stuffing-free for your kitty. Every feline loves nipping on the enticing textures when they capture their "prey".
Let's Get Ready to Rumble & Cuddle
Cat boredom has met its match. Spark curiosity and play with catnip-stuffed plush toys that are perfectly shaped for wrestling and paw kicking. They're also soft and snuggly to cuddle up for a quick catnap.
Play All Day
For cats that prefer toys without all the bells and whistles, there are tried-and-true kitty teasers that don't skimp on the fun. Choose simple designs to get cats playing, from colorful bouncy springs to a wire teaser you can whirl around.
Bat & Roll
No kitty amusement park is complete without Cat Tracks! Let's get this ball rolling. Get your kitty to bat and make the balls roll around the triple-decker tracks for a mind-stimulating game. Ooh, there's a fluttery butterfly to swat too.
About Frisco
Frisco's quality products are made for and by a family of pet lovers. And they're more than just everyday pet supplies. Crates become comforting kingdoms, potty pads transform into a favorite patch of grass, and potty bags give the signal that it's time to take care of business. From comfy mats and cat trees to potty time essentials, Frisco provides practical solutions for today's devoted pet parents. The entire Frisco line is available exclusively at Chewy.com!
Shop Frisco
Compare Similar Items
| | | | | | |
| --- | --- | --- | --- | --- | --- |
| | | | | | |
| Customer Rating | | | | | |
| Price | | | | | |
| Toy Feature | Catnip, Crinkle, Feather | Exercise | Exercise, Feather | Catnip, Crinkle | Feather |
| Toy Type | Teasers & Wands | Teasers & Wands | Teasers & Wands | Teasers & Wands | Teasers & Wands |
| Material | Polyester | Plastic | Plastic | Polyester, Plastic | Plastic |
---
Questions & Answers
15 Customer Questions
---
What is the length of string and handle?
Answer by • Jan 26, 2020
The length of the string is 22-inches and the rod is 18.5-inches.
---
What is the wand made of? and is it strong? my cat has broken 3 wand toys that connect in the middle.
Answer by • Mar 26, 2020
The wand is made out of sturdy plastic.
---
does this toy make noise?
Answer by • Jan 08, 2020
This toy features crinkle fabric that will make noise.
---
Does it come with an extra bag of cat nip
Answer by • Sep 17, 2020
Catnip is included in the body of the toy and is not refillable.
---
---
---
By Molly on May 16, 2022
The best $3 spent
I bought this as part of a welcome home package for my new 5 month old kitty, and this blue bird was instantly her favorite toy! That was four months ago and Blue Birdie as we call it is still her favorite baby, it's a bit worn now and the wings are long gone she still prefers this toy over all else. She does her zoomies with Blue Birdie and the plastic stick trailing after her. When it's time for bed, she has to have Blue Birdie with her. In short: buy this for your kitty! They will love it!
---
By Jhilde on Apr 14, 2022
A big Hit!
I have 4 cats, 2 of them are disabled. One is blind and the other has neurological deficits- a lot of them! They are a brother & sister from a litter of orphans I hand raised 2 years ago- the other three kittens were fine, but these two were so tiny and sick that they needed to stay with me. Anyway, finding toys for two young cats with challenges and two healthy, rambunctious cats is always a trial. This toy has been a huge hit. Bianca, my blind little girl plays in a tunnel so the other cats can't ambush her from all sides- she loves licking the feathers and playing with the ribbons! The others chase it all over- when they can get it away from Bianca!
---
By BEASTTOYEVER on Apr 25, 2022
Love it OMG!!
We adopted our sweet baby when he was six months old. Affectionate, loving , so happy to have found his fur-ever home! We spoil him so he can have the best life! My husband bought this toy and kitty is enthralled with it! It's his favorite toy ever! He plays with it constantly! His purrs have gotten louder and deeper! Kitty isn't eating as much as he used to but still seems in good body condition, maybe even better? Boy, he sure loves that toy! He actually growled when I tried to pick it up out of the way of the vacuum. Lol. I think the vacuum is scared of him now! Please God! I don't know where my husband is! He went into the basement to clean the litter box and I just don't understand what happened! I'm so afraid. It's the middle of the night. I hear a voice?! "Mother, I've remembered how to kill."
---
By Hyperkitty on May 19, 2022
Very interactive
He loves this toy the most out of all of the others he has. He plays with that thing like it's his prey! The ways he catches it are so funny, it's a great laugh to watch him jump all around to catch it, or even just sit there and just catch it with one paw! It's the best toy i've bought, and so fun to play with.
---
By Cyndi on May 3, 2022
Frisco Bird Teaser
My 3 months old kitten loves playing with this when he goes into his "zoomie" time. This truly help him spend his energy in a very healthy and productive way. If not for this, my home will be a wreck with him climbing and knocking down everything in sight due to his high energy level and /or boredom. I have him climb, run, and "hunt" with this in a very safe way. It works everytime.
---
By furmomma16 on Apr 8, 2022
Watch the ribbon ..
I got this for my kitties first bday. She loves it! It was her favorite thing she received. My other older kitty loves it too. When I put it away I put it up high on a cabinet not knowing she saw me. So today I come out of the shower and Adora was eating the ribbons attached the the bird. I quickly took it away from her but could tell that she ate a piece as it's chewed off and no where to be found. I cut the ribbon part off and trashed it. Now she will have just the bird part and in the future I know to put any toys away that she may want to eat. Again the girls do love this toy and I would recommend it just keep an eye on those kitties that want to eat ribbon or string..
---
By firsttimecatmom on Mar 25, 2022
cat's favorite toy
my cat was a feral rescue that's still extremely shy. when we first adopted him, we gave him a little playpen to stay in so he had a place to himself. he stayed in that playpen for weeks, too scared to even come out to play with other wand toys. we saw this one that had catnip and thought maybe it would encourage him to come out a little more often. as soon as he smelled it, he went absolutely crazy. bouncing off the walls, doing flips almost 5 feet in the air, panting from excitement. fast forward three months and he breaks the toy off the string. the two days between ordering a new one and it being delivered were two days of sadness and heartbreak for him. we tried playing with a different toy but he would just go back to the detached carcass and paw at it. when he saw the new toy came, he started scratching at the packaging wanting to play, even though he was half asleep. we took it out and dangled it in front of him, and it was like the first day he'd ever seen the toy. back to doing flips and running around until he's panting on the floor. would definitely recommend for any cat!
---
By Debry on May 15, 2022
Love Love Love!
My 3 part Maine Coon cats Love these. I have 6. My granddaughter Emma luvs playing with them with these too. They know when they see her come thru the door that shes gonna use these to play with them & they're gonna get tuna...lol. I will be getting more hopefully in different colors. Highly recommend! Thanks!
---
By Buddy on May 6, 2022
Birdie is the Best!
We bought this based off of the great reviews here on Chewy, and we are so glad we did! Our cat that doesn't quite know "how to play" (he was a foster for 5 yrs) immediately took to this toy. In fact, he tore it open within a few weeks. Even after he pulled out all the stuffing, Birdie is still his favorite and he begs to play with it every night!
---
By LiaO on Apr 18, 2022
Cats LOVE it!
I got this as an add-on with my cat food order because it was inexpensive and it was my 2 cat's birthday. Honestly, I didn't have high expectations, but one of them pounced on it before I had even taken it out of it's packaging Eventually she shared with her brother and he was equally enthralled. A couple of the feathers were ripped off within the first few days, but the rest are still there. Worth every penny!
---