Herm Sprenger Ultra-Plus Training Dog Prong Collar with Latch
---
About This Item
Designed to help you train your dog—especially commands like heel, sit and stay.
Features a quick-release snap that helps both you and your pup feel secure.
Gently pinches your dog's neck, mimicking the pinch a mother dog gives her puppies.
Great for walking strong pullers and large dogs, or during obedience training.
Replacement links are available to increase collar size.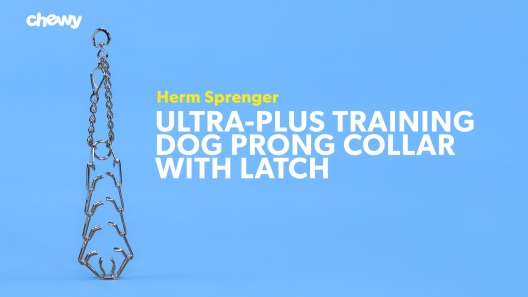 Learn More About Herm Sprenger From Our Team of Experts
---
Compare Similar Items
| | | | | |
| --- | --- | --- | --- | --- |
| | | | | |
| Customer Rating | | | | |
| Price | | | | |
| Material | Coated Metal, Metal | Stainless Steel, Metal | Stainless Steel, Metal | Metal |
| Breed Size | Medium Breeds, Large Breeds | Medium Breeds, Large Breeds | Small Breeds | Medium Breeds, Large Breeds |
| Pattern | Solid | Solid | Solid | Solid |
| Leash & Collar Feature | Training | Training | Training | Training, Chain |
| Closure Type | Quick Release | Buckle | Slip On | Slip On |
| Collar Type | Prong & Pinch | Prong & Pinch | Prong & Pinch | Chain Slip |
| Lifestage | Adult | Adult | Adult | Adult |
---
Questions & Answers
20 Customer Questions
---
Good Morning we are dog sitting for a friend & can not figure out how to use this collar?
Answer by • Feb 22, 2020
Please find the attached video for instructions on how to use this collar.
---
Is this appropriate for 50 lb golden retriever?
Answer by • Jun 13, 2019
To select the best size we recommend that you measure your dog's neck girth (circumference). To measure the neck girth for this style of training collar, you'll measure at the top of their neck, just below their ears. If the dog happens to be in between sizes it's then recommended to select the bigger size. The 12 inch model fits a neck girth up to 13 inches, the 16 inch model fits a neck girth up to 17 inches, the 18 inch model fits a neck girth up to 19 inches and the 20 inch model fits a neck girth up to 21 inches. Links may be removed or added, as needed.
---
The specs state the brand is Coastal Pet Products. Is this not authentic Herm Sprenger??
Answer by • Apr 16, 2019
Coastal Pet is a certified distributor of Herm Sprenger and these collars are authentic. You can always verify the authenticity of your Herm Spenger collar, as every Sprenger collar is stamped with a brand name HS-Germany (HS-GERMAN INOX / HS-CUROGAN) on the rings or swivels.
---
I jst measured my std. dachshunds neck and it is about l4 inches-there is no l4 inch prong-should I get the l6 inch and maybe take a link out or will the individual prongs be too large for this dog's neck?
Answer by • May 12, 2019
All Herm Sprenger pinch collars come in a standard length which is adjusted to fit the neck of the dog by removing or adding links.
---
---
---
By Kimo on Jun 12, 2022
Best ever training tool
I have a baby shepherd that I was ready to part with. He was too much dog for me. I hired a trainer that recommended this collar. It has worked miracles. We can take walks and when he starts acting up, out comes the collar and the negative behavior stops. I highly recommend this route over a shoke collar
---
By Cindy on Mar 21, 2022
Quick release is terrible
The collar itself is great and works very well. However, DO NOT get the one with the quick release. It literally fell right of my dog during a walk and of course she took off and I had to chase her around the neighborhood. It was a horrible experience and so maybe bad things could have happened. Get the collar WITHOUT the quick release feature. It's convenient and easier to remove, until it removes itself and you have a loose dog on your hands.
---
By Ivee on Feb 25, 2022
My huma...
My human puts this on me before he repeatedly asks me to do things and walks and even sometimes before play time outside. It's really easy for him to put on since it has clip on one side. It makes it very adjustable too. It doesn't bother me at all until I try to chase a rabbit or duck flying overhead or start sprinting for the fence when the neighbor's dog starts barking. Then it gets real uncomfortable. But once I stop what I was doing it goes away. I've figured out that if I don't lunge at things it doesn't get uncomfortable! How about that!
---
By Dekker on Feb 25, 2022
Real Herm Sprenger = High Quality
Beware, on other sites Herm Sprenger may be advertised, but it's an imitation with much lower quality. The one I purchased here, from Chewy, is high quality with the prongs in opposite directions for opposite sides, rounded tips, quality latch, and prongs are tight (yet still possible to change out for correct sizing). REMEMBER, it is recommended to have another attachment in case of prongs ever open during a walk. ALWAYS SUPERVISE WHENEVER A DOG WEARS A PRONG COLLAR.
---
By IanJ on Feb 26, 2022
I'm a dog owner
I bought this coat because my dog was not responding to, nor did she care about the traditional chain choke collar that I had bought. I haven't tried this new collar out yet, but it looks very well made with quality metals. It is user friendly and allows for easy size change by removing or adding links to the collar. I think this collar will serve my dog and I well, and at this point, I'd buy it again.
---
By Faultyclasp on Mar 9, 2022
Faulty clasp
The clasp to close the collar has become more and more difficult to close after about 2 months of use. This makes it very difficult for the various dogwalkers in our family (young and old) to secure the collar and leaves us to hook the leash to a standard collar instead (which makes doggo much less controllable during walks).
---
By Stain on Apr 1, 2022
Staining dogs fur
Puppy has white fur and this collar has stained his fur grey! Super unhappy, means the metal is cheap w/ chemicals or something unhealthy if it's putting off this much stain on his coat.
---
By Puppytrainer on Mar 8, 2022
The only brand pinch collar to buy
The Herm Sprenger prong collars are quality. They have rounded prongs so they aren't damaging to the dog. With this collar my little doggy pays attention and doesn't require hardly any correction. This is so much better for her little neck.
---
By Disillusioned on Feb 3, 2022
Wrong size, no refund
I somehow ordered this too small. I called Chewy as soon as I realized it. They were nice and said they'd issue a refund I should see in 3-5 business days. On day 7, I called about.my missing refund. They said to call my bank. I did and they haven't seen a credit come through. This is now day 10 and still no refund. I've always loved Chewy but this is very frustrating.
---
By Gunny on Feb 20, 2022
Packaged wrong
My vet shown me her training collar that was 18 inches and worked perfectly. This one was packaged incorrectly. This one measured 17 not 18 inches as it was listed. So now I need to buy a link to make this collar the right size I need for my puppy .
---