Hyper Pet GoDogGo Fetch Machine G5 Rechargeable Ball Launcher Interactive Dog Toy
---
About This Item
Comes with 5 GoDogGo dog tennis balls, a remote control, rechargeable lithium batteries and an AC Adapter. It also features a wide-mouth ergo bucket with handles that makes ball return easy for your dog.
Measures 13.8" D x 12.6 " W x 16.7 " H and weighs 8.6 pounds, so it's compact and lightweight for travel! Plus, it can hold 17 tennis 2.5" tennis balls and 23 small 1.5" tennis balls. Does not work with balls that are 3" or bigger.
The safety arc provides launches the balls upwards and out to keep you and your dog safe. For added safety, all paw-ticipants should stand off to the side or 3-feet in front of the launcher. This is not a child's toy as balls launch at high speeds
Choose from 3 time setting options (4, 7 and 15 second launch intervals) and multiple distance settings. Distances will vary depending on the size, type, and condition of the dog tennis ball.
Powered by an AC adapter or rechargeable batteries. Simply remove all the balls from the launcher prior to charging, flip the toggle switch to "ON" and when the blinking green light turns to steady green, the unit is fully charged. The unit will only charge when "ON".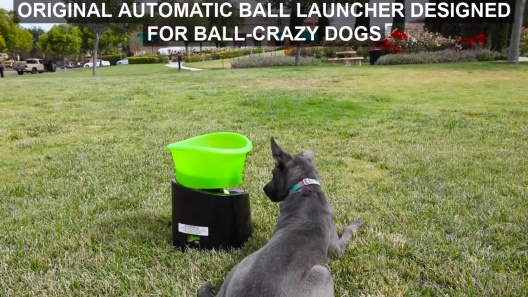 Learn More About Hyper Pet From Our Team of Experts
---
---
Questions & Answers
15 Customer Questions
---
My dog has a lot of saliva and ball will be thrown into a sand pit and gets pretty messy, will it still work and can the machine be washed
Answer by • Jul 13, 2021
This dog toy will still work in sand or with excessive saliva. We recommend cleaning the sensor switch and area periodically or frequently if you have a dog that tends to mouth the balls creating heavy saliva. Please be sure to have the unit OFF and unplugged when cleaning the sensor area. To clean the sensor: Clean around and under the sensor to be sure there is no sand, saliva, or dirt buildup on/under the switch. Simply moving the unit by gentle shaking will sometimes remove debris such as rocks or sand that may be under the sensor. A hairdryer or compressed air in a can (like used to clean a computer keyboard) can be used to blow off the sand around and under the sensor. Follow the instructions below to wipe clean the sensor of saliva, etc after removing sand or debris. Instructions: Use a Q-tip or soft small cloth after the fetch session and carefully clean/wipe off above and between the metal, strip to insure it dries without sticking.
---
Is this just powered by batteries or can you plug it in too.
Answer by • Mar 27, 2021
The Hyper Pet Fetch Machine G4 Ball Launcher operates on AC Adapter or Battery Power; adapter included.
---
What is the height of the launch? Can this be used in a backyard and adjusted so it does not fly over my 6 foot fence?
Answer by • Feb 24, 2021
The dimensions of this launcher are 15 x 13 x 17 inches. It features a 3 distance setting launcher to control how far the ball launches.
---
can i use regular tennis balls?
Answer by • Jul 10, 2021
GoDogGo can be used with many ball styles, sizes and brands depending on your dog's preference, type of play, desired launch distance and conditions of play area. GoDogGo is compatible with Chuckit, Kong, Tuff, racquet balls and more. Launch distance varies based on ball style, brand and weight. Please note, GoDogGo does not work with 3-inch or 4-inch balls.
---
---
---
By Gail on Nov 26, 2022
I like it but...
I like it and it comes with 5 extra balls which is nice. It seems to be well constructed but the indicator lights need to be brighter because they can't be seen well outside in the daylight. What I don't like and I seemed to have misunderstood is that the throwing adjustments just adjust how high the ball goes NOT the distance it's thrown. I would rather be able to adjust the distance. The other problem is that my dog is not too crazy about it (not necessarily the machine's fault). It took a while to get him to learn to put the ball into the bucket but he finally did it. He just doesn't seem interested in playing with it himself, he wants me to throw the ball so I guess he's just more partial to human interaction. He also likes to take the ball out of the launcher with his mouth BEFORE it launches! He thinks it's a fun game to beat the launcher LOL. My older dog won't even go near it so I spent a lot of money on a toy for myself...
---
By IsaacandNoah on Nov 5, 2022
My Dog Is Obsessed
My dog is absolutely obsessed with this ball machine. We had a much older version that recently stopped working. There is supposed to be a lifetime warranty for a few of the mechanisms so I emailed the company about that, but did not get a response. My dog has a surgery upcoming soon and I did not want to waste any more of the beautiful fall weather for him, so ordered a new one from Chewy. Now that I see the new one, I am guessing the parts for the old one would not have been available as it has been completely revamped for the better. You can adjust how far it throws on the bottom, and please make sure to do this as a test run before your dog starts participating. There are now three speeds and the bucket is shorter and more accessible for the dog to put the ball back himself. Comes with a variety of balls but he loves using his ChuckIt with it the most. Worth the buy!
---
By Samwell on Sep 27, 2022
Awesome would buy again and again
This thing is awesome my dog will play forever on this. Only complaint is that we had to buy street hockeys. The tennis balls get so slobbering and don't work at all. Street hockey balls is the key. My dog keeps himself busy while I am at work.
---
By Olia on Sep 8, 2022
just don't
Bought this for my fetch-obsessed dog because a neighbor said her ball launcher keeps her dog going all day. My dog cannot get enough. She'd play 24-7 if she could. This thing is annoyingly loud. So loud and sudden it scares my dog. She won't go near jt. She doesn't want to fetch with a machine: for her, fetch is about her interaction with a human, mainly me. This is a lot of $ to waste on a machine that a dog won't use. I appreciate Chewy's return policy, the exchange they allowed me to do for the remote, but ultimately none of that mattered. I charged it, tried to use it once, and knew that my dog wouldn't use it with the sudden loud noise.
---
By DogMom on Aug 14, 2022
Not worth it
If you are on the fence about buying this for your fetching dog, don't. I'm so upset about spending this much money and my dog has used it maybe twice. She doesn't like the noise it makes so we can't even get close to training her on how to put the ball in. If you are willing to keep putting the ball in then great but that's not what we wanted. Also wish it would throw it farther.
---
By TysonsDad on Sep 21, 2022
My dog loves it
Works really well. I leave it on all the time outside on my porch and have not had an issue. The remote is nice along with the ability to adjust the throw interval.
---
By Bingo on Jul 31, 2022
Took a while but was worth it
We got this for our 6 month old puppy last fall. She didn't pick up on how to load it right away. But I would throw a dozen balls in there and put it on 15 second delay and it would occupy her for a few minutes. But this summer when it got warm enough to bring it back out, we tried training again and she got the hang of it almost immediately. She'll spend hours playing fetch with herself. It's entertaining for us and our neighbors to watch.
---
By JayA on Aug 7, 2022
Wonderful toy, but needs sturdier parts
My dog is a fetching fool and absolutely loved playing with this machine. Unfortunately a few short weeks after the 6 months warranty is up the plastic thrower arm broke during normal use. Why they made the part that's under the most stress and impact out of plastic and not aluminum is a wonder to me. Hopefully I can find a replacement because my boy just loves using this.
---
By Jenjen on Sep 10, 2022
Great product!
Our Labrador Josey learned how to use this quickly. She absolutely loves it. She has even whined at the machine in the house because she wanted to go play.
---
By neen on Nov 5, 2022
Save your money... sometimes less IS More
The motor grinds so loudly and it is very flimsy. We have a Patterdale Terrier.
---