IRIS Open Top Litter Box with Shield
---
About This Item
Three sided shield keeps litter and spray inside the box.
Prevents spills by keeping the dirty business inside.
Creates a semi-private space for your kitty to go potty.
Comes with an open-top for easy cleanup.
Made right here in the USA!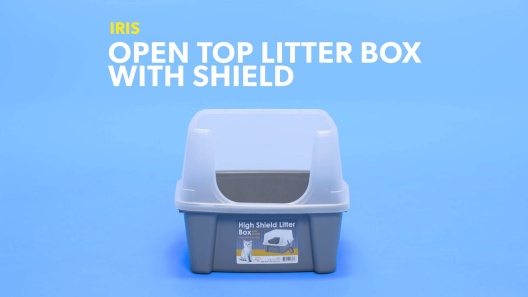 Learn More About IRIS From Our Team of Experts
---
Compare Similar Items
| | | | | | |
| --- | --- | --- | --- | --- | --- |
| | | | | | |
| Customer Rating | | | | | |
| Price | | | | | |
| Litter Box Type | Pan, Top Entry | Pan, Top Entry | Pan, Top Entry | Pan | Pan |
| Material | Plastic | Plastic | Plastic | Plastic | Plastic |
| Lifestage | Adult | Adult | Adult | Adult | Adult |
---
Questions & Answers
20 Customer Questions
---
Is the bottom of the box smooth or ridged?
Answer by • Jan 11, 2018
The bottom of this litter pan is smooth.
---
how heigh are the sides from floor to top
Answer by • Jun 06, 2018
This litter box is 11.75 inches tall from the floor to the top of the shield.
---
Is this made out of the hard sturdy plastic that will not break?
Answer by • Sep 13, 2017
The plastic is durable, thick and very rigid with a high-polish finish for easy cleaning.
---
Does the shield come off the box? I'm looking for a cat box where I'm able to use a liner
Answer by • May 09, 2020
The shield can be removed from the litter box. To remove the shield, hold the sides in the center and slowly pull apart until it clicks and then lift up.
---
---
---
By Jackie on Aug 26, 2022
Hopeful to keep area litter free
I was hopeful that the elevated top would keep the litter from scattering out of the box, not with my kitty! The top does not stay latched to the bottom very securely and that may be the reason litter scatters. I was thrilled with the price, but it did not serve the purpose that I initially wanted. I would recommend it if litter scatter isn't an issue; however, for me, it still makes a mess for my kitty.
---
By Countrygirl307 on Aug 27, 2022
A couple changes and I would love it!
I do like that it comes with the separate high side topper. Makes it easy to use with my liners for easy cleanup . 1. I do wish the topper was even taller. Say another 3-5 inches. My cat still manages to kick her litter up and over the way it is. 2. Wish the whole thing came in a larger size. My cat is full grown now and could use a bit more room to move around in there.
---
By CatBox on Aug 12, 2022
Spend more $$$ and get a better product
I had high hopes for this box as it looked like a great design with tall side walls and an easy entrance. Unfortunately, the bottom has a groove around the entire box which makes it impossible to completely clean litter with pee. I should have spent more money for a well designed box. A waste of plastic.
---
By Tricia on Jun 18, 2022
Way less litter on the floor!
We just adopted an energetic 7 month old kitty and boy is he a litter flinger! We do have wood floors, so it's easy enough to sweep up, but we realized to have to do that all the time would suck! Now we only get a tiny bit of litter on the floor! Yay! I have seen the reviews about the recessed sides & corners on the bottom- yeah, it would be better if the bottom was completely smooth, but I haven't had any issues cleaning the box. Maybe the type of litter scooper I have just works well with it. It has kind of rounded corners on it. A regular square scooper wouldn't work as well. As for the top part- it doesn't lock securely, but our kitties haven't had any troubles with it coming off. Our other kitty is a perch pee-er...she puts her front paws on the front edge of the box and stands with her hind parts in the box to pee. The top part hasn't come off when she does that. All in all, we are happy with this box and so are our kitties. We're planning on getting another one to replace the other regular box we have.
---
By madison on Jul 28, 2022
Best litter box ever!!!
We have tried so many litter boxes for my cat but non of them seemed to work properly or made her wanna go in and reading some of the comments i was a little nervous to buy this but but it was perfect!! no litter was coming out when she kicked it and you can detach the walls! and i love how it even comes with a scooper :)
---
By Bubba on Jul 28, 2022
Difficult to clean
The sides are nice and high and keeps most urine in, but there are square corners and a ridge on the bottom of the pan. It is impossible to get all the waste out of the two front corners and the corners are where my cat urinates. Would be excellent if they would curve all the corners.
---
By Gucci on Jul 11, 2022
Littler box
Unfortunately, this litter box is not well designed- the idea of the depth is good; However, ( I purchased two) the lids do not stay in place AT ALL.. :( they fall off as soon as the cat steps int the box which is too small for a normal size cat....therefore, making the "shield" useless..Sorry.....
---
By Cristin1 on Jun 6, 2022
Small, poorly designed
A lot of the reviews say the lid doesn't lock but it took me a while to figure out the top tabs on the side DO LOCK over the bottom tabs. However, the box has a lower part all the way around the sides that soiled litter can get stuck in. It made it hard and annoying to scoop and get clean. Additionally, over time, your cat can create scratches that just never really get clean. Do not buy.
---
By phatkhat on May 6, 2022
Worst litter box ever
I got a couple of these a while back, hoping the litter would stay in the box. My cats don't like hooded boxes, so I thought this might work. The shield doesn't fit tightly and some of the cats knock it off. The worst is cleaning. It has indentations in the corners of the front, and if the cat pees in the corner, good luck scooping it out. I have one cat who only likes to pee in the front corners of any box. I tried turning the box so the indented corners were in the back, but then the shield fits even worse than when it's on right. Nope. Bad design.
---
By CatMom on Mar 27, 2022
Smaller than expected, probably not great for large cats
Well I was hopeful about this box but after just 24 hours, it is an epic fail. I was hopeful that the high sides would help my senior girl with arthritis who has trouble lowering herself to pee and often pees over the box. I do think if it was just her, this box would be good. I do however have a 20lb cat who is an edge pee'er who has now stood in the box and peed out the front of it at least twice. Of course pee went off the litter mat and right under the dryer ... UGH!! The ACTUAL inside length of the box is 17", not 19". For those who wonder, the top sits on the bottom part of the box but it does NOT secure to it really. You can lift it off with the tip of 1 finger. I saw someone ask if the bottom was smooth. The answer is the plastic is smooth but it does has a "drop off" near the edges which makes scooping a bit more an annoyance. As always, Chewy's customer service is a 10+ and refunded my purchase. I will use them as long as I have pets!!
---