Nature's Miracle Just For Cats Advanced High Sided Corner Cat Litter Box
---
---
Try This Similar Item By Chewy
---
Frequently Bought Together
---
About This Item
High wall design keeps your kitty's litter from finding its way out of the box.
Convenient corner allows you to save space and keep your furry friend's litter box tucked away.
Non-stick surface eliminates litter caking and buildup and makes cleaning fast, simple, and hassle-free.
Antimicrobial coating prevents bacteria from forming inside your cat companion's litter box.
Large enough for multi-cat households but can also be used by a single furry feline friend.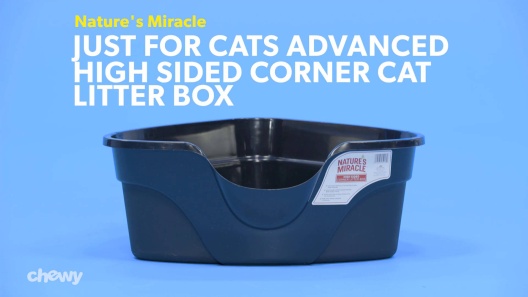 Learn More About Nature's Miracle From Our Team of Experts
Related Items
For Odor Control Charcoal Filters: [Click Here][]
---
---
Solutions You Can Trust
Because pet ownership comes with its share of messes, cleanups and challenges, Nature's Miracle is the answer to your prayers. Offering everything from products that keep both your home and your furry pal clean, to sprays for common behavioral issues, Nature's Miracle is rooted in solutions that are safe, effective and gentle.
Home Sweet-Smelling Home
Nature's Miracle proves that you can have a pet and a clean, fresh-smelling home too. While accidents are inevitable, whether it's a new pup that's training or a kitty that ate something disagreeable, they offer a variety of odor and stain removers that quickly work to save your furniture and floors—as well as your nose.
Well-Groomed
Since a clean home starts with a clean pet, Nature's Miracle has everything you need to keep your little buddy's skin and coat in tip-top shape.
LATHER UP
Working to clean, condition and even soothe the skin, there are plenty of shampoos suited to your pet's needs.
SAVE WATER
Skip the bath and freshen them up with Nature's Miracle's deodorizing sprays and wipes. It's perfect for dogs who prefer to stay dry!
Mind Their Manners
Sometimes your little angel needs a little help in the training department, so consider Nature's Miracle your obedience school in a bottle. From sprays that discourage marking and scratching to sprays that help calm and control anxious behavior, you're just a few spritzes away from a peaceful home.
FOR THE CATS: Give the ruler of your kingdom a worthy throne with the best selection of litter boxes. Including disposable, covered and even corner options, Nature's Miracle is equipped to meet both of your needs. They also have an impressive lineup of litters, plus a litter caddy and liners to keep it all fresh.
FOR THE DOGS: Keep your yard—and your neighbor's yard—clean with Nature's Miracle's handy poop bags and poop scoopers. They're designed to make cleanups quick and mess-free, so you can go back to focusing on the fun stuff.
About Nature's Miracle
Nature's Miracle has a motto that whatever your pet can do, they can undo it. Recognizing the importance of giving pet parents a safe and effective way to clean up after their furry children, they started with just a single carpet-cleaning product. After great success, they expanded their lineup, and today they're a go-to source for keeping your home and your pets spotless.
Shop Nature's Miracle
---
Questions & Answers
14 Customer Questions
---
What is the height at the entrance?
Answer by • Jun 27, 2017
The height of the litter box from the floor to the lowest point of the opening is 6.625 inches.
---
I have 4 cats are 2 of these enough
Answer by • Apr 08, 2019
Ideally, a multi-cat household should have the same number of litter boxes as the number of cats, plus one extra box; in other words, for two cats, there should be three litter boxes.
---
Do you have liners that fit it?
Answer by • Apr 05, 2021
The "Natures Miracle Odor Control Cat Litter Box Jumbo Liners" are compatible with the corner litter box.
---
dimensions
Answer by • Jun 15, 2022
The litter box dimensions are: 26 x 23 x 10 in.
---
---
---
By MissouriGirl on Sep 24, 2022
adhesive remover-rubbing alcohol-wd40
I cannot believe the people are complaining and saying it's a dealbreaker on this box because they can't get the stickers off how old are these people maybe they live somewhere where they don't have access to a hardware department or a home department but literally you don't even need that I don't even know what to say getting a sticker off is the easiest thing ever you need a straight edge razor blade for scraping or a putty knife and by the sticker remover spray specific spray or WD-40 anything like that has oil in it would work or isopropyl alcohol would work it would take a little bit longer but that would work if you have a cat up a corner that is perfect for your cat box this one is unbeatable it's huge and high sided!
---
By Coco on Sep 22, 2022
Don't buy this
I really wanted to like this and even ignored the other reviews about the stickers. But they were right that the stickers are impossible to get off the leaves an extra sticky layer at the bottom even after I spent a week soaking it and trying to clean it. On top of that the curves mean it doesn't lay flush to the wall when placed in the corner...which imo is the whole reason to have a corner shaped box.
---
By CarolR on Sep 23, 2022
All good but the sticker
I like this litter box--have had several of the same model before. But this time I found a sticker in the bottom that required heroic measures to remove: Goo Gone, window scraper. Once I finally removed it, all is good.
---
By Kiki on Sep 3, 2022
Great litter box.
Large and sturdy box, holds up to being carried full of heavy clay litter and endures years of scraping. The high sides are great for minimizing mess and providing some security for cats that don't like hooded boxes. If you cat does like a hood, there's a hooded option for this box too!
---
By Beau2022 on Aug 12, 2022
Frustrated Kitty Momma
I have purchased this brand before and liked it. I would LOVe to return these litter boxes! They have CHEAP stickers on the bottom that take forever to get off! Absolutely RIDICULOUS and LOVE the "no stick" brag that is EXCEPT for their stupid sticker!! FAIL and will never purchase again!!
---
By Jeannie on Sep 18, 2022
Tall cat box
This is perfect for cat. She has been going out out the box going on the carpet. This fits snuggly in the corner so now goes on box
---
By Kelley on Aug 20, 2022
Sticker Shock
Just received 2 corner boxes. Soaking them in Goo Gone to remove stickers on inside bottom. Would like to use Slide litter so surface shouldn't be marred by adhesive. STOP putting stickers on the inside or even on the outer wall. Put them on the outer bottom if you have to have them at all.
---
By DebR on Jul 14, 2022
Great box with exceptions!
This is a great litter box. I have two of them and just replaced mine after several years of usage. My biggest problem is the stickers that this company puts inside the bottom of the box and outside on the front. It was quite an effort to remove them. I started by soaking the box in hot water and a little dish detergent. I scraped it lightly with a plastic putty knife and then soaked it some more. I then used a great product called UN-DU Adhesive Remover. It is used a lot in crafting and did not harm the box. I would not have had to expend some much effort if the company had just put an easy to remove sticker on it or just dropped the sticker inside of the box.
---
By Kayley on Jun 22, 2022
its HUGE!!
This order shipped SO fast. Thank you for that, Chewy. But really, this litter box was a LOT bigger than I expected (which is awesome for me, because my two cats share). The stickers were a little annoying to peel off, but a little rubbing alcohol and a bit of scrubbing helped a ton. Fits right in the corner of my living room closet so it is out if the way, hidden, and easily accessible to both my boys and me for when I need to clean it. It is PERFECT!
---
By OldandPickyDogs on Jul 25, 2022
I love the litter box, but the sticker!!!!! Ahhhhh!!
I have never in my life had so much trouble removing a sticker!! Nature's Miracle, DO BETTER! I love you, but in the year of our lord 2022, we have stickers that peel easily and are affordable, fix it! I peeled, soaked, goo gone, scratched and scraped.. I'm still mad thinking about it. The litter box is wonderful but the sticker angers me.
---