PetSafe Gentle Leader Padded No Pull Dog Headcollar
---
About This Item
This effective no-pull headcollar is designed to help improve walks with your canine companion. It is vet recommended and designed by a dog trainer!
Your pup will still be able to have full-range of motion while wearing this headcollar. He will be able to drink, eat, pant and even catch his favorite toy!
Rests across your canine companion's nose, interrupting his natural instinct to pull against pressure.
Constructed from durable nylon with a padded neoprene nose loop for ultimate canine comfort. This headcollar won't fit furry friends with short snouts, like pugs or bulldogs.
Features a quick-snap neck strap and an adjustable nose loop for easy fitting in minutes. It is designed with minimal straps to keep your canine cool.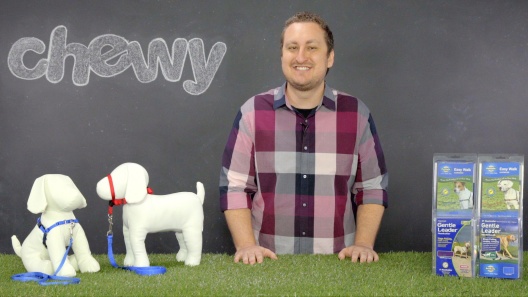 Learn More About PetSafe From Our Team of Experts
---
---
Keeping Pets Happy & Safe Since 1998
PetSafe has helped millions of pet parents care for their pets through every stage and season of life.
US-Based Customer Care
The PetSafe team of customer care experts is available 5 days a week via live chat, email or phone.
Healthy Pets, Happy People
PetSafe is dedicated to helping pet parents keep their furry family members healthy, safe and happy. From irresistible toys to life-protecting pet fences, their innovative products are designed to help bring pet families closer, for a lifetime of love.
Pick of the Litter
What sets PetSafe apart is a team of pet experts who come to work every day with one goal: making the world a happier place for pets and their people. They work with professional trainers, veterinarians and pet behaviorists to keep up on the latest research and insights and use that in developing their products. They rigorously test every product for safety, quality and efficacy, too – because your pet deserves the best!
About PetSafe
PetSafe has been a global leader in pet care since 1998. They pride themselves on empowering pet parents through innovation, education and experiences. Their goal is to strengthen the bond between people and their pets, providing them with thoughtful products, expert advice and compassionate support. PetSafe's US-based customer support team is always ready to help you get the most out of your life together with your pets!
Shop PetSafe
Compare Similar Items
| | | | | | |
| --- | --- | --- | --- | --- | --- |
| | | | | | |
| Customer Rating | | | | | |
| Price | | | | | |
| Material | Nylon, Synthetic Fabric | Nylon, Synthetic Fabric | Mesh, Synthetic Fabric | Nylon, Synthetic Fabric | Nylon, Synthetic Fabric |
| Breed Size | Extra Small Breeds | Small Breeds | Small Breeds | Large Breeds | Large Breeds |
| Collar Type | Headcollar | Headcollar | Standard | Headcollar | — |
| Pattern | Solid | Solid | Solid | Solid | Solid |
| Leash & Collar Feature | Waterproof | — | — | Training | — |
| Closure Type | Quick Release | Buckle | Buckle | Buckle | — |
| Lifestage | Adult | Adult | Adult | Adult | Adult |
---
Questions & Answers
36 Customer Questions
---
I have a Rottweiller German shepherd mix and she is a powerful puller! I got the head collar but she paws at it and lays down refusing to move. How long does it take for the dogs to accept wearing it? It is quite stressful for her and I right now.
Answer by • Nov 27, 2017
The adjustment process is different for all dogs, we recommend that during the first week of use you place the collar on during meal time immediately before and after feeding for them to get accustomed to the collar. Put the collar on your dog daily for about 3 minutes or less and while in the collar give the dog praise and treats to help them associate it with a positive action. From there, continue to repeat these steps and then try to take the dog on a 5 minute walk while giving praise and treats for a positive outcome.
---
some collars come with a padding that goes around the nose area, does this gentle leader have padding on it?
Answer by • Sep 01, 2018
All PetSafe Premier Gentle Leaders now feature padding for the nose area. I've included an image for reference.
---
how do you tighten the nose piece
Answer by • Oct 05, 2022
To adjust the nose loop, snap the neck strap high on the neck at it's pre-fitted position. Make the final adjustment to the nose loop by sliding the snap clamp up or down to adjust. With your thumb and index finger, pinch nose loop underneath the snap clamp, temporarily holding it. For further instructions, click on the 'Instructions' tab, just under the product photos, where the 'User Manual' is located.
---
Making sure this comes with an instructional DVD ?
Answer by • Jul 19, 2018
This product includes a training DVD.
---
---
---
By Eric on Nov 4, 2022
Inconsistent garbage
Total waste of time and money. The neck strap fit good with a lot of strap left over. The lead strap was WAY too short. I figured I must be putting it on wrong, so at next Vet appointment I took the harness with me to see if the vet could show me how to put it on. Same results. Neck strap had a lot of excess and the lead strap was so short the dog could not lift his head, even with the strap maxed out. It would seem the neck strap and the lead strap are 2 different sizes. We also noticed that there is no metal ring to connect a leash. This product is just inconsistent garbage. Shame on Chewey for selling this.
---
By Corgimom on Nov 7, 2022
Gentle lead makes for easier walks
My little prince, Finn, is a corgi who has enough torque when he pulls to pull me to the ground. We tried various training collars and harnesses without much luck until we found the gentle lead. Now I can keep Finn moving with me and save my shoulder from dislocation when he finds a tasty tidbit of whatever that he suddenly must have at that instant. Training was pretty easy with the included instructions. We are on our second gentle lead just to make sure the cushion around his nose stays soft. The first last three years with daily use.
---
By Jeff on Nov 19, 2022
Not getting dragged anymore
Dog much easier to walk with this collar. Gentle leader has a good design, but it is a bit lightweight compared to Halti's brand. However, Halti made a good quality but the design lacked an adjustment for the snout and both my dogs could slip out of it. The gentle leader has a clip to adjust the part at the snout. Great design, but cheaply made so 4 stars vice 5.
---
By Kittykitty on Nov 13, 2022
Taking it slow with my rescue
Right now just putting in her for about 3 minutes a day; she is terrified of it. But we'll get there. A SPCA rescue out of a cruelty case, so we've had our adventures and our victories. We'll get their. Her leash manners are improving nicely, this will be the iciing on the cake.
---
By AzSun on Dec 1, 2022
Very effective training tool
When used correctly this is a very effective training tool and can be weaned off with a bit further training or can continue to use it throughout lifespan. Almost immediate correction for pulling, lunging and erratic leash walking.
---
By Farmgirl on Oct 31, 2022
Gentle Leader
My two big German Shepherds are getting use to the Headcollar. It will take a little time and I can't wait. They both are cat aggressive and when they see a cat on the farm they want to chase it, which is a big problem. My one Shepherd weighs 135 lbs and the other 88 lbs and I'm only 150 lbs. Can't wait till I can walk them with no problems
---
By Susan on Sep 30, 2022
Let's Go For A Walk !!!
I have 2 labador retrievers that get walked daily, the only concern is that they pull, and if they spot a deer or rabbit it's challenging. Our Veterinarian recently suggested a gentle lead. I could not believe it worked!!! Both, stopped pulling and now we can have fun on our walks. This is a great training tool. I would recommend to anyone with a dog that pulls. Be sure to follow instructions and measure dogs neck for correct size and have snacks available for training.
---
By Pokie3inSanD on Sep 9, 2022
Lifechanging when it comes to walks! But...
The design of the harness is fantastic. I really didn't think I'd ever be able to enjoy walks with my border collie mix. Whenever Dodger saw another dog (or bird or butterfly or....) he would bark and pull and make walks miserable. This has almost completely stopped the pulling part and we're getting the rest of it under control. The one con is that the stitching either was frayed upon receipt or frayed after a couple of walks. Not sure how long it will hold up, or whether this is a design flaw or just a quality control issue with this one particular harness. Still, I am really happy with the product and would certainly recommend it to others who are struggling, frustrated and ready to give up walking a pulling dog.
---
By Gunther on Sep 22, 2022
Bulldogs can't wear this (just in case you were wondering)
It's a well-made item, and I've seen German Shephards, the biggest Labs you've ever seen and most dogs do well with the head lead. But as the instructions advise, these are not for Bulldogs (English bulldogs, American BULL DOGS, or any dog with a squooshed up (but cute)) face. The second compelling reason NOT to get this for your BULLDOG? They can take it off. 'Member bulldogs are willful and if they don't want to do something, they won't.
---
By Billiam on Sep 30, 2022
Listed appropriate size worked for our 9lb Chihuahua!
I have no idea if this looks too tight on him, I hope not. I was super happy that this fit him because he's a Chihuahua and his face is weird. Chewy also has a great return policy afaik so I would try it if you're also a Chihuahua owner!
---