PetSafe Happy Ride Foldable Dog Car Ramp, 62-in
By PetSafe
---
About This Item
This folding ramp helps dogs up to 150 pounds get in and out of the car with ease.
A great way to protect your pal's joints or to help smaller pups get in and out of your vehicle.
Features a high-traction surface and side rails to help prevent slipping and falling.
Weighs only 10 pounds for a lightweight and durable design that is easy to lift.
Works well with cars, minivans and SUVs.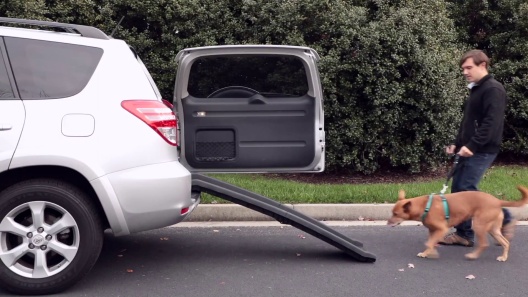 Learn More About PetSafe From Our Team of Experts
If using to access your vehicle's side door, make sure to consider the Solvit Side Door Adapter.
Shop Prescription Medications from Chewy Pharmacy
---
Compare Similar Items
| | | | | | |
| --- | --- | --- | --- | --- | --- |
| | | | | | |
| Customer Rating | | | — | | |
| Price | | | | | |
| Breed Size | Small Breeds, Medium Breeds, Large Breeds, Giant Breeds | Small Breeds, Medium Breeds, Large Breeds, Giant Breeds | Small Breeds, Medium Breeds, Large Breeds | Small Breeds, Medium Breeds, Large Breeds, Giant Breeds | Small Breeds, Medium Breeds, Large Breeds, Giant Breeds |
| Features | Foldable, Non-slip Tread, Non-skid | Foldable, Non-skid, Non-slip Tread | N/A | Foldable, Non-slip Tread, Non-skid | Foldable, Non-slip Tread, Non-skid |
| Material | Plastic | Plastic | Plastic | Plastic | Plastic |
| Tools Included | N/A | No Tools Required | N/A | N/A | N/A |
| Assembly Required | No | No | No | No | No |
| Furniture Features | N/A | Modern, Outdoor | N/A | N/A | N/A |
| Furniture Frame Material | N/A | Plastic | N/A | N/A | N/A |
---
Questions & Answers
24 Customer Questions
---
Can this ramp be used over stair?
Answer by • Nov 10, 2017
While this ramp can be used on stairs, there are limitations. The "pitch" of stairs is generally much steeper than ramps (think of wheelchair ramps outside of buildings), so placing the ramp over the top of stairs will make it too steep to use. If the staircase only consists of a few steps, then the ramp might work but the bottom of the ramp must be placed farther out than the bottom step. The average "height" of individual steps (known as the "rise") is 7-8 inches. By referring to the "recommended height" figure for a given ramp, you can determine how many steps can be covered safely. For example, the Deluxe Telescoping Ramp extends to 72 inches and is recommended for heights up to 28 inches. This ramp would probably work well for covering 3-4 steps. However, it's always best to measure the rise (height) and run (length) of the area involved to make sure the ramp will work in your particular situation
---
Can this be left outdoors, since it's plastic?
Answer by • Jun 28, 2018
It is recommended to store inside away from weather elements.
---
My SUV rear door is 26" from the ground, will this ramp work?
Answer by • Oct 05, 2020
This ramp is suitable for use with heights up to 24 inches. We also carry the PetSafe Happy Ride Telescoping Pet Ramp, which is suitable heights up to 30 inches (Regular) or 36 inches (X-Large).
---
Will this ramp allow a best friend mobility "wheelchaired dog" to go up and down on it so it can safely maneuver a step to get to the porch and ground then back into the house? I would be there to safely guide the dog down and up. I don't want him flipping over and further injuring himself.
Answer by • Oct 28, 2017
This Ramp is 16 inches wide, so it would depend on the width of the wheelchair the dog has. If the wheel width is 12 inches or less, it should work well, under supervision.
---
---
---
By SweetGirl on May 11, 2022
ramp up for travel
The ramp is sturdy, lightweight, and easy to use and transport. The only drawback is that the walk area is a little slick, making it difficult for my dog to walk up. I glued strips of outdoor carpet to the ramp to give her more traction. Much better and my old dog friend can now safely get in and out of the vehicles. Trips are now back in our future. Thanks.
---
By SpicyDog on Apr 2, 2022
Great but hard to clean
Love how this ramp works for my outback. My Aussie has no issue going up/down this ramp even when it has snow on it. Fairly lightweight, but a bit bulky to store (about 7.5" tall when folded). My issue with this ramp is with how difficult the tread is to clean. While trying it out, bird feces got dropped on the tread, and it had been a nightmare to try and get that out. Loose dirt/sand tends to cling too.
---
By SpicyDog on Mar 28, 2022
Great ramp but not easy to clean
This ramp is great for my Aussie to use getting in and out of my outback. He's easily able to get up and down this ramp without issue. However, it is next to impossible to clean the walkway. Some birds did a flyby dropping as I had it set up in my driveway, and landed on the ramp. Their gift isn't easy to get out. Loose dirt is fine, but not softer material that's easily ground into/trapped in the walkway.
---
By Ramp on Apr 10, 2022
Cheap traction pad on ramp
Searched internet for a plastic ramp and Chewy seemed to be the best option. Very disappointed in the way the nonslip adhesive mat came on this product! It was bubbling and edges were coming up. Very disappointed in the quality of this pet accessory.
---
By PortiePowered on Feb 23, 2022
Very slippery ramp
I bought this because our 6 yo PWD started refusing to jump in the back of the car. Thought he might be getting old and sore and be time for an assist. This ramp is incredibly slick. Its surface is like sandpaper, but has no grip. My dog slid right down it, leaving claw marks all the way down. Good way to cut his nails, I guess. I put a towel down on it but he won't go near it. On the plus side, he jumps right in now when I put the ramp out. The "rubber feet" that secure the top of the ramp to the car are in reality slippery plastic feet. Adding an extra layer of adventure for you and your pup. It does fold easily and fit in the back of the car nicely. If you purchase this, cover it and and hold it for security, before your dog goes up.
---
By Jude on Apr 8, 2022
Petsafe Foldable Dog ramp
This product was exactly as described. It was easy to use with my Outback. My dog had knee surgery ( TPLO) and was able to go up this ramp safely and easily post operatively. I highly recommend it to everyone with a dog. It's lightweight, very sturdy and anyone can manage it.
---
By Korbella on Mar 24, 2022
Great Doggie Ramp
My German Shepherd is getting older and usually jumps in the car on his own. Although he jumps on and off the bed, lately he stops short of jumping into the car This has helped him and is a great buy. Holds up to 150 lbs. Chewy's was great as usual with shipping! Even arrived a day early on Sunday! Great job Chewy's! Thank you!
---
By Litter on Feb 22, 2022
Ok in a pinch, but hard for my dog to use
Pros: - Lightweight - Easy to open and put into position for use - Relatively affordable compared to other ramps - Arrived pretty quickly because Chewy is awesome Cons: - The grippy stuff on it is very cheap, my dog's paws slipped around on it (so it's really not grippy at all), and it started peeling up immediately - This is the big one & the reason I don't recommend this product, it was actually harder for my injured dog, who was supposed to avoid stairs, to use this ramp than it was for him to use the couple of stairs in front on our house. When I used it to help him get into the car to go to his vet appointment, I ended up lifting him in after all because the ramp just did not work for him at all. The concept seemed great, but this ramp just doesn't cut it. I'm not sure why it had such great reviews, unless maybe it's better for small dogs or something (my dog is medium-large sized). In conclusion, Chewy is amazing and I would try something else from them instead, unless you have a small dog and think this might work for them.
---
By Jenn on May 19, 2022
Dog ramp for car
This ramp is very light weight and easy to handle but sturdy enough for my 65 pound basset to easily maneuver up and down We really like it
---
By Diana on Mar 29, 2022
Don't buy!
Don't buy! The tread is covered in a sandpaper like material and when you touch it it leaves splinter like material in your hands, just spent 10 minutes pulling black sharp pieces out of my hands. Hopefully my dog does not have them in her paws
---