PetSafe Sliding 81-in Glass Pet Door
Frequently Bought Together
---
About This Item
Allows your pet to come and go as he pleases, through your sliding glass or screen door.
These panels feature a heavy-duty aluminum construction and shatter-resistant, tempered safety glass.
Equipped with the energy-conserving UltraSeal flexible flap system designed to keep the heat and cold outdoors.
Installation is easy, with no cutting required. Simply slide the panel into one end of your sliding door track, secure it to the frame, and add the weather stripping.
Fits left or right sliding glass doors, 76 13/16 to 81 inches tall. Does not fit recessed sliding glass doors without additional hardware.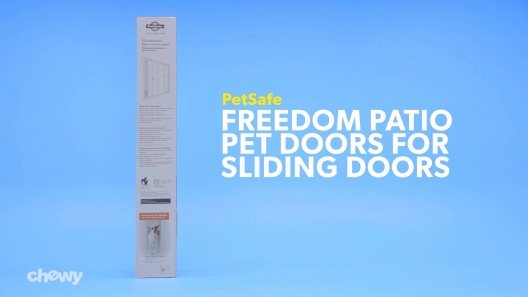 Learn More About PetSafe From Our Team of Experts
---
Compare Similar Items
| | | | | | |
| --- | --- | --- | --- | --- | --- |
| | | | | | |
| Customer Rating | | | | | |
| Price | | | | | |
| Material | Aluminum, Plastic, Metal | Aluminum, Plastic, Metal | Aluminum, Plastic, Metal | Aluminum, Plastic, Metal | Plastic |
| Breed Size | Giant Breeds, Large Breeds | Medium Breeds, Large Breeds | Giant Breeds | Medium Breeds, Large Breeds | Large Breeds |
| Features | Locking | Locking | Locking | Locking | Locking |
| Door Type | Standard | Standard | Standard | Standard | Standard |
| Assembly Required | Yes | Yes | Yes | Yes | Yes |
| Lifestage | Adult | Adult | Adult | Adult | Adult |
---
Questions & Answers
80 Customer Questions
---
Can this be added to sliding door side
---
What constitutes a 'recessed' door?
Answer by • Dec 20, 2017
A recessed frame is flush with or barely visible in the interior or exterior wall so you can't see the track the door slides into.
---
Is the glass insulated for cold weather?
Answer by • Aug 01, 2017
These panels feature a heavy-duty aluminum construction and shatter-resistant, tempered safety glass.
---
Can you close the dog door like at night so dog cant get out allnight?
Answer by • Jun 23, 2017
This item comes with a hard panel that can be slid in front of the flap to close off the dog door when desired.
---
---
---
By Maria on Jul 26, 2022
Great for Big dogs, not for small dogs or cats
I have an American Bulldog ( 100pds ), a Chihuahua & 2 cats. The door is amazing for my Bulldog, at first she was scared of the flap. Then got used to it after a day or so. But the cats haven't been able to go through, not only cause the flap is a bit heavy but their timid also. For small dogs, I think its a bit difficult for them to come back into the house because of the white piece at the bottom. My Chihuahua has to climb over it and its a bit difficult for him. just an fyi, overall great product. rain or shine.
---
By Elvis on Jun 24, 2022
Awesome door to love the backyard life
Overall I'm very happy with this. Super easy to install, super easy for my cats to use, it took one try to push them thru it for them to figure out how the magnet flap worked. The only improvement I would make to it is better insulation. I think thick insulation strips for both side should be added because there are definitely gaps. The fault could be my sliding door's but all I know is the black rubber border they provide doesn't do much especially the glue wears out. But easy fix. I bought insulation strips to keep all the gaps sealed and keep bugs out
---
By Juniandflynn on Jun 22, 2022
My Dalmatian and GoldenDoddle love it!
Good quality, and it works. Good size for my dogs. The two things you need to know are (1) mounting, had to modify the brackets to fit in my track. It was very shaky Until I used wood strips to fill the gaps to fit snug in my sliding glass door track. (2) My screen needed to close against a board so it would not block the dog door and have a large gap.Plus I wanted to use my existing door latch latch too. But they did provide a locking pin to latch the slider door.
---
By BernerMom on Jun 18, 2022
Good for a couple of months
I was so excited to have found a dog door big enough for my Bernese Mountain Dogs! This fit well into the door way where my sliding glass door is. It worked GREAT for the first summer (2021). We took it down when winter hit, and when trying to put back up this spring, the top sliding piece that locked into place is totally broken. The springs came out, can't reattach it. Very faulty design! Wish I hadn't spent so much. I had a small one when they were puppies (different brand) and it worked flawlessly when removing for winter and putting back up.
---
By Dino on Jul 2, 2022
Great product
Our two cats love it! The door flap is of a dark color instead of it being clear or see-thru and it took a bit for our two cats to actually use the door. We have a siamese which weighs approx .11lbs and an American Shorthair which weighs approx. 7lbs they have no problem going thru the door flap.
---
By Carol on Sep 16, 2022
High quality
Perfect for my small/medium sized dogs. Has a low step. The flap is heavy tho and takes a while for dogs to get used to it
---
By Katy on May 21, 2022
Great, until you need to replace the flap!
I found this door to be fine, and I especially like that the dog opening is set lower than on my previous door, so it's easier for small or elderly pets to use. Most at this price range are pretty much the same otherwise. The problem came when I needed to replace the flap. Nightmare! You have to remove the existing screws, and 3 of the 5 had the drive in the head completely misshapen - like whoever installed them ground them into a non-useable shape. They're very small and trying to use a tiny screwdriver to remove was impossible. I had to use a needle point pliers to remove them. And do you get a set of screws with the new flap? No you don't! How much would it have cost PetSafe to include 5 tiny screws with a new flap? So I went to the hardware store to get replacements for the 3 that were mangled, and the rest of the removal went smoothly. Now when you put the new flap in is when you have your next problem. There are no guidelines and there is about 1/4" of top space you can use. The flap doesn't fit in any holes... it's up to you to decide where in that 1/4" you want to place the top of the flap. And then, because the flap is in the middle of the panel as the panel lies flat, there is nothing to support the flap, making getting it straight a guessing game. As it happened, I set the flap slightly too low in the space, and so it buckles when the panel is upright. All in all, flap replacement for me was exhausting and unsatisfactory, and it was the determining factor to try another brand.
---
By NoBUENOpetdoor on Jul 22, 2022
not energy efficient at all
unfortunately the opening was to big and the magnetics did not work, the wind would blow and the flap was wide open. Needed a larger opening for my puppy that is going to be large, but this just didnt work for us!
---
By Insert on May 15, 2022
LOVE this insert
I absolutely love this sliding glass door insert. It gives my dog the freedom to run outside to play or sun bathe whenever he likes. Also, when he refuses to go outside before bed, he's able to run into the back yard in the middle of the night instead of waking us up. It took a lot of patience to teach him to use the door (about 3 months) but it was well worth it. The only negative is that the more he uses the doggie door, the wider a crack between the insert and our door frame opens, allowing air out of the house. Our 90lb Rottie drags his feet, which likely exasperates the problem. We haven't noticed much of a difference in our air bill though, so we just check the door every so often to make sure it is as shut as possible.
---
By Joey on Jun 17, 2022
Best Purchase Ever!
We are very pleased with the quality, ease of installing, speedy arrival, and price of this doggy door. It is attractive when viewed from outside or inside. Our dog, Skye, took to it immediately. Kind of funny that such a purchase would improve our quality of life; but, it really has. Thanks so much for offering it.
---