Van Ness Cat Litter Pan, Blue
By Van Ness
---
About This Item
Polished finish that is odor and stain resistant.
Easy to clean.
Eco Ness Safe and Green 20% recycled content!
Small and medium pan are ideal for kittens and cats who need easy entry and exit.
Large and Giant sizes are ideal for basic litter pan needs and multiple cats.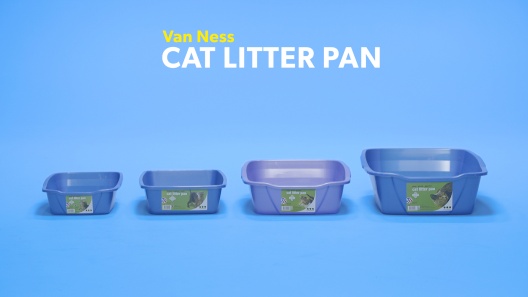 Learn More About Van Ness From Our Team of Experts
Related Item
For even easier cleanup, try Van Ness Cat Pan Liners or Van Ness Sifting Cat Pan Liners. And for your scooping needs, try Van Ness Litter Scoop.
Shop Prescription Medications from Chewy Pharmacy
---
---
Questions & Answers
12 Customer Questions
---
Does anyone know which liner would work best for the small litter pan? New to liners! I assume the liner should be slightly larger than the dimensions of the pan.
Answer by • May 29, 2018
The Van Ness Sifting Cat Pan Liners and the Van Ness Cat Pan Liners can be used with this product. We recommend using liners that are the same size as your litter pan.
---
What is the height on the front side & the BACK end? The height is not straight the same all the way around, as the backside has higher walls compared to the front/entry side. The sides dip down lower in the front, whereas the back side of the litter pan is taller.
Answer by • May 01, 2019
The front end of each litter pan will be about 2 inches shorter than the back end for each size.
---
So the small and medium sized pans don't have the ridge that goes around it like the large and jumbo do?
Answer by • Oct 11, 2017
All sizes have the ridge that surrounds the top of the litter pan.
---
is this disposable and thin?
Answer by • Jan 31, 2019
These litter pans are not disposable and easy to clean. This litter pan is made from plastic and recycled materials.
---
---
---
By dogperson on May 12, 2022
Kitty litter pan
This pan is a good height to contain litter. Or if, like me, you bought one for your small dog to wash her feet after the beach in the summer, then it's perfect as a wading pool to keep your house clean!
---
By ErikaD on Apr 6, 2022
Great for short term use
I got this litter box to go in my safe room for our new kitten as a temporary litter box. Its a perfect size for a kitten or small cat. It is not a very sturdy box in the sense that it bends easily and the plastic becomes weak but it is perfect for a transitioning or temporary litter box!
---
By gingergirl112 on Apr 1, 2022
Box is big enough for an 8.5 lb picky cat
Kitty took to it right away and it's provides enough room for my 8.5 lb cat who likes to use it and then kick the litter over her "business" when she's done. She can walk in and turn around in it and have room to cover her stuff when she's done. And the color is pretty! All in all I would buy again.
---
By Annie on Apr 30, 2022
large litter box
I ordered the litter box because I adopted 2 cats and needed a 3rd litter box. I like it because it's deep and the cats can dig in it but not throw too much cat litter out of it.
---
By Kdeverafter on May 1, 2022
Purrfect kitten pan
The kittens can't wait to use it, especially after it's been scooped out! Thank you Chewy for taking good care of us and keeping our needs supplied and at a reasonable cost
---
By capedcrusadercat on Jan 13, 2022
I bought giant size
This giant size is completely misleading. All four of my rescue babies have different have different voiding habits. One of my cats uses the standing rear legs tail twitch method (spraying). He's a normal sized young adult cat. The old litter box was a real giant (3 ft wide by 1.5 ft deep). He still managed to void over the back rim. This current one I bought is nowhere near the height of the old one. Also, when you clean the cat litter clumps the front of the box is so low that the cat litter flies out of the box and I have just over an inch inside the box. I fell for the kitten trap. Where you look at the picture and think that the kitten shown is actually a full grown cat. Plus the word "giant" I naturally assumed it was tall enough. I mean who wants to measure the height on the rear end of their cat. I will find some other use for it and look for a different box.
---
By CatLover on Apr 11, 2022
great litter box
This is a very nice litter box and it is at a reasonable price. With lots of cats we need many litter boxes around our home. This one is a size.
---
By EburgDawn on Apr 20, 2022
It fits in the Sweet Barks Wooden Nightstand Cat Litter Box Enclosure perfectly!
I purchased this cat litter pan to fit in my new Sweet Barks Wooden Nightstand Cat Litter Box Enclosure and it fits perfectly!
---
By Erin on Jan 23, 2022
Great holder
I got this pan to gold one of the Breeze cat boxes with a doggy pee pad in between. It fits the Breeze system really well and even lifts it up enough so the dust from the pellets falls down and only has to be changed every few days (two cats). This is so much less time consuming and way easier to maintain! Glad I got this blue pan to help with that.
---
By Shamiller on Feb 15, 2022
Great price good quality
We have a very large cat so I needed a larger pan, after looking everywhere seeing the prices I couldn't believe this pan would be any good at the low price it was. I took the chance and ordered anyway, it is very good quality! It came quickly.
---