Van Ness Enclosed Sifting Cat Litter Pan, Giant Blue
---
About This Item
Ideal for owners who want the benefits of litter scoop free maintenance. When you lift the built in sifting screen, the loose litter falls to the pan below and lifts the clumps for easy disposal.
Odor door reduces smells & keeps litter.
Polished finish that is odor and stain resistant making it easy to clean.
Comes in a range of sizes to suit any size kitties and even multiple cat households.
Eco Ness Safe & Green 20% recycled content!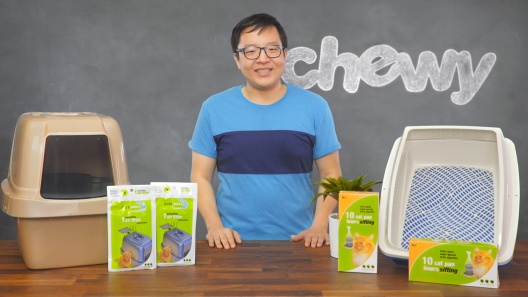 Learn More About Van Ness From Our Team of Experts
---
---
Questions & Answers
37 Customer Questions
---
When you lift the sifter out to clean what do you do with it..do you have to empty the whole box in order to put the sifter back in????
Answer by • Mar 13, 2018
The litter pan works by replacing the sifting screen in the empty pan, move the litter from the full to the empty pan, re-stack, and you're finished.
---
AFTER SIFTING LITTER HOW IS REST PUT BACK TO COVER SIFTER
Answer by • Aug 05, 2019
This litter pan comes with one hood, one sifting pan and two bottom pans. There are 2 underneath bins below the sifter. You lift the sifter and the litter runs into the top bin. You unstack the bins, dump the sifter then place the sifter into the 2nd bin. Then pour the clean litter on top and place that bin under.
---
How small are the holes? The one I have lets too many small pieces go through.
Answer by • Aug 21, 2019
The sifter holes for all Van Ness sifting cat pans including the Giant are approximately 9/16 of an inch by 3/16 of an inch.
---
Does the pine pellets fall through the holes of this sifter?
Answer by • Mar 01, 2021
Pine pellets may not work due to the size of the holes in the sifter. Van Ness recommends clumping cat litter for all of their cat pans.
---
---
---
By LMN4 on May 2, 2022
Owner of 3 cats
I wasn't super impressed with this litter box. I bought 2 thinking it would make clean up easier and I also needed litter boxes with lids. 1st time I tried the clean up it wasn't to bad but one of the corners on a blue container cracked picking it up to transfer the litter. I just ended up taking the shifter part of the litter boxes out and not using it bc the wet litter would stick in between the holes. It was a good price for a lidded litter box but other than that I'm not impressed.
---
By Tak1 on May 6, 2022
Box is huge but!!!
This is a nice size box. I thought it would be nice to just go box to box but you need to put in a lot of litter for it to work really great. I just ended up removing the shifting pan and just use it as a regular box. I have problems lifting heavy things so using a whole bag of litter doesn't help. Otherwise it's nice and big and my guy loves that.
---
By AnnB on Apr 6, 2022
Meh - they work
Enclosed definitely helps with the smell. It's cheap and you get what you pay for - wish I could just purchase replacement sifting pans! Holes in sifter are too big so a lot gets through. You have to scrub the sifter pan because everything sticks. Have 2 and swinging windows came off within a week, one of the side locks broke off and the sifting pans broke, cracked, etc. all that, I still prefer them to just scooping but the overall amount of work is the same
---
By Erika on Apr 2, 2022
Weak Handle
The sifting pan makes it so much easier to clean and the covered lid keeps the smell contained longer. It also keeps the litter area cleaner as my cats are no longer throwing the lifting everywhere outside. However, the handle is very weak and if you try carrying it with litter on the inside, it will break. The lid only works if it's empty. For the price it is definitely great but I would find something sturdier in the future.
---
By Kelly on Apr 6, 2022
Great concept, terrible product
I thought this would be a game changer, but it wasn't. The fact that urine always gets trapped in the grid lines is bad enough, but then you have to set it down somewhere just to pull apart the other bins and get litter back in. This is undoubtedly one of the worst litter boxes I've ever owned. Too many steps, too many bulky bins and it takes more time than just scooping. I do not recommend.
---
By Sorrone on Mar 22, 2022
Nice and big but does not snap securely (top to bottom)
I need to return this as the top and bottom do not clip together securely. Since I don't want a big mess I will return this. The nesting to allow sifting is a nice idea but you would need a large container to dump it in and the location of box is too far from the garbage can. Our trash company requires litter and cat feces to be double bagged so this is not a feasible option for me. I will seek another type.
---
By Disappointed on Apr 25, 2022
Not impressed
This box is very heavy and the litter sticks to the sifting screen. I have to scrape it off with the scooper that I normally use, so it doesn't really save me any time or effort. I should have just gotten a regular litter box.
---
By liz3 on Apr 20, 2022
Sifting litter pans do not work
I bought this to make clean up easier, but it just made it harder. The poop and pee stick to the grates of the sifter. I would have rather bought a normal litter box which would have been easier to clean. Not a great product.
---
By litter on Mar 26, 2022
x large litter box
This litter box is literally perfect. The descriptions are true but the only problem is is that it's too big. We've had it for about a week and my cat has been having accidents on my couch because he can't get in the box. If you have a medium sized cat I'd recommend a smaller litter box to save you lots of patience.
---
By Jill on Mar 11, 2022
Sifting litter pan
I am happy with the litter pan even though it was a bit larger than I expected but that's fine.I was very happy with it's price and I really like the way it sifts the litter through to the third pan and you just lift the waste out and toss it into the garbage bag..
---