Frisco Sifting Cat Litter Box, Large, 22-in
Frequently Bought Together
---
About This Item
Larger size box helps prevent litter spills, while the open design provides the alfresco feel some cats prefer.
Easy to maintain without scooping with a built-in sift that captures poop and clumps, and keeps fresh litter in.
For daily maintenance, just lift sift and toss waste. No need for scooping or plastic liners.
Made of BPA-free, durable, recyclable plastic that's easy to clean with just soap and water.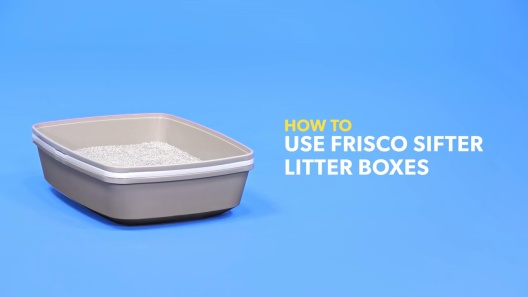 Learn More About Frisco From Our Team of Experts
---
---
About Frisco Litter Boxes
More Than Meets the Eye
These litter boxes are anything but ordinary. They're built with features cats and cat parents love. Choose from a detachable cover for easy cleanup to high walls that prevent litter scatter, translucent removable doors for privacy, vents and charcoal filters for odor control, and even a sifter for easier maintenance. With covered and uncovered options, they're designed to transform your kitty's litter box experience.
Keep Litter in Its Place
Even if your cat loves digging in the litter, these litter boxes help keep litter from spilling out. That way, it stays in the box and off your floors. How do we stop litter in its tracks? With features like raised sides, high back walls, removable rims and covered tops. That means less sweeping for you and more purring for them.
Durable & BPA-Free
Only high-quality materials are used to create Frisco's line of durable litter boxes. With BPA-free plastic, these boxes are made to last through numerous trips to the litter box. They can be cleaned easily with just soap and water, and eco-minded pet parents will appreciate that they're recyclable, too.
Choose the Style That's Right for Your Cat
HIGH SIDED
Features
Low front for easy entry
Tall sides & back prevent litter spills
Open design for easy scooping
HIGH BACK
Features
Added coverage for litter spills & sprays
Extra-large for large cats or cat crews
Open design for easy scooping
OPEN TOP WITH RIM
Features
Added rim provides extra coverage for litter spills & sprays
Removable rim for easy maintenance
Higher sides add some privacy
SIFTING
Features
Scoopless, bag-less maintenance
Removable sift makes for easy cleaning
Larger size box to help prevent litter spills.
HOODED
Features
Full coverage for litter spills & sprays
Disposable charcoal filter & vents for odor control
Removable translucent door plus handle
FLIP TOP HOODED
Features
Flip-top for easy cleaning
Disposable charcoal filter for odor control
Foldable handle
FLIP TOP HOODED CORNER
Features
Uniquely-shaped to fit any corner
Flip-top for easy cleaning
Disposable charcoal filter for odor control
TOP ENTRY
Features
Ideal for cats that spray or dig
Textured, non-slip lid traps litter
Helps keep non-feline intruders out
About Frisco
Frisco's quality products are made for and by a family of pet lovers. And they're more than just everyday pet supplies. Crates become comforting kingdoms, potty pads transform into a favorite patch of grass, and potty bags give the signal that it's time to take care of business. From comfy mats and cat trees to potty time essentials, Frisco provides practical solutions for today's devoted pet parents. The entire Frisco line is available exclusively at Chewy.com!
Shop Frisco
Compare Similar Items
| | | | | | |
| --- | --- | --- | --- | --- | --- |
| | | | | | |
| Customer Rating | | | | | |
| Price | | | | | |
| Litter Box Type | Pan, Sifting | Pan | Pan | Pan, Sifting | Pan |
| Material | Plastic | Plastic | Plastic | Plastic | Plastic |
| Lifestage | Adult | Adult | Adult | Adult | Adult |
---
Questions & Answers
24 Customer Questions
---
How this system work In case if urine it just sits their ?
Answer by • May 13, 2019
This litter box system works by sifting the dirty litter instead of scooping it out. To use, stack the boxes so that the sifter is between the 2 solid pans, and then pour the fresh litter into the top pan. Once it's ready to sift, remove the top litter box and pour the contents into the sifter pan with the second empty pan underneath. Lift and shake the sifter and dispose of any clumps. Then place the sifter pan inside the empty pan, and the full litter pan inside the sifter so all three are stacked up again.
---
Do you only use clumping litter in this pan?
Answer by • Feb 25, 2021
This litter box is intended for use with clumping litter.
---
What is the width of the sifting slits? Are they greater than 1/4"?
Answer by • Apr 23, 2019
The sifting slits are approximately 1/6 of an inch.
---
Does this fit inside the Frisco Top Entry Cat Litter Box, Gray, Large 23-in
Answer by • Aug 24, 2019
This litter box does not fit inside the Frisco Top Entry Cat Litter Box.
---
---
---
By Richard on Jul 17, 2022
So easy a caveman could do it!
Box duty is so fast and simple, I now do it every time I go to use the toilette! Re the size, it is plenty big enough for my 4 cats to share. It's not as big as the "Giant" box they used before, but it is comfortably sized. Re the sifter tray: the slots are a bit wider than my favorite scoop, but I don't find this to be any issue. The solid pans are very smooth, so pee clumps don't generally stick. A gentle shake before sifting is all it takes to have them release.
---
By Susan on Jul 4, 2022
Perfection!
I've been looking for a good LARGE sifting box for a while now. I had finally just made my own, but it wasn't great. I don't know how long Chewy has had this one, but I just discovered it and couldn't be more pleased. It's really easy to sift, I have no trouble grabbing just the top box and pouring it into the middle one. Lifting the middle one sifts quickly and easily. I really love it. I do have to grab a kleenex or paper towel and wipe any stuck-on spots, but that's no biggie. Happens with every litter box I've ever owned. This one, in fact, sticks less than most. I'm very happy.
---
By litterbox on Jul 24, 2022
Excellent in those cities where plastic bags banned
Excelllent solution for those cities where plastic bags are banned (here in NJ) I just empty litter into our large trash can - its very easy - NJ has ban on ALL plastic bags from grocery and all retail sotres this solves the problem!
---
By Anna on May 21, 2022
I love these but with conditions.
I agree with others that it doesn't have a great way to pull the sifter box up. A handle would have been great. But, I still really like them, I might put something on there myself to help. I set up 2 boxes, one with clay and one with clumping pine. The clay was a terrible experience. There's space on the bottom of the sifter that litter falls into that fits seem like a waste and allows litter to clump on the underside which with the clay litter was really really messy. It was also hard to lift with a heavier litter. The second box with pine (okocat) was a totally different experience. It's a lighter litter and easier to clean and doesn't really stick. It took me literally 2 minutes to completely do these boxes daily for 3 cats which was fantastic. The boxes are pretty nice sized, I have one cat who doesn't like high sides but a high aimer, and the extra room allows them to fully get in the box without possible misses. I think I've finally found the right box.
---
By LitterSifter on Jun 28, 2022
Litter Chore is easier with the sifter
It took me a few times to master just the right technique, but I am very happy with the litter sifter box. It is much easier than sifting and searching with traditional cat litter scoop. I also gave up my litter bags and dump it directly into a lined trash can.
---
By Catmom on Jun 24, 2022
Not as good as I expected
I just recently changed to the pellet litter and love it. But the holes in sifting pan are way to wide and the pellets just slide through. I like the size of the pan itself because I have a large cat. But the intended purpose of the sifter doesn't work. disappointed
---
By artgal on May 19, 2022
wonderful without the strainer
The intended use of this 3 part litter box is not really very effective, but the litter boxes themselves are wonderful! The shiny surface and angled sides keeps waste from sticking and makes them easy to clean in the conventional way with a scoop. I did NOT find the strainer to work well because in pouring the litter into the strainer to pass through to the other box made a mess outside the box.
---
By Ellen on Jul 2, 2022
Not for Feline Pine litter!
Even though they say this box is bought along with pine pellet litter, it is really made for clumping litter. I'm stuck with it now and it doesn't work with the Feline Pine litter we use!
---
By Jamie on May 26, 2022
Hated scooping litter
Makes changing the litter so much better! No more scooping after you've dreaded it all week! Just lift- pour- sift, dump poo in bag- put back together add litter- and carry on with your day! I have 2 boxes and it's less than 5 minutes to clean them now!
---
By Kimd on Jun 4, 2022
Bot sure about this one
The size is great and litter doesnt seem to stick, tho I use pelletized wood litter. The biggest grief, is that the mesh is so wide the pellets fall through when you sift the litter, so there is a lot of waste.
---