West Paw Zogoflex Toppl Tough Treat Dispensing Dog Chew Toy
By West Paw
---
About This Item
Zogoflex® is an exclusive material that makes fetch, tug-o-war, and chew therapy more fun — it's easy on doggie mouths, stretches (without stretching out) and sports an unstoppable bounce — all while staying tenaciously tough. For dogs who love to swim (or just need a distraction in the bathtub), Zogoflex® stays afloat.
Toppl is a puzzle dog toy that traps treats with its inner ridges and tips over to keep dogs entertained and challenged, interlock the two sizes (sold separately) to make playtime even more fun
100% recyclable, BPA-and-phthalate-free, non-toxic, and FDA-compliant
It's easy to sanitize Zogoflex® toys at home — just pop it on the top shelf of your dishwasher.
Made in Montana from US-sourced materials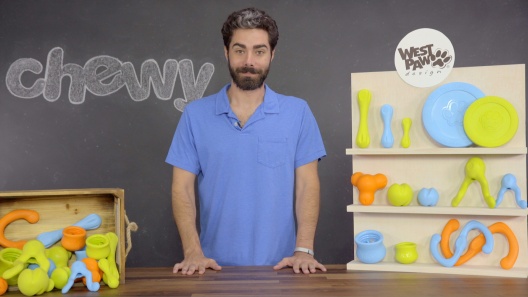 Learn More About West Paw From Our Team of Experts
---
Compare Similar Items
| | | | | | |
| --- | --- | --- | --- | --- | --- |
| | | | | | |
| Customer Rating | | | | | |
| Price | | | | | |
| Toy Feature | Tough Chewer, Outdoor, Water Toy, Bouncy, Exercise | Tough Chewer, Outdoor, Water Toy, Bouncy, Exercise | Tough Chewer, Outdoor, Water Toy, Bouncy, Exercise | Tough Chewer, Outdoor, Water Toy, Bouncy, Exercise | Tough Chewer, Outdoor, Water Toy, Bouncy, Exercise |
| Breed Size | Medium Breeds | Medium Breeds | Medium Breeds | Large Breeds | Large Breeds |
| Material | Recycled Materials, Plastic | Recycled Materials, Plastic | Recycled Materials, Plastic | Recycled Materials, Plastic | Recycled Materials, Plastic |
| Toy Type | Treat Dispensers, Chew Toys | Treat Dispensers, Chew Toys | Treat Dispensers, Chew Toys | Treat Dispensers, Chew Toys | Treat Dispensers, Chew Toys |
| Chew Style | Tough | Tough | Tough | Tough | Tough |
---
Questions & Answers
11 Customer Questions
---
What is the goal is when you connect the large & small together? Many reviews said the dog loved "opening it" or "getting it apart" for the treats inside. So is the challenge to separate the two? Or to play with it as a unit, trying to get the treats to fall out of the holes?
Answer by • Dec 30, 2018
The two sizes may be interlocked to make make the toy even tougher, and provide your pet with more of a challenge when trying to obtain treats.
---
How do I interlock the two sizes?
Answer by • Jan 10, 2019
The Small and Large size can fit together. Push the Small into the Large, each main opening facing each other. Next, twist gently to secure together.
---
Is this Lead Free?
Answer by • Feb 04, 2022
The ZogoFlex toys are lead-free.
---
Why does the large only come in blue?
Answer by • Feb 11, 2020
At this time, the large is only available in aqua blue.
---
---
---
By AspensMom on Apr 29, 2022
Great Kong Alternative
My pup loves this toy! The wide mouth and bristles make eating out of it fun and uncomplicated. The rounded base helps keep the toy engaging for him, while encouraging him to stay stationary while he eats. He doesn't try to fling it around like with Kongs—which means less overall mess. I love this toy! It's easier to clean than a traditional Kong, and will come out of the dishwasher 100% clean. I don't have to worry about mold hiding in the creases like the Kong. It holds about a cup of dry kibble. There is a little problem with food staining the rubber; but, I purchased the blue and fill it with a pumpkin-and-kibble mixture almost daily so that could be human error.
---
By Michelle on Apr 11, 2022
Absolutely perfect
This is an immediate hit with my 2 pitbulls (about 50lbs each)! I bought this to fill up with treats and broth and freeze. Don't be like me and miss the quarter sized whole on the side of the larger one. Made a big mess the first time I tried to fill it (completely my fault for ignoring the hole). Now I put peanut butter in the hole, freeze it, then fill with remaining treats and broth and freeze again. Gives me a good 45 minutes of distraction for both dogs. So far it's held up to chewing and licking for those 45 minutes sessions, and I have power chewers. Though once it's empty, both dogs stop playing with it, which is probably helping keep it together. Would buy again.
---
By colliegirl on May 11, 2022
Lifechanging
If you like to give your dogs enrichment toys or food toys, seriously, get this. It is so easy and simple to fill and clean but a great activity for your dogs. Other food toys can be really difficult to properly clean, but the toppl takes away that problem. I personally opt to fill and freeze mine so they take longer to get through, but that's optional. The large and small can also be connected to use as a treat dispenser.
---
By Ginny on May 2, 2022
He LOVES it!!
Got the small one for my staffy and it's worked miracles so far!! I got him kongs before and I think they made him too frustrated, he gave up on them pretty quickly. This, he's willing to work for! This will keep him occupied for about 20-30 minutes, which is a beautiful thing with a puppy. I definitely recommend for anyone who didn't have much luck with kongs! Getting the larger size next to start feeding him his meals in.
---
By Lyniguez55 on Apr 7, 2022
Great for distracting
This is very helpful when our rather large Bernese mountain dog gets mischievous due to moments of boredom. He's a big 130lb stinker at times and he loves this toy. Stuff treats large enough to jam in slots making it difficult to get out too quickly. I ordered the large so his fat cubby nose would fit into cup, he keeps on going at it to get everything out and it keeps him busy for a good hafe hour. It can take a good chewing also haven't ripped or torn, need to get another for his older berner brother a bit spendy but worth it. Can't put a price on 30 mins of peace and quiet.
---
By Carol on Apr 12, 2022
Do your homework.
The product itself appears to be made well. I had the bigger one but couldn't quite figure out how to use it. Then I read online that you need to buy two different sizes that work together to create a challenge for your dog. This is NOT clearly communicated in the product description. With the two products together I am still not sure if I have the right sizes. The level of difficulty has gone from non existent to very difficult.
---
By loreleib on Apr 1, 2022
BETTER THAN KONG.
I have tried every type of Kong that they make and my puppy just does not care for them. He plays with them for a minute but quickly gets bored with them because he can't quite understand how to get anything out of them. But these are a game changer. He will work on them for hours and even when it's empty he just carries it around. It's way less messy than kongs because it is bottom heavy so it stays upright! Just brilliant. I will never go without them now!
---
By Indy on Apr 18, 2022
My dog loves it!
I freeze canned dog food in my toppl and my dog loves it. It takes her 45 min to work on it at least. And this is a dog who takes down a Bully stick in under 5 min. Great item to have in my Enrichment arsenal, especially on days like today when it is raining for hours. So glad to have atopple, wish I hadn't waited to purchase!
---
By Connor on Apr 12, 2022
Toppl > Kong!
Long before I bought the Toppl, I used a Kong, and I prefer the Toppl by a landslide! Not only does my dog actually finish the food in this (she would always leave food at the bottom of her Kong), but cleaning it is sooo much easier! Dinners served in the Toppl, when frozen, last about an hour and always leave her ready for a nap!
---
By Chey on May 9, 2022
My pup LOVES these, better than Kongs!
My dog never seems to reach the very bottom of Kongs stuffed with food. In comparison, she's able to get every little morsel out of these Toppl toys! They are more expensive but I prefer these greatly over Kongs. I have 4 now!
---