Zoo Med ReptiSun 5.0 UVB Compact Fluorescent Mini Reptile Lamp, 13-Watt
---
About This Item
This bulb is perfect for all desert and basking reptiles.
Can be placed either vertically or horizontally and doesn't emit heat.
5% UVB wavelengths helps prevent metabolic bone disease.
Eliminates the need for a separate ballast.
30% UVA wavelengths help to increase activity levels, appetite, and reproductive behavior.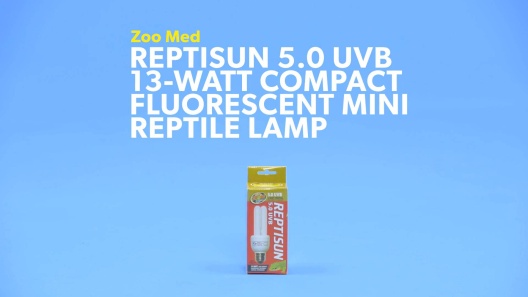 Learn More About Zoo Med From Our Team of Experts
Quartz glass bulbs should not be touched with bare hands as the oils of the skin will significantly shorten the life of the bulb or cause it to shatter.
---
---
A Walk on the Wild Side
Zoo Med makes it their mission to provide reptiles and other exotic pets with the very best food, supplements and habitats. This company of passionate hobbyists knows that not all pets are furry with four paws and offers a true understanding of reptiles, amphibians, fish and invertebrates. Whether you're new to reptile care and fishkeeping or are an experienced breeder, Zoo Med covers it all.
An Exotic Diet for an Exotic Pet
When it comes to your pet's dinner, the menu consists of worms, crickets and snails galore. Zoo Med offers a wide range of nutritious and tasty food to feed every exotic pet a special diet that's made just for them.
TURTLES AND TORTOISES: From treats to whole diets, Zoo Med provides a nutritional boost to fit any turtle or tortoise want or need.
LIZARDS: For pets like bearded dragons, there's a selection of tasty options, including cans of mealies, grasshoppers and caterpillars and complete pellet diets.
FISH: Your tropical fish enjoys a treat every now and then, and Zoo Med offers a tasty variety to choose from.
FROGS: Including high-protein, sinking pellets that mimic what frogs would eat in the wild, this frog food is just what you need to keep your amphibian jumping.
Give Him an Extra Boost
Because any pet could benefit from a little extra care, Zoo Med makes supplements that will help fortify your exotic pet's health and environment. Feeding him a supplement, in addition to his healthful meal, can be the extra step that it takes to keep your frog, lizard, turtle or fish happy and healthy.
Rest, Relax and Thrive
Every exotic pet needs a place to call their own, and Zoo Med makes it easy to keep them comfortable and thriving.
LIGHTING
Mimic the true feel of a tropical or desert climate with lighting that gives reptiles the warmth of a natural habitat. The selection includes long-lasting bulbs that require minimal maintenance and infrared lights that won't disturb sleep patterns.
BEDDING
With bedding made from renewable sources like coconut husks that allow animals to burrow and nest as they would in the wild, consider Zoo Med your source to create a home within your home.
About Zoo Med
Since 1977, Zoo Med has been manufacturing products for reptiles, amphibians, birds and aquatic pets. Led by experience and dedication, they provide truly innovative products, with an emphasis on efficiency and minimizing environmental impact. At Zoo Med, they are never satisfied with the status quo, which is why they constantly strive to bring the latest and greatest options right into the homes of the pet lovers that need them.
Shop Zoo Med
---
Questions & Answers
20 Customer Questions
---
Is the 5.0 to weak for a 55 gal
Answer by • Oct 23, 2019
This UVB lamp is not strong enough to keep most reptiles healthy in a 55-gallon tank.
---
will this work for my red eared slider turtle in a 20 gallon tank
Answer by • Mar 13, 2019
This lamp is suitable for turtles and tortoises. It stimulates sunlight and helps them develop strong and healthy shells.
---
Is this good for a frog?
Answer by • Aug 07, 2019
This bulb is suitable for some frogs, however, pet owners should take cage size, frog species, and humidity needs into consideration while making a decision on the right bulb for them.
---
Is this the correct bulb for a crusted gecko tank? I just want to make 100% sure before I buy.
Answer by • Nov 27, 2020
This bulb is perfect for all desert and basking reptiles.
---
---
---
By Cindy on Mar 3, 2022
Great lamp!
Our frogs and anole love this. Keeps them healthy.
---
By 5Dogsmom on May 10, 2021
Bad for Dragons
These compact bulbs should never be used with any reptile much less a bearded dragon. They emit too strongly in one spot that cause eye issues for your dragons. I wish they would take these off the market. If you own a reptile, please use the linear bulbs. For beardies use the 10.0 T5 on the screen. Much better and safer for your babies.
---
By Snakes on May 27, 2021
Full spectrum without additional heat
I have several cooler-climate snakes that I want to provide full spectrum lighting for without changing the ambient temps and these bulbs meet my needs!
---
By Buddythegreenanole on Feb 21, 2021
Great light great price.
The light is absolutely awesome as soon as I put it in the socket and turned it on my anole darted to his basking branch. The packaging is awesome and keeps the light very safe and is packed well in the box for shipping so I wouldn't worry about it arriving broken. This is the third light I have bought of this type and the first one I received from chewy and shipping was fast. I will definitely be coming back
---
By Micheleangelo on May 2, 2021
turtlelove
Our turtle loves her lights and I can't recommend them enough. they are great and last a long time Thank you so much for carrying such good products
---
By Bennie on May 20, 2021
Zoo Med Light
This is a good light for my turtle - it's smaller than the one I had before but does the trick.
---
By DrFeelBetter on May 26, 2021
Possible Defect
I bought 2 of these and one of them stopped working after an hour. Its great otherwise.
---
By Kaci on Dec 12, 2020
Satisfied, ty
I've bought other bulbs and this type seems to last longer with my set-up. Highly recommend, especially if you're having issues with other bulbs burning out super fast
---
By yabiabi on Mar 10, 2021
Great bulb
Great bulb! Amazing for the price and lasts a while.
---
By Cindi on May 2, 2020
Zoo Med ReptiSun 5.0 UVB mini reptile lame
Great price! This fits the fixtures for a smaller reptile, there is one for larger reptile fixtures that I also purchase from Chewy (again at a great price). These should be replaced every six months and please use an appropriate fixture. I have used these for years to keep my pets healthy along with a proper diet.
---