Drinkwell Platinum Plastic Dog & Cat Fountain, 168-oz
Frequently Bought Together
---
About This Item
168 oz (1.3 gal) capacity reservoir, ideal for multiple cats and dogs under 60 pounds.
Patented free-falling water stream with adjustable flow entices pets to drink more.
Spout and receiving ramp reduce splash and noise.
Pre-filter catches large particles before they reach the motor.
Low voltage, 12V system complete with cord tuck and inline disconnect for easy plug removal.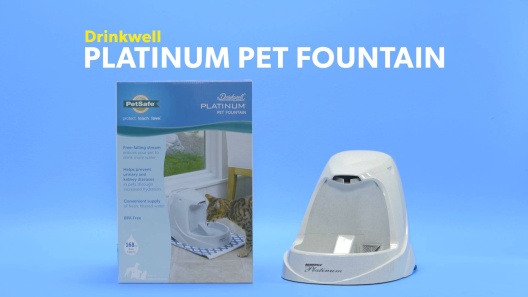 Learn More About Drinkwell From Our Team of Experts
---
---
About PetSafe Drinkwell Pet Fountains (for Large Pets)
Fresher, Cleaner Water
PetSafe Drinkwell pet fountains are designed to encourage your furry friend to drink more water. A continuous circulation system helps prevent bacteria growth so they're a safe oasis of clean water for your pet. They come with replaceable carbon filters that help remove bad tastes and odors. Plus, with a variety of styles and sizes available, you are sure to find the one that's right for your pet and home.
Sized for Larger Pets
PetSafe Drinkwell pet fountains are available in larger sizes, which means they're perfect for bigger pets including large breed dogs—and homes with multiple cats, too! Because every pet loves a clean stream of fresh drinking water on demand. The larger sizes range from 192 ounces to 450 ounces to satisfy even the biggest thirst-quenching needs.
The Classic Style in Plastic
Plastic fountains are a great addition to any home because they can be easily cleaned with the fountain cleaning kit or a non-abrasive cloth or sponge. Most fountains are top-shelf dishwasher safe, too, which means a cleaner fountain with less hassle. Plus, they're all made with BPA-free plastic, so they're completely safe for everyday drinking for your best friend.
The Modern Look in Stainless Steel
Stainless-steel fountains look sleek and stylish in your kitchen, bathroom or anywhere in your home, which is why people love them—and thirsty pets, too. These modern-looking fountains are sturdy and rust-free, while also being easier to clean and keep sanitary. And the best part is, stainless steel is recommended by vets as one of the safest materials for your pet.
Oh, So Chic Ceramic
With elegant designs to match any home decor and colors to brighten your home or blend in, the stylish and chic ceramic fountains keep your pet hydrated and look great anywhere. Plus, they're made with hygienic ceramic that's easy-to-clean and top-shelf dishwasher safe. What more can you ask for in a pet fountain?
About PetSafe
Since 1991, PetSafe has been keeping pets safe and making pet owners happy with quality, reliable products. PetSafe is devoted to innovation with a range of products to help you and your pet share the best moments. They make it a point to consult with top trainers, veterinarians and behaviorists and listen to feedback from pet parents so they can continually improve their designs and processes.
Shop PetSafe
Compare Similar Items
| | | | | | |
| --- | --- | --- | --- | --- | --- |
| | | | | | |
| Customer Rating | | | | | |
| Price | | | | | |
| Breed Size | Large Breeds, Giant Breeds | Large Breeds, Giant Breeds | Large Breeds, Giant Breeds | Medium Breeds, Large Breeds | Large Breeds, Giant Breeds |
| Bowl & Storage Feature | N/A | Non-Skid, Dishwasher-Safe, BPA-Free, Lead-Free, Tip-Resistant | N/A | N/A | N/A |
| Lifestage | Puppy, Kitten, Adult, Senior | Adult | Puppy, Kitten, Adult, Senior | Puppy, Kitten, Adult, Senior | Puppy, Kitten, Adult, Senior |
| Material | Plastic | Plastic | Plastic | Plastic | Plastic |
| Capacity (Max) | 168-oz | 192-oz | 128-oz | 64-oz | 128-oz |
| Assembly Required | Yes | Yes | Yes | Yes | Yes |
| Compatibility | Plug-In Power | Plug-In Power | Plug-In Power | Plug-In Power | Plug-In Power |
---
Questions & Answers
57 Customer Questions
---
does this slow the dog done when drinking. mine drinks so fast he throws up.
Answer by Shannon • Jun 22, 2021
There is a well for the fountain to pour into, and while there is a buffer, if you dog does drink a lot at once, this product wouldn't hinder him at all. So unfortunately not
---
Mine overflows when I fill the reservoir, am I doing something wrong does anyone have any suggestions defeats the purpose of that holding a gallon
Answer by • Sep 30, 2017
The Platinum fountain is overflowing due to the reservoir not equalizing and emptying all of the water into the bowl. The Platinum would overflow only if air has access to enter freely. If air is entering the reservoir, the water will not equalize and the reservoir will begin to overflow the fountain. The way air would have access is if the reservoir is damaged, or if there is an air leak caused by a hairline fracture or crack in the reservoir plastic. Troubleshoot a leaking fountain, or purchase a new reservoir.
---
How often should I replace the filter?
Answer by • Feb 21, 2022
Filters help extend the life of your fountain and pump and should be replaced every 2 to 4 weeks.
---
Going on vacation for a week, will this be safe plugged in and will it be enough water for one cat?
Answer by • Oct 24, 2017
On average a cat will drink 4 ounces of water per day. This will hold 168 ounces of water. It is safe to leave this plugged in for extended periods of time.
---
---
---
By catfifty on Jun 20, 2022
THE BEST EVER WATER FOUNTAIN
Do not buy this unless you understand that your fur baby will NEVER be happy with anything else! Mine lasted 10 years. I kept the basin for Sweet Pea's water. Then I bought a much smaller fountain. Then she liked drinking out of my gallon measuring cup. THEN she wanted water out of the tub, BUT she doesn't wanna get wet and she wanted me to figure out how to get the water to flow to her mouth without getting her wet. AND MOM DID! I got this fountain again and now I don't have water running in the bathroom all day and 3 different containers of water ready for me to knock over! JUST ONE. A small tip. You HAVE to take the outer housing off the engine - kitty slime gets in there and without a pipe cleaner it just keeps circulating through the entirety of the fountain.
---
By hollykat on May 22, 2022
Complete piece of junk
I bought a different fountain made by the same company a couple years ago, and it's been great until recently. It needs a new pump and they've been unavailable on Chewy for the past month or so. I figured another fountain by the same company would be of similar quality. Man was I wrong. The water doesn't come out in a nice stream like it does in the picture. It barely trickles out at all, and it just runs down the back of the part under the spout. It doesn't touch the little ramp that it's supposed to run down. My cats can't even get to the trickle of water because the ramp, which they're supposed to be able to drink from, is in front of it. I took it apart and put it back together many times, very carefully, and made sure there was enough water in it that it should function properly. It doesn't function at all. I'll see if I can return it but if not, it's going right into the trash.
---
By Servant on May 25, 2022
Outstanding fountain. Still flowing after 8 years
I have had my fountain for eight years this month. It is absolutely wonderful. Has worked without fault - running nearly constantly for all that time. Made it possible for me to work out of town for the week without worrying about the cats shriveling up. I believe mine has lasted because of two things: 1) I always use filtered water (Glacier machine reverse osmosis) in it to avoid mineral buildup from tap water. 2) I clean it at least monthly using only nylon brushes (two bottle type brushes from a set made for Drinkwell, one round dish brush, and one cheap toothbrush) used only for the fountain, and No Cleaning Products (no soap, detergent or bleach). After brushing, a ten minute soak in our generously chlorinated tap water is plenty to keep it clean. Once in 8 years I had to toss in a tablespoon of vinegar to break up the "kitty slime". These precautions protect the pump, the plastic, and are safer for pets. Living in the California desert where it gets extremely hot and dry, the reservoir is only enough for 5-6 days - not because the cats drink it all, but because the water evaporates. I remove the reservoir when I am at home because it once got some algae growth that was a pain to clean. I cover the back of the basin with two dvd cases when the reservoir is off. The fountain is not silent. The pump hums, and the water splashes. Mine is in my bedroom, so I turn it off at night when I am home. Over the years, the fountain has gotten noisier. There is some vibration between the parts. I thought of trying to use a piece of an exercise band as a gasket, but it wasn't annoying enough to bother. This fountain is great. I would ask Drinkwell to consider offering a fitted cover for when the reservoir is off, and to design some sort of gasket to reduce vibration. This fountain has never leaked or failed. The only water splashed outside the bowl was due to cats playing with the stream. I would buy another without hesitation, and would recommend to everyone.
---
By 3kitties on May 16, 2022
Great Fountain for Cats!
I have had this fountain for 5 years. For half that time, it served 5 cats; since then it continues to serve 3 cats. They have all loved it, whether they drink from the spouting water or from the bowl, and I've never had a single issue or problem with it's performance. I absolutely recommend this water fountain for any cat parent! I've seen a few negative reviews, and I honestly believe that the issues these reviews mention are all consequences of improper assembly or maintenance of the fountain by the owners, and have nothing to do with the fountain itself. So, I'd like to address the complaint about water all over a user's kitchen floor after using the fountain for about a month, and the complaint that the fountain is very loud. All you have to do to keep it running properly and quietly is to keep an eye on the plastic filter grate (where the water flows back for re-uptake to the charcoal filter and then back out of the spout). This can get clogged with cat hair or pieces of kibble (one of my cats likes to periodically drop a piece of her dry food in the fountain bowl). It slips right out, you can rinse it clean, and pop it back in. Then -- once a month (slightly more frequently if you have 3 or more cats) -- unplug it, take it apart, wash each component in the dishwasher or by hand with dish soap & water, change the charcoal filter, and put it back together. So easy. Just make sure when you re-assemble it (or put it together for the first time) that the plastic tube is fitted properly over the hole in the pump (where the water will flow through) in order to get the right water pressure,, and keep the fountain full. When you notice that the reservoir is empty, refill it. The fountain only makes a loud noise when the water level is too low.
---
By JamesWestbrook on May 1, 2022
Best pet water fountain I have ever had.
I owned this model for 10+ years with no problem with the fountain or the pump driving it. Then came the monthly cleaning, and I ended up doing unrepairable damage and my seven cat furbabies were very mad at daddy for the few days it took for the replacement to arrive. This model will give you years of service with just a little PM every month. Just drain the water and clean it with warm soapy water. Clean any pet hair from the intakes of the pump, then break it down to the impeller and finish getting all that hair from the moving parts. The pump is a simple impeller-driven pump, much like what is the driving force of most fire engines. If you don't want to do the PM every month, just contact me in six months to a year when you decide to sell it in your yardsale, I'll give you $5.00 for it... LOL
---
By swiftswede on Jun 7, 2022
Too high maintenance
I just ordered a gravity feed water tower with Microban and filters. the Drinkwell is cool when it runs well and my cat likes it, but is hard to keep clean. It seems like the carbon from the filter clogs the pump. I may have damaged the pump this last time, but even if I get it working again, I'm going to give it away
---
By Teresa on May 8, 2022
So far, so good!
I have a cat who wants to drink out the bathroom sink, so I decided to try this plus I have 2 other cats and a large dog. The dog has her own water bowl, but she likes this fountain too and will use it now and then, however, the 3 cats LOVE it. I've never seen them drink so much before and the 2 of the 3 drink of the fountain, the other one just drinks from the bottom. It's pretty easy to put together, refill and clean…it's not loud at all, like some reviews I read, so I think those others must just have issues. It's pretty quiet. Give it a try.
---
By Kick on Jun 23, 2022
Drinkwell Dog Fountain
I love our new Drinkwell plastic dog and cat fountain! It works perfectly. My animals were so glad to get it. Their water is always clean and fresh and my cats love drinking from the stream. I highly recommend this water fountain.
---
By WatchOut on Apr 23, 2022
Flooding my kitchen
I have to admit to loving this watering fountain. I have purchased two of them over the years. The first one stopped pumping the water (the pump was working because I could hear it but the water wouldn't pump. I called and complained and the lady at Chewy said the water container must have a hairline crack. So I purchased that part and it was a little better but still had problems. Then a few months ago it quit altogether and I bought a different model at the pet store. That one was a total piece of CR*P! So I came back to Chewy and ordered this one again. I have only had it about a month and when I get up this morning, my kitchen is flooded. For some reason, the pump has pumped all the water OUT of the basin. It's now ALL OVER MY KITCHEN FLOOR. You tell me, is that an acceptable way to work?
---
By Judy on Apr 25, 2022
House favorite
Works incredibly well. Our 60lbs dog is not interested, I assume because of the small stream but it is perfect for our two cats. They're drinking a lot more water since we brought this into our home and I enjoy hearing their little tongues lap it up or watching the water fall on top of their heads as the drink from the pooled water. We believe this purchase has been our greatest pet investment. (For anyone worried about how to clean it with it's tight corners, just use a skinny straw cleaner!)
---