Feliway Classic 30 Day Starter Kit Calming Diffuser for Cats
Why Autoship?
FREE access to chat with licensed vets 7 days a week.
Save 5% on all future Autoship orders.
No fees, no commitments - cancel Autoship anytime.
---
About This Item
A drug-free solution for cats that helps reduce signs of stress, including scratching, urine spraying, hiding, and changes to your home.
Can help reduce urine spraying.
FELIWAY is vet recommended.
Mimics pheromones to help restore harmony.
Each FELIWAY Classic Refill covers up to 700 square feet. For the best results, position the diffuser where your cat spends most of his or her time, and avoid plugging the diffuser in under shelves and behind doors, curtains, or furniture.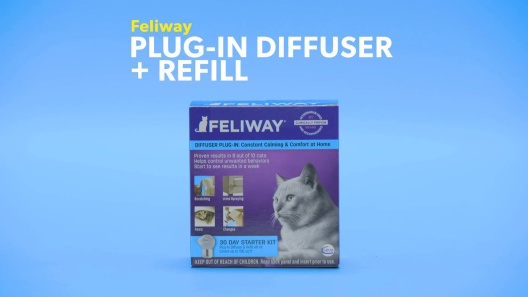 Learn More About Feliway From Our Team of Experts
---
Compare Similar Items
| | | | | | |
| --- | --- | --- | --- | --- | --- |
| | | | | | |
| Customer Rating | | | | | |
| Price | | | | | |
| Autoship | | | — | — | — |
| Top Ingredients | Analogue of Feline Facial Pheromone: 2%. Exipients to: 100g | Analogue of Feline Facial Pheromone: 2%. Excipients to: 100g | Isoparaffinic Hydrocarbon (a petroleum distillate) 45.00%, Analogue of Feline Pheromone 5.00%, Other Ingredients 50.00%.... | Feline Pheromone Complex (FPhC) 2%, Isoparaffinic hydrocarbon 48 mL | Analogue of Maternal Cat Pheromone (2%), Isoparaffinic Hydrocarbon (100g).... |
| Lifestage | Adult | Adult | Kitten | Adult | Adult |
| Health Feature | Calming | Calming | Calming | Calming | Calming |
---
Questions & Answers
51 Customer Questions
---
Does this one have a different pheromone than the Multi-Cat version?
Answer by • Aug 30, 2017
The Multicat Feliway will use a synthetic copy of the feline pheromone from the mammary gland area after a mother gives birth to bond with kittens. The Feliway for single cat homes mimics cat's natural facial pheromones, which creates a calming environment and de-stresses your cat.
---
My cat likes to sniff the diffuser, is it safe for him to do that? There is a warning that states this is harmful or fatal if swallowed and enters airways...
Answer by • Jun 13, 2018
This is safe to be inhaled by your pets. The warning label is referring to if the actual liquid substance enters airways.
---
I have had a shelter cat 6 days and He wont come out of hiding. Stays in a dark closet. Hasn't even come out to eat so I put food in closet. Will this help him feel more comfortable with a new home and new owner. He's 10 years old.
Answer by • Nov 22, 2019
This diffuser helps with stress caused by a new pet, moving to a new home, visitors, or even rearranging the furniture
---
can you plug this into a power strip?
Answer by • Apr 10, 2019
This diffuser should be plugged directly into an outlet.
---
---
---
By JHill on Nov 16, 2022
My Cat Stopped Spraying, Thank the Lord!
When we moved into a new rental in a new neighborhood, we left the window open one evening and found a few stray cats starring in and hissing at our male cat through the window screen. After those encounters, he started peeing on ANYTHING that was left on the floor; rugs, bath mats, clothing and even our couch! It was so frustrating until my SIL recommended we try cat pheromones to get him to stop. We bought the starter kit, plugged it in and I swear it worked almost instantly! No smelly puddles at all the first night! We got another 3 months of refills just to make sure he didn't start again and it worked like a charm. Now every time we move to a new rental, we make sure to have a steady supply of Feliway on hand and it has been a life saver!
---
By AngelainMI on Nov 11, 2022
Wouldn't believe it had I not seen it myself
I tried this at my daughter's recommendation whose friend is in Vet Nursing school. She says the clinic where she works swears by it. Given the odd and neurotic behavior my cat had been displaying recently, I figured it would be worth a try even if it didn't work. Not only did I receive this incredibly quickly from when I ordered it, within hours of plugging it in, I swear my cat was different. I figured at first that this must be in my head. Maybe I wanted it to work so it did. My husband and I gave it a few more days, and I can honestly say that the pacing, screaming/crying, and general agitation that my poor guy displayed almost disappeared completely. Our cat is 14 years old and still quite spunky. He's always had an attitude and a ton of sass. That's part of his charm. The sass is still very present. The unhappiness and agitated behaviors are not. I honestly wouldn't have believed it had I not seen it myself. I would definitely recommend this to product to anyone with a cat that's displaying behaviors that make you think he/she is unhappy, agitated, nervous, etc.
---
By Happy on Nov 17, 2022
Great for Calm Cat Intro to a "dog" home
My vet recommended this product when she heard that I was adopting a new cat into my home with my Cocker Spaniel. Sure enough, this previously skittish and shy kitty with no previous dog exposure turned in to a calm, confident cat in a matter of a couple of days in spite of my dog's curiosity about the new feline (my dog has had cat's in the home previously). I credit Feliway with keeping the situation calm and allowing my cat to blossom. As a side note, my vet actually uses this product in the exam rooms in her practice - for obvious reasons. It works!
---
By Tigger on Nov 28, 2022
No change in cats behavior
My cat has been licking her fur off for about a year due to separation anxiety. I have tried many remedies, including this one, and after a couple weeks, I see no improvement. I will give it 30 days to see if it helps. I have friends who say it helps their cats but unfortunately, no impact on mine so far.
---
By Rose on Nov 3, 2022
Works Wonders
I wish I had discovered this product sooner. We have a shy, nervous kitty named Essie, who used to get startled at nearly everything. She was hiding more than usual and we decided we needed to try something. About a day after we plugged in two calming diffusers, we noticed a much calmer, happier cat. I highly recommend this product. I now have it on Autoship and will continue to use it.
---
By RanCM on Oct 21, 2022
Amazing for one of our three cats!
We have tried Feliway before and have seen absolutely no impact... but we decided to use it just in case when we got a kitten this year. She was sweet, friendly, and outgoing. As she got older, she withdrew a little bit... until we refreshed the Feliway and she went right back to her outgoing self! This has had a huge impact on her, and we see her happier and more playful and confident when we use it. It does not seem to have any impact at all on our other cats, though.
---
By Sharon on Oct 25, 2022
Best stuff ever invented!
Started with this when I got my new kitty (a rescue about 3 yrs old). He just seemed unsettled. Scratched at his board all the time, couldn't seem to be still. Got this & it was literally like night & day the very moment I plugged it in. It really happened that fast. He's calm, settled, happy, loves his new Mama! This really works.
---
By KrisKD on Sep 18, 2022
Not snake oil
I posted a review for the Feliway refill, but after 6 weeks of use I changed my tune. I believe this works for my new kitten who chooses to pee on our dogs' beds. We eliminated health, litterbox and litter issues. We used the diffuser in the room she was partial to peeing in and had no accidents. We hoped she was growing out of her behavior. But yesterday, in preparation for an RV trip, we removed the diffuser to start using it in the RV. Less than 12 hours after we removed the diffuser, she peed on both dog beds! So, the diffuser will be going back in that room, and we've ordered a second to make sure we always have one on hand. We're still hoping she grows out of this -- she's 6 months old -- but until then, we'll keep using the Feliway diffuser.
---
By Heather on Nov 14, 2022
Feliway Classic Calming Diffuser
Vet recommended trying this to reduce stress when alone and it is helping. Cat no longer scratches furniture. Cat had a bad UTI which is now gone; she still has blood in urine which could be related to stress. Still working on a diagnosis.
---
By Colin on Nov 11, 2022
Works as promised!
Recently moved and my cat has a history of getting stressed when I am out of town. Got this prior to a week long trip and he stopped showing most signs of stress but was not tired or groggy, just less stressed, definitely recommend.
---