Frisco Whimsical Leaf Round Dog & Cat Fountain, 50-oz, Mint Green
By Frisco
Compare Similar Items
| | | | | | |
| --- | --- | --- | --- | --- | --- |
| | | | | | |
| Customer Rating | | | | | |
| Price | | | | | |
| Breed Size | Small Breeds, Medium Breeds, Large Breeds | Medium Breeds, Small Breeds | Medium Breeds, Large Breeds | Large Breeds, Giant Breeds | Small Breeds |
| Bowl & Storage Feature | Automatic | Dishwasher-Safe, BPA-Free, Lead-Free, Tip-Resistant | Dishwasher-Safe, Automatic | N/A | Automatic, Dishwasher-Safe |
| Capacity (Max) | 50 oz | 67.6-oz | 80-oz | 100-oz | 50-oz |
| Material | Polypropylene, Steel, Plastic | Plastic | Plastic | Plastic | Plastic |
| Assembly Required | No | No | Yes | Yes | Yes |
| Compatibility | Plug-In Power | Plug-In Power | N/A | Plug-In Power | N/A |
| Tools Included | N/A | N/A | No Tools Required | No Tools Required | No Tools Required |
---
About This Item
Quiet pump has a six-foot cord and a low-water sensor, so it automatically stops operating when the water in the bowl falls below the minimum water level.
Circulates up to 50 ounces of water to encourage your pet to stay hydrated and enjoy more fresh, clean water.
Provides a more enticing hydration option than traditional bowls, especially for pets who are hesitant to drink.
Whimsical look with a rounded shape, mint green top and a cute lily pad where the water flows from the base into the top reservoir.
Includes a replaceable pump and carbon filter that keeps their water clean, clear and tasty.
Frisco replacement pumps and filters available to keep their fountain in tip-top condition.
Made by Frisco, a brand you can trust, available only at Chewy.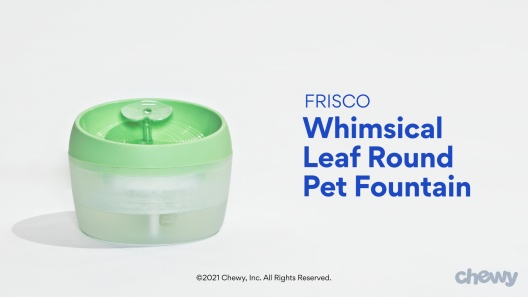 Learn More About Frisco From Our Team of Experts
---
---
Questions & Answers
6 Customer Questions
---
What filter system is needed?
Answer by • Oct 08, 2021
This fountain uses the Frisco Pet Fountain Replacement Filters available directly on our site.
---
Where can I get the pre-filters? I see the main ones on here however, there's a sponge filter so, how can I purchase a replacement?
Answer by • Jan 09, 2022
Additional foam pre-filters are not offered for this fountain currently. It is recommended to thoroughly rinse and dry it every 2 weeks, or more frequently depending on pet use.
---
Are the plastic parts machine washable?
Answer by • Dec 02, 2021
This fountain should not be used in a dishwasher. It is recommended to wash and rinse fountain with a soft sponge and a non-abrasive cleanser. Rinse thoroughly, ensuring no soapy residue is left behind.
---
Is this BPA free?
Answer by • Dec 01, 2021
This fountain is made of BPA-free material.
---
---
---
By Holly on May 9, 2022
Disappointed! Didn't work very long.
Was great until it wasn't. The fountain only worked 4 months. Noticed a lot of black slime around the pump and filters a week or so before it died. We kept the filters changed and kept the fountain cleaned because we had 5 cats using it. I came in today and noticed the pump had quit. I took it apart, cleaned it thoroughly and plugged it back in. Pump cut on for a few seconds and died again. Disappointed!
---
By mona on May 17, 2022
Won't Last Long
This lasted six months. First 3 months it worked great, then the fountain started acting up, it would barely move water. Cleaned and changed the filter many times, sometimes that would help. As of today, the motor stopped working completely. Now it's junk.
---
By julia on May 11, 2022
It broke.
We bought it and our cats LOVED it. It was great but it just suddenly stopped working. We cleaned everything replaced everything but the pump just completely stopped. I don't know what to do because now they won't drink still water. We only had it for less than a year.
---
By Perfect on Mar 12, 2022
Cute and Functional!
This is perfect for its intended purpose. It is cute and quiet and the cat loves it. We don't leave it on constantly, and when he wants it he will go stare at it till we turn it on. We do leave it on for hours at a time and it's fine, the slight noise of the trickling water is soothing even. The motor is quiet and blends into background quickly, actually soothing at naptime as well. All parts are easy to assemble/take apart and clean. This fountain would make a good gift.
---
By Reii on Feb 21, 2022
Quiet and fresh
When someone dumped a cat on me, I didn't realize how picky she was. After an hour of refilling the water bowls Hestia refused to drink anything but running water. I was having to turn on the sink for her often, but being at work all day made me wonder if she was drinking then. I decided to go for this little fountain and I'm pleasantly surprised - it's near silent! The leaf spout is super cute and you can see the water level at all times. The design of the leaf minimizes the younger cat's playing with the water (the splashing) so I don't have to worry about clean up. Everyone has taken to it very readily! The pretty little goddess has had her requirement for fresh water on demand met!
---
By Cori on Jan 18, 2022
I'll drink to that
I had been considering switching to a water fountain for my dog, and came across this cute design from Chewy. I've always been happy with their Frisco brand products and this fountain is no exception. My dog was a little nervous to use it at first, and took about a day to fully warm up to it but she now loves it, and I love that she gets to have fresh, filtered water. The fountain is quiet and easy to clean and automatically shuts off when the water level is too low so there's no issues with the filter running with nothing in the dish. Nice little fountain that would be great for dogs and cats
---
By tigermom on Dec 16, 2021
Very pleased
Reasons I love this fountain: 1. First fountain brand I've bought that doesn't get slimy. 2. Easy to change filters /sponge & both come together in same box so I don't end up having one but not the other. 3. Holds a lot and cats love it. 4. It's quiet!!! Things I think that they should improve: 1. Minimum and maximum levels are hard to read on a bowl that is not lit up- especially for someone with bifocals. I took a sharpie marking pen & made marks on outside of bowl to resolve this issue. 2. Instructions for changing filters come in filter replacement box & are clear up to a point. They do not tell you to break apart the pump to clean. These 2 suggested improvements may be the cause of some people's problem with pump breaking (mentioned in some reviews). I also use bottled water. I'll come back & update review if I start having problems
---
By Kynz322 on Jan 1, 2022
Works great however
#ReceivedFreeProduct This fountain is good for cats, and very small dogs. It works for all animals and they all love them, however if my moms mini Aussie is over visiting it needs refilled so frequently the convenience of the fountain is gone. My cats love it and even with four of them I only have to fill it once every day or so. Overall the product is great but definitely works better for convenience with smaller animals.
---
By MelissaS on Nov 29, 2021
Round Cat & Dog Fountain
#ReceivedFreeProduct I have been wanting to try a cat fountain for a long time because I have 3 indoor cats. One of my indoor cats will only drink water out of the faucet, so I really wanted to try out this fountain so he always had running water to drink. It is super easy to set up. I filled it up and plugged it in. It instantly had water gently coming out of the top. All three cats stood and watched it for a minute until one got brave and stuck his foot in it. He realized it was okay and very gently stuck his head in the gently moving water and drank. The other cats watched him so they knew what to do next. Each cat drank water from the cat fountain. They are happy and I am happy knowing they have water they will drink and not just knock it over and onto the floor.
---
By on Dec 13, 2021
Good concept
#ReceivedFreeProduct I recently received this product in the mail and set it up for my 2 cats to use. I was looking for a product that would keep my cats with water if I am out of town for awhile. After having them try this I am just too afraid that one of my cats will move it too much. It has an electrical cord and has to be plugged in to run. My cat like to move water bowls and I'm afraid she would get the electrical cord wet and get hurt.
---