Frontline Plus Flea & Tick Spot Treatment for Large Dogs, 45-88 lbs
See 'Details' tab for instructions to redeem.
Autoship
(Save an extra 5%)
Choose Autoship at checkout for regular deliveries.
Why Autoship?
FREE access to chat with licensed vets 7 days a week.
Save 5% on all future Autoship orders.
No fees, no commitments - cancel Autoship anytime.
---
---
Powerful Prescription Protection
---
---
About This Item
Promotes a fast-acting and long-lasting protection from fleas and ticks.
Formulated with two active ingredients to help disrupt the flea life cycle.
Kills adult fleas, flea eggs, flea larvae, chewing lice, and ticks.
Simply apply once a month.
Designed for a waterproof protection after 24 hours.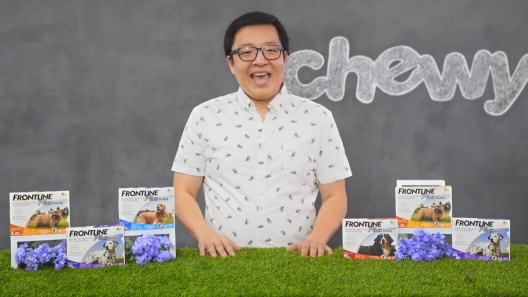 Learn More About Frontline Plus From Our Team of Experts
Important Information
Fleas rise to the top of your pet's coat as they die, so consider it a triumph if you start seeing more fleas at first, after treating your pet. If you're still seeing fleas after application, it may be because your pet has picked up new fleas from the environment, which may include other pets, surfaces and outdoor areas. It may take up to 90 days to break the entire flea life cycle. Additionally, you should also treat sources of new fleas (i.e., carpet, yard, etc.) to ensure complete flea control.
---
---
About FRONTLINE Plus for Dogs
#1 Name in Flea and Tick Protection*
FRONTLINE Plus is proven flea and tick protection that has been trusted by pet parents for over 20 years.** Just one dose of FRONTLINE Plus provides fast-acting protection that lasts for a full 30 days.
Break the Flea Life Cycle
FRONTLINE Plus contains fipronil, which kills adult fleas, as well as (S)-methoprene, which kills flea eggs and larvae. Together, these active ingredients break the flea life cycle, prevent future infestations, and provide continuous protection for a full month.
Protect Your Dog Here, There and Everywhere
Fleas and ticks can be found at the park, the lake and in your own backyard. That's why it's important to keep your dog protected month after month.
The #1 Name
FRONTLINE is the #1 name in flea and tick protection.*
Long-Lasting Protection
One dose of FRONTLINE Plus for Cats lasts a full 30 days.
Fast-Acting Formula
Once applied to your cat, this powerful formula kills fleas, ticks and chewing lice on contact.
Waterproof
FRONTLINE Plus is waterproof 24 hours after application.
Trusted Protection
FRONTLINE Plus has been trusted by pet parents for over 20 years.**
Effective for Puppies
FRONTLINE Plus for Dogs can be used on puppies as young as 8 weeks and weighing at least 5 lbs.
For Dogs Big and Small
Choose from four formulas—Small 5-22 lbs., Medium 23-44 lbs., Large 45-88 lbs., and Extra-Large 89-132 lbs.
Formulation Available for Cats
Protect your cats with FRONTLINE Plus for Cats!
Pests Can Be a Year-Round Threat
Flea infestations usually begin 6-8 weeks before you ever notice a flea on your dog, and once your home is infested, it can take up to 90 days to eliminate all stages of the flea life cycle. Protecting your dog with FRONTLINE Plus monthly, year-round can help prevent reinfestations.
Protect Year-Round with Autoship
Sign up for Autoship today and save on FRONTLINE Plus. You'll get a discount on every order of FRONTLINE Plus, and you can rest easy knowing that you'll never run out of proven flea and tick protection.
The Mission
Boehringer Ingelheim, the maker of FRONTLINE Plus, is committed to enhancing the well-being of pets and supporting the animal health community through science and innovation. No animal should have to suffer a preventable disease, which is why Boehringer Ingelheim develops products like FRONTLINE Plus.
About FRONTLINE Plus
FRONTLINE Plus is the #1 name in flea and tick protection.* It's formulated with two active ingredients that kill fleas and ticks and prevent new flea infestations from developing. FRONTLINE Plus is waterproof 24 hours after application, lasts for a full 30 days and has formulations available for dogs and cats. With FRONTLINE Plus, you can take your pet everywhere.
Shop Frontline
* Data on file at Boehringer Ingelheim
** Data on file at Boehringer Ingelheim
Compare Similar Items
| | | | | | |
| --- | --- | --- | --- | --- | --- |
| | | | | | |
| Customer Rating | | | | | |
| Price | | | | | |
| Autoship | | | | | |
| Top Ingredients | Active Ingredients : Fipronil 9.8% , (S)-methoprene 8.8%. | Active Ingredients: Fipronil 9.8%, (S)-Methoprene 8.8%. | Active Ingredients : Fipronil 9.8% , (S)-methoprene 8.8%. | Active Ingredients : Fipronil 9.8% , (S)-methoprene 8.8%. | Active Ingredients: Fipronil 9.8%, (S)-Methoprene 8.8%. |
| Lifestage | Adult, Puppy, Senior | Adult | Adult | Adult, Senior, Puppy | Adult |
| Breed Size | Medium Breeds, Large Breeds | Medium Breeds, Large Breeds | Large Breeds | Small Breeds, Medium Breeds | Large Breeds, Giant Breeds |
---
Questions & Answers
30 Customer Questions
---
What would happen if I give my dog who is slightly under the weight limit the same amount as my dog who is slightly over the weight limit? I don't want anything to happen to her but I'd much rather just split the 6 month pack between them as I've never used this brand before.
Answer by • Dec 05, 2017
You may be slightly under or over as long as your dog is within 5 pounds of the limit. If not, we recommend going with the next size.
---
How does it protect your dog when you only apply by the back of the neck
Answer by • Nov 21, 2017
Once FRONTLINE Plus is applied, it stores itself in the oil glands in your pet's skin. It then self-distributes continuously for one month to your pet's hair and skin through the hair follicles, killing fleas and ticks.
---
Can this be taken by a dog that also takes a heart worm pill with flea prevention in it?
Answer by • Jun 09, 2021
We encourage speaking with your Veterinarian before combining flea and tick preventatives, for the safest opinion.
---
What type of ticks is Frontline effective on? As there are 6 different types of ticks in my area and not all Tropicals cover all 6.
Answer by • Jun 11, 2019
Frontline Plus treats against Lone Star Ticks, American Dog Ticks, Deer Ticks, Brown Dog Ticks, and Western Blacklegged Ticks.
---
---
---
By Krandy123 on Sep 4, 2022
I've been using Frontline on my dogs for 37 years
I've been using Frontline on my dogs for 37 years. Why? Because it works. In all that time we've never had a flea infestation or a tick problem with any of our Doberman Pinschers. That seems like a good track record to me. This year, however, for the first time, our new rescue Dobie has had a terrible time with fleas. It doesn't surprise us because the change in the climate has affected everything in our household, from the dogs to our rose garden toe our vegetable gardens. Things are simply burning up. Our roses crumble like potato chips and on 8 tomato plants we have harvested 6 tomatoes! Usually, we have so many tomatoes we have to give them away, and the same with the roses. But with the intense heat, and, I believe, the thinning of the ozone layer, the sun feels so much hotter and seems to be burning everything up--including us--like it has never done before. We thought perhaps our Dobie had developed a tolerance for the Frontline, so we tried another brand of flea treatment and it made no difference. Now we're back to Frontline and we'll stick with it. After 37 flealess years, I think we'd be foolish to start experimenting now. As the cliche goes, "If it ain't broke, don't try to fix it."
---
By boxermom on Sep 22, 2022
Never Again
My 12 year dog now has fleas and she is miserable. Was recently told by our veterinary clinic to not use Frontline, as it absolutely worthless. Very disappointed in the amount of money wasted on this product and the amount of money it is costing to rectify it.
---
By katieB on Jul 28, 2022
yes it works
20+ year frontline user here, yes this works. I apply frontline once a month in different spots all over my dog, I have no idea what the actual instructions say but I really don't care, I put it everywhere and it works. Put it on their head, tail, neck, hips, etc. you also need to understand your dog CAN NOT get wet for 3 days, that means no jumping in a pond, no bathes, no sprinkler time, no water on their body at all. Do this and a tick might crawl on them but it will immediately die. We live on a farm and this is all we have used for 20+ years of dogs, one of which lived to be 19. It's one of the oldest and most studied tick treatments on the market and made in Germany, I only trust this brand.
---
By MelG on Jul 18, 2022
Waste of Money DOESN'T WORK!!!
If I could give this product 0 stars, I would. My dogs have fleas so I thought this would be a good solution to our problem. IT DIDN'T WORK AT ALL. I gave them 2 applications, 2 weeks apart because the first application did nothing. The 2nd application was just as useless. I went to my vet and he told me that Frontline hasn't worked on fleas in years!!!! It may be affective for ticks but NOT FLEAS!! I spent $175 on Frontline Flea Treatment for my dogs and cats (DIDN'T WORK ON THE CATS EITHER), and it was a COMPLETE WASTE OF MONEY. The fact that Chewy sells this product as a flea treatment makes me question their integrity as a business. DO NOT BUY THIS PRODUCT. IT'S A WASTE OF TIME AND MONEY!!
---
By Dogmom on Jul 21, 2022
$$$ overpriced
I don't know how I didn't realize I paid double the price for Frontline at Chewys until now. It's my fault I didn't pay more attention but I'm severely upset with myself that I got charged the same price for a topical solution when I could of got NexGard for the same price. Frontline is easily 40.00 everwhere-not 70 dollars!! I hate using topical solutions and even though it has worked I feel it's not worth paying the price Chewy is selling it for. I recommend the chewable kind over topical - if at this pricepoint for sure.
---
By Britt on Sep 20, 2022
Missing half the product
They really sent me an open box of Frontline with half of it missing. Maybe it was because I finally decided to try the autoship option. But in the past this product has worked wonders for my dogs.
---
By Alyson on Aug 31, 2022
No longer seems to work.
Our household has used Frontline for our dogs for a long time on the regular, monthly schedule. Lately, it does not seem to be working as we keep finding fleas on our dog. Very disappointing, we will be changing our flea preventative and treatment.
---
By AJ007 on Jul 6, 2022
Frontline Flea & Tick
I don't like to apply chemicals or have my dog ingest a pesticide and go into her bloodstream, so I opt for Frontline (absorbed by oil glands and effective prevention of fleas and ticks for large dogs for 1 month). No adverse effects/waterproof. I don't use this regularly, and my dogs have never had bugs, thankfully. I had to order in a rush when I was travelling, as my friend thought she saw a tick on my dog's paw. Chewy are so fab, they delivered the items in less than 24 hours! My friend lives in a wooded area so it's possible the risk of deer ticks is higher, but I was more impressed with Chewy delivering to my friend so quickly! I love this company and the staff - don't ever change as you have customers for life! Thank you so very much!
---
By alibi on Jul 10, 2022
Works for us
Living in North Carolina fleas and ticks are a year-round issue. I had used frontline successfully in the past and then switched to a Seresto collar. My dog did fine with his first Seresto but seemed irritated by the second one so I went back to frontline. I will continue to use it unless it lessens in effectiveness after time (which is why I switched to the collar in the first place.) But it took years before frontline seemed less effective. It's a good solution to fleas and ticks.
---
By Joey on Aug 8, 2022
Frontline Did Not Work!
We treated our dog the first of the month. By the third week he was scratching and I gave him a bath to find six fleas in the water. We treated him again and he never stopped scratching. A neighbor told me that her vet said fleas have become immune to Frontline. I believe it!
---