Frontline Plus Flea & Tick Spot Treatment for Cats, over 1.5 lbs
Autoship
(Save an extra 5%)
Choose Autoship at checkout for regular deliveries.
Why Autoship?
FREE access to chat with licensed vets 7 days a week.
Save 5% on all future Autoship orders.
No fees, no commitments - cancel Autoship anytime.
---
About This Item
Promotes a fast-acting and long-lasting protection from fleas and ticks.
Formulated with two active ingredients to help disrupt the flea life cycle.
Kills adult fleas, flea eggs, flea larvae, chewing lice, and ticks.
Simply apply once a month.
Designed for a waterproof protection after 24 hours.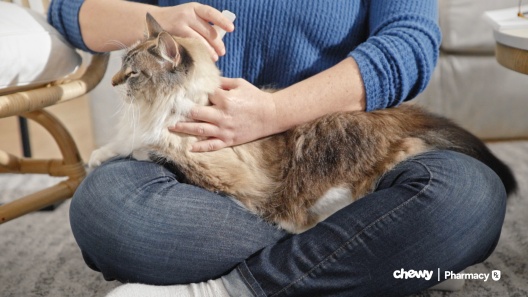 Learn More About Frontline Plus From Our Team of Experts
---
Important Information
Fleas rise to the top of your pet's coat as they die, so consider it a triumph if you start seeing more fleas at first, after treating your pet. If you're still seeing fleas after application, it may be because your pet has picked up new fleas from the environment, which may include other pets, surfaces and outdoor areas. It may take up to 90 days to break the entire flea life cycle. Additionally, you should also treat sources of new fleas (i.e., carpet, yard, etc.) to ensure complete flea control.
---
---
About FRONTLINE Plus for Cats
#1 Name in Flea and Tick Protection*
FRONTLINE Plus has been trusted by pet parents for over 20 years.** This fast-acting flea and tick protection contains fipronil, which kills adult fleas, as well as (S)-methoprene, which kills flea eggs and larvae. Together, these active ingredients break the flea life cycle, prevent further infestations, and provide continuous protection for a full month.
Protect Your Cat Here, There and Everywhere
Fleas and ticks can be found outdoors and indoors, too! That's why it's important to keep your cat companion protected month after month.
The #1 Name
FRONTLINE is the #1 name in flea and tick protection.*
Long-Lasting Protection
One dose of FRONTLINE Plus for Cats lasts a full 30 days.
Fast-Acting Formula
Once applied to your cat, this powerful formula kills fleas, ticks and chewing lice on contact.
Waterproof
FRONTLINE Plus is waterproof 24 hours after application.
Trusted Protection
FRONTLINE Plus has been trusted by pet parents for over 20 years.**
For Cats Old and Young
FRONTLINE Plus for Cats can be used on cats and kittens as young as 8 weeks and weighing 1.5 lbs. lbs. or more.
Options to Fit Your Needs
Available in 3-, 6-, and 8-dose packs.
Formulation Available for Dogs
You can protect your dogs, too, with FRONTLINE Plus for Dogs!
Pests Can Be a Year-Round Threat
Flea infestations usually begin 6-8 weeks before you ever notice a flea on your cat, and once your home is infested, it can take up to 90 days to eliminate all stages of the flea life cycle. Protecting your cat with FRONTLINE Plus monthly, year-round can help prevent reinfestations.
Protect Year-Round with Autoship
Sign up for Autoship today and save on FRONTLINE Plus. You'll get a discount on every order of FRONTLINE Plus, and you can rest easy knowing that you'll never run out of proven flea and tick protection.
The Mission
Boehringer Ingelheim, the maker of FRONTLINE Plus, is committed to enhancing the well-being of pets and supporting the animal health community through science and innovation. No animal should have to suffer a preventable disease, which is why Boehringer Ingelheim develops products like FRONTLINE Plus.
About FRONTLINE Plus
FRONTLINE Plus is the #1 name in flea and tick protection.* It's formulated with two active ingredients that kill fleas and ticks and prevent new flea infestations from developing. FRONTLINE Plus is waterproof 24 hours after application, lasts for a full 30 days and has formulations available for dogs and cats. With FRONTLINE Plus, you can take your pet everywhere.
Shop Frontline
* Data on file at Boehringer Ingelheim
** Data on file at Boehringer Ingelheim
Compare Similar Items
| | | | | | |
| --- | --- | --- | --- | --- | --- |
| | | | | | |
| Customer Rating | | | | | |
| Price | | | | | |
| Autoship | | | | | |
| Top Ingredients | Active Ingredients : Fipronil 9.8% , (S)-methoprene 11.8%. | Active Ingredients : Fipronil , (S)-methoprene , Pyriproxyfen. | Active Ingredients: Fipronil, (S)-methoprene. | Fipronil: 9.58%, Pyriproxyfen: 11.65%, Glycol Ether:75 - 85%. | Active Ingredients: Imidacloprid 9.1%, Pyriproxyfen 0.46%. |
| Lifestage | Kitten, Adult, Senior | Adult, Kitten, Senior | Adult, Kitten, Senior | Adult | Adult |
---
Questions & Answers
31 Customer Questions
---
Is there an expiration date on these treatment packs?
Answer by • Aug 29, 2018
This product does not have an expiration date. As long as you keep it at room temperature and sealed in its original packaging, it will remain ready for use.
---
Will this kill ticks that are already on my cat?
Answer by • Apr 18, 2019
Once applied, FRONTLINE Plus kills ticks for at least one month. A once monthly application is recommended where tick control is needed. Kills all life stages of ticks (larva, nymph and adult).
---
How often should I give my kitten to use this product?
Answer by • Oct 14, 2019
One treatment will last 30 days. This treatment should only be used on cats and kittens 8 weeks or older and over 1.5 pounds.
---
the Frontline Gold has a 3rd ingredient that kills the eggs, (pyriproxyfen) but Frontline plus also kills eggs?? so what makes this specific ingredient (pyriproxyfen)better if both products kill the eggs?
Answer by • Dec 02, 2020
While Frontline Plus and Frontline Gold treat adult fleas in the exact same way, the addition of pyriproxyfen allows Frontline Gold to kill flea eggs and larvae more effectively than Frontline Plus. Frontline Plus can begin killing these pests 4 hours after application, and Frontline Gold may begin killing them as quickly as 30 minutes after application.
---
---
---
By Beth on Nov 29, 2022
Vet would NOT recommend
Once telling my vet that I used Frontline Plus to treat fleas on my cats, their response was to stop wasting money. Over the past few years there has been a heightened resistance of fleas to Frontline Plus which makes it hardly, if at all, effective. This would explain why, after 3 months we are still fighting live fleas on our cats between spraying the entire house, monthly flea treatments on all animals, incessant vacuuming & cleaning, and multiple flea baths. I treated my dog with a different monthly, oral flea treatment and there have been Zero flea signs on her. Needless to say, the cats have now been changed to the same brand of monthly flea treatment and we will not be purchasing Frontline Plus again.
---
By Steve on Nov 20, 2022
product tampering
ordered 8 count frontline plus. Received 2 of the 4 count packets which was ok. What was not was that both pakets had been opened. Whoever did that didn't even bother to cloth the packets correctly. They left the little side flaps hanging out. Will not use products that have been tampered with. Although the doses themselves appear in tact, I have no idea if they were swapped out for doses that had expired. Will not order from Chewy again. The button below asks if I would recommend this product to a friend. Yes I would but not through Chewy so I am selecting the no button.
---
By Rema1582 on Oct 24, 2022
Not Effective
Unfortunately, this was not effective in treating my cat. I used one dose and waited 24 hours and still saw fleas. I am not sure if this is authentic or if this was not effective due to my cats weight? It would be nice to have some reference for which treatments treat larger cats. This is not cheap, so the disappointment is definitely there with quality and effectiveness in treating the issue, especially when it is something like this, you want what you pay for to work to avoid a bigger problem or serious infestation.
---
By Ashley on Nov 6, 2022
Did not help ticks
I have used this for about 6 months now. This past month, which is tick season here, I am finding at least deer 2 ticks per day on my outdoor/indoor cat. They were attached and full of blood so they have obviously been there awhile. This product does not work for ticks! Beware if that is your main reason for purchasing!
---
By Zookeeper on Oct 26, 2022
It does work
For those that say it doesn't work it does work if you are starting with a flea free house my house got infected because I brought in a cat to babysit. you have to treat the house, bedding. I used Vets Best spray and I steam cleaned my floors and carpets. Once you have them you have to go all out and you can get it under control
---
By Mamavu on Nov 16, 2022
So far so good
Using this with our five kitties. Switched after learning that the Advantage was no longer made directly by Bayer and having issues (2 kitties with fleas). So far, so good. Bonus is that my sensitive boy doesn't seem to mind the smell as much.
---
By JASME on Oct 28, 2022
DON'T WASTE YOUR MONEY DOES NOT WORK
Bought 6 does to treat my 3 cats. First dose did absolutely NOTHING. Like not one single dead flea. Used flea comb every day, home spray, vacuum etc. to control population. Thought maybe the drops just needed time to kill population. Applied second dose…NO EFFECT! What a waste of money. Contacted Chewy for a refund - they would only do partial refund. I have extremely limited income and buying these set me back. For them to not work on my two 19 yo cats who are miserable at the end of their life due to fleas hurts my heart.
---
By liberty on Nov 21, 2022
Doesnt work
Doesnt work at all. Took pets to vet for checkup and they said the same thing and offered me flea medicine they sold there that started working almost immediately. Dont waste your money.
---
By Barb on Nov 21, 2022
Best stuff ever!
I didn't know or forgot you can get this product over the counter. My Vet told me about this and it saved Mrs Calabash.She's like a new cat! It works within hours those bugs are gone!
---
By Diane on Oct 14, 2022
Didn't work as well as I thought
I tried this for the first time on my kittens when I got it, they're currently on their second dose. However I still find fleas on them, every time I comb them I'm guaranteed to find at least 2 or 3 and they're still alive. It didn't work as well as I thought it would.
---