K&H Pet Products Heated A-Frame Cat House, Gray/Black
---
About This Item
Floor heats to your cat's internal body temperature to keep outdoor cats warm.
Runs on an energy-efficient 20 watts and comes with a 5.5 foot cord.
Features a weatherproof 600 denier material and A-frame that protects against rain, snow and wind.
Front and rear exits prevent cats from getting trapped by predators and comes with removable clear flaps.
Measures 18 x 14 x 14 inches and folds up for easy storage when not in use.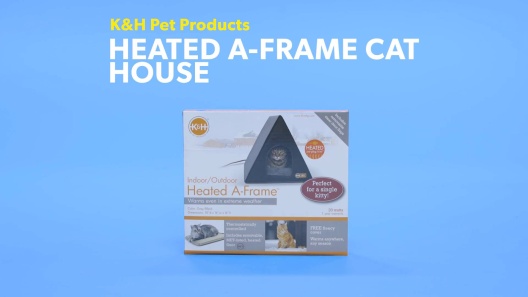 Learn More About K&H Pet Products From Our Team of Experts
---
---
About K&H Heated Small Pet & Farm Products
K&H Heated Solutions
K&H offers a variety of products designed to make your pet more comfortable. Their wide range heated products are all MET certified, making them a safe and comfortable solution for keeping your furry friend warm, indoors or out.
Safety
Safety for your pet is K&H's number one priority. They work closely with MET Laboratory to ensure their products are safe for your pet and home.
Soothing, Eco-Friendly Warmth
Green & Energy Efficient
Many K&H products cost less to run than a night light. They use foam from bio-based materials and poly fill made from recycled bottles.
Machine Washable
K&H beds are either machine washable or made with a machine washable cover, to make keeping your pet's bed fresh convenient and easy.
Vet Recommended
Veterinarians and pet experts use and recommend the traditional K&H bed line as well as their heated line of bed products.
Therapeutic Relief
K&H beds and mats provide warmth to relax the muscles of active pets, and to soothe the joints and muscles of aging and arthritic pets.
About K&H Pet Products
K&H has over 20 years of experience making products for pets with the goal of making their lives—and yours—better and easier. They know how much you care about your pets and are dedicated to designing innovative, quality solutions that enhance their comfort and well-being.
Shop K&H Pet Products
Compare Similar Items
| | | | | | |
| --- | --- | --- | --- | --- | --- |
| | | | | | |
| Customer Rating | | | | | |
| Price | | | | | |
| Cover Material | N/A | N/A | N/A | N/A | N/A |
| Furniture Features | Outdoor, Heated, Removable Bed | Outdoor, Heated, Removable Bed | Outdoor, Removable Bed | Outdoor, Removable Bed | Removable Bed |
| Furniture Frame Material | Plastic | Plastic | Plastic | Plastic | Plastic |
| Height Range | N/A | N/A | N/A | N/A | 30 inches & under |
| Tools Included | No Tools Required | No Tools Required | No Tools Required | No Tools Required | No Tools Required |
| Furniture Mount Type | Free Standing | Free Standing | Free Standing | Free Standing | Free Standing |
| Assembly Required | Yes | Yes | Yes | Yes | Yes |
---
Questions & Answers
24 Customer Questions
---
Would it be silly to get this for indoor cats? They like staying in the basement, which is usually pretty cold, and have the beds that reflect their own heat back to them, but I'm just worried that won't be enough to keep them warm during the winter. Is this safe to stay plugged in indoors?
Answer by • Dec 09, 2017
This Cat House may also be used indoors. The heated floor is controlled by temperature, and will automatically adjust to reach your cat's internal body temperature, using an energy-efficient 20 watts.
---
Can a blanket be used inside this as well? Also should this be elevated at all ?
Answer by • Oct 25, 2017
This product is recommended to be placed on a hard surface and a small blanket can be placed inside the house.
---
Is this cat house able to be put under a deck where rain and snow will definitely slip through cracks of the decking. Is that safe with it plugged in? It would be partially sheltered from the deck but not totally.
Answer by • Dec 30, 2017
K&H's outdoor heated beds and pads are water-resistant. Their products are designed to be used safely with pets, even when your pet is water-soaked. Please make sure to place the bed or pad in a relatively dry area. They shouldn't be placed where there is a potential for standing water from heavy rain/snow and the product shouldn't be immersed in water.
---
Can you safely put additional bedding inside or does it interfere with the heating unit?
Answer by • Dec 25, 2017
You never want to place anything on top of a K&H outdoor bed or pad other than the cover provided. This cover allows the warmth to go through whereas a blanket or any other cover will trap the heat inside the bed or pad, possibly causing a malfunction.
---
---
---
By Beth on May 8, 2022
Comfy and cozy
I haven't used this in the bitter winter yet, but it kept the cat nice and toasty when it was in the 20s. It doesn't get hot to the touch, so don't expect it to. It will only be their body temperature. The feral cat went right into it without hesitation and has used it many times. I would have given it 5 stars if the plastic doors would have aligned. I had no intention of using the front one. The back one would have been nice to use, but it didn't cover the hole at all, so I figured there really wasn't any point of attaching it.
---
By WVKristy on Jan 27, 2022
Hate the flaps!
K&H are you listening? I read the reviews. Did you? Everybody hates the flaps! Yes, I recommend it, but with some stated cautionary concerns. The doorway should include a plastic frame with a hard/semi-hard flap that freely swings open and closed. How hard would that be? I would pay extra for that if the price increased as a result of adding that feature. I have purchased 2 of these for front porch and back porch. I fiddled with position of flaps with the velcro. If I mount them high enough for flap to swing freely, it leaves gap at bottom and loss draft prevention. The pad is warm enough. It's not supposed to be hot and toasty. It's not a sauna. It maintains body temperature. My indoor/outdoor cats and a couple of neighborhood cats use the houses. They seem to approve. I just know K&H could do better with this design.
---
By Jason on Feb 6, 2022
My cat won't go inside it
My cat struggles to stay warm during the cold weather months and much prefers the summer/sun/warmth, so I thought this would be a great idea for her. But she won't go inside it on her own. I nudged her to walk into it, and she walked in and back out the other side. I've been leaving it on the porch for a neighborhood cat that I've seen in my yard and have fed occasionally. Maybe that cat is going into it at night, I'm not sure. It seems like a good product. I like that it is heated.
---
By Kate on Mar 1, 2022
My cats fight over this!
I got this for my kitties for Christmas. Both my cats loved this more than expected and they fight over who gets to sleep in there. We have a colder house due to its age and there's many beds they have to choose from. They regularly fight over this one and I wish I could afford a second one so they can be both be happy!
---
By Meowdi on Jan 21, 2022
Doesn't seem very warm
It's been outside for two nights and the cat does use it. I took one of the flap doors off because it caught and she was afraid to use it, I draped a towel over to make a curtain. It does not get very warm. I put my hand in right after she got out, it was warmer than the outside temp of 19 but seems too cool to really matter. I have it by my front door, it is sheltered from direct weather. It was easy to set up. 3 stars because I didn't like the doors or how warm it gets.
---
By Anne on Dec 24, 2021
Bad design
So first of all the directions say do not use extension cord but the cord is too short to reach my garage outlet. There is no dedicated spot for the cord to come out other then the directions showing to pull it along the corner and to the top. The bed is made that if you even lay a folded towel inside the doors won't push open as their is no clearance for anything extra. I thought the smaller look might fit in a more discreet spot but the regular look version is much better designed. The other thing is there is no way I would use this outside.. it's not that secure. too many gaps. Cheap plastic flaps.
---
By WyattTheFeralCat on Jan 8, 2022
Nice product. But cat did not understand it use
I got this box for a feral cat that keeps visiting us when the outside air temperature went down to single digits to replace a heating pad and plastic box that he has been using on cold days He hasn't yet figured out what this new box is for though I put catnip and food inside it The indoor cat also could not figure it out and preferred the cardboard box instead. Will update if the outside guy figures it out
---
By Montie on Dec 19, 2021
Great for indoors
First of all I just wanted to say this is a great product for indoors.I do think the description is a little deceptive because I honestly thought it could be using an outdoor area. This is not a waterproof product. This would work OK in a garage or porch somewhere out of the elements. I originally purchased it for an outdoor cat shelter which I did not feel comfortable with once I opened the package. I was expecting something of a more solid structure. This though is a great indoor product for a cat or small dog that likes to stay warm. My cats do enjoy it inside and I will have to seek other options for an outdoor heated shelter.
---
By SherKahn on Dec 27, 2021
Maybe too cozy?
This product offers the same great quality as other cat houses offered by this brand (this is the third time purchasing their products, absolutely the best bang for the buck!). However, I did have to return this one simply because it was too small, particularly the doorways. My cat is very large and he simply refused to squeeze through. Were he slightly smaller, this would not have been an issue. As always, Chewy's customer service was amazing and quickly refunded my money.
---
By GinnywithaG on Feb 16, 2022
nice but small
It is a nice little warm house, but it was too small for my barn cat. It is well made and all that, but if you have a cat with a little size, it may be too small. That was the only reason I didn't give it stars.
---