K&H Pet Products Outdoor Heated Kitty House Cat Shelter
Frequently Bought Together
---
About This Item
Excellent use in barns, garages, porches or anywhere an outdoor cat needs additional warmth and protection. Can also be used indoors!
Features two exits with removable door flaps so your cats can't be trapped by predators.
Includes K&H Lectro-Soft heated bed that is MET safety listed.
Vinyl backing and 600 denier nylon construction create a water-resistant shelter. Fuzzy fastener-style walls and a zippered roof for easy assembly (no tools required!).
Great for outdoor cats. Large, heated shelter that can be used by two cats at once and protects from rain, wind, and snow.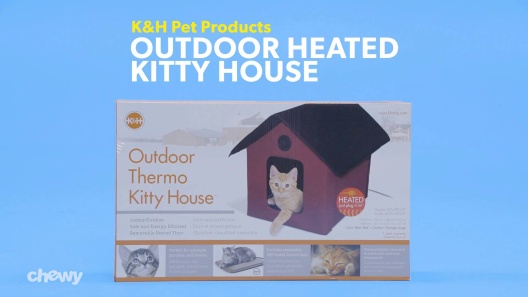 Learn More About K&H Pet Products From Our Team of Experts
---
---
About K&H Heated Cat Products
K&H Heated Solutions
K&H offers a variety of products designed to make your pet more comfortable. Their wide range heated products are all MET certified, making them a safe and comfortable solution for keeping your furry friend warm, indoors or out.
Safety
Safety for your pet is K&H's number one priority. They work closely with MET Laboratory to ensure their products are safe for your pet and home.
Soothing, Eco-Friendly Warmth
K&H products provide therapeutic warmth for your best friend, and they are energy-efficient and easy to care for, too. Your pet will love the muscle and joint relief they provide and you will love knowing they are green and easy to clean!
Green & Energy Efficient
Many K&H products cost less to run than a night light. They use foam from bio-based materials and poly fill made from recycled bottles.
Machine Washable
K&H beds are either machine washable or made with a machine washable cover, to make keeping your pet's bed fresh convenient and easy.
Vet Recommended
Veterinarians and pet experts use and recommend the traditional K&H bed line as well as their heated line of bed products.
Therapeutic Relief
K&H beds and mats provide warmth to relax the muscles of active pets, and to soothe the joints and muscles of aging and arthritic pets.
About K&H Pet Products
K&H has over 20 years of experience making products for pets with the goal of making their lives—and yours—better and easier. They know how much you care about your pets and are dedicated to designing innovative, quality solutions that enhance their comfort and well-being.
Shop K&H
Compare Similar Items
| | | | | | |
| --- | --- | --- | --- | --- | --- |
| | | | | | |
| Customer Rating | | | | | |
| Price | | | | | |
| Furniture Features | Outdoor, Heated, Removable Bed | Outdoor, Heated, Removable Bed | Outdoor, Heated, Removable Bed | Outdoor, Removable Bed | Heated, Removable Bed |
| Furniture Frame Material | Plastic | Plastic | Plastic | Plastic | Plastic |
| Tools Included | No Tools Required | No Tools Required | No Tools Required | No Tools Required | No Tools Required |
| Furniture Mount Type | Free Standing | Free Standing | Free Standing | Free Standing | Free Standing |
| Assembly Required | Yes | Yes | Yes | Yes | Yes |
| Pattern | Solid | Solid | — | Solid | — |
| Height Range | — | — | — | — | 30 inches & under |
---
Questions & Answers
92 Customer Questions
---
I'm nervous about leaving a cat house plugged up. Is it possible for it to heat while plugged in and then be able to be unplugged at night when the family is asleep?
Answer by • Nov 06, 2017
This House may be plugged in as needed. MET Safety Laboratories suggests unplugging the bed if you leave your home on an extended vacation, as they do with any electrical appliance. Otherwise, it is designed for 24/7 operation and you can leave it plugged in all day or night. We also carry the K&H Pet Products Outdoor Unheated Kitty House if you prefer a shelter that is unheated and does not need a power source.
---
How much does this house weigh, and can it be anchored down some how?
Answer by • Oct 30, 2017
This Heated Kitty House weighs 4.8 pounds. While it doesn't have attachments to anchor it, we have had customer reports or successfully anchoring this house.
---
Should I elevate this house a bit to keep it warmer inside?
Answer by • May 08, 2021
The walls and roof of this house are insulated to protect your pet from the harmful elements of winter, no additional insulation is needed. It includes a heated bed as well.
---
Can the house be used without the heated pad in warm weather with another available washable pad? Is such an item available?
Answer by • Oct 17, 2017
The K&H Lectro-Soft heated bed can be removed and replaced with another bed.
---
---
---
By Crabrielle on Nov 23, 2022
Feeling relief / 57F inside at 30F outdoor temp
My neighbors don't care about their cat. Last year, I had to bring this beauty inside because they neglected her in 7F weather, but she hated my cats. This year, the neighbors seem to have completely abandoned her and she is def an older model. I have heated cat houses on both my back and (now) front porches, but she def prefers this one. I also have an outdoor therm to make sure the heaters are working properly. At the time of this review: it's 29F outside, but it's 57F in this house!! I check on her frequently since this is new and, every time I put my hand in there, it seems the pad is the perfect temp. It does cool significantly when not in use, which saves energy. But even the full 20 watts is less than leaving an old incandescent bulb on all night. I should also mention that I have a piece of styrofoam between the house and the concrete porch and, although the porch is covered, I loosely covered the top (NOT the INSIDE!) with some bubble wrap and a fall colored blanket to match my decor. The flaps are perfectly fitted and keep air to a minimum and the fleece cover is super duper soft and cuddly. Bonus: it's small enough to feel cozy but big enough that a larger / older cat can stretch a little. She loves this thing and seems to be showing me gratitude when I reach in to give her pets. I am so glad to have this for when seriously bad weather rolls through. My back porch cat house also has a great heat pad from K&H but the house (not K&H) isn't insulated yet, which I am doing tomorrow for other neighborhood hobos. Very, very happy with this house specifically, but K&H in general.
---
By Cathy on Nov 29, 2022
5 STARS AND A HAPPY CAT
I absolutely love this heated cat house, and Jack the Feral Cat loves and uses it whenever he's here. For the complainers that said the pad didn't get warm, people, READ the product information enclosed with the cat house. This isn't a heating pad like people use for themselves, that would be uncomfortably hot for a cat. My guy is staying comfy and secure and we've had snow on the ground, stiff wind and temps in the teens. It's located on my porch right next to a heated water bowl, and it's just perfect.
---
By cheri on Dec 2, 2022
Very Happy
Rarely, if ever, do i leave a review. However, i wanted to tell those like me, skeptical of introducing a new item to their kitty, that this heated cat house is the "bomb". I was able to put it together without any fuss whatsoever! After placing it in the garage in her favorite sleeping area -- she took to it like a duck to water. I actually had a hard time to get her to come back into the house!! I am VERY happy with this product.
---
By Jany on Nov 30, 2022
Kitty Haven
Outdoor cat loves her house! She is in the barn but totally unheated. I felt sorry that the best I could do for her was a heat lamp over her box/bed. Then I found this. She is timid and doesn't like change. Would she use it? No need for worry. I left the doors off the 1st couple nights and she went right in the 1st night and has slept there every night since. It's a hit! : )
---
By kitti on Nov 26, 2022
Great for outdoor/feral cats
I adopted an unsocial cat. She absolutely loves this bed. This is her 2nd "house" for a different area of the garage. After 10 years it's still running perfectly. In Michigan winters gives me peace of mind. I have it off the floor on treated 16" 4x4s and osb board. House is stable and off the cold and sometimes wet floor. A must have for outdoor cats.
---
By Rainqueen on Nov 21, 2022
Purrfectly warm
I have a formerly homeless kitty in my unheated garage for the winter. The house is sturdy and easy to set up. The warm pad, with the washable and removable cover, is purrfectly warm. The door flaps can be removed, so one set is off as kitty hadn't used door flaps. Makes me happy to keep him safe and comfortable during the winter weather.
---
By Becca on Dec 3, 2022
Great purchase
Recently I purchased two outdoor heated kitty houses and I couldn't be more satisfied. It didn't take long for my cats to figure out they have a warm shelter of their own. We placed them on the porch so they are protected from rain and snow. Would recommend this product to anyone.
---
By Carolyn on Dec 2, 2022
The cats love it
My cats love this! And so do I. I know they are staying warm. I would have given it a 5 star except I have to put the cover back on the heating pad everyday. I wish the cover completely slid over the pad and was not just connected on the ends. But would I recommend it? Definitely!!!
---
By Vangie on Dec 1, 2022
Best ever outdoor porch Cat House
We have adopted a sweet orange outdoor stray cat. It took a bit of time for her to trust its not a trap but a warm cozy home for her. Easy to setup and durable. Warm cozy fleece heater pad with a cord plug in. Thank you for this great product.
---
By DeeDee on Nov 21, 2022
So disappointed!
I have a little clipped ear feral that showed up and quickly set up shop on my patio cushions. She's slept there all summer, eats twice a day and seems content. Now winter is coming and I'm trying to get her someplace warmer to sleep. I purchased another house that wasn't heated and thought the insulation + straw would be good enough if it was also sheltered against the house with an overhang. Unfortunately she hasn't been in it this last week and has instead gone under our shed. So I ordered this heated house and although it was small I thought it was worth it for the heated pad. It came today and was easy to put together but it hardly gets warm at all. I only feel a faint bit of heat in the center after testing it out. It's also very lightweight and i worry it will blow away on a windy Northeastern day. Unfortunately, I don't really have an option except to put it out tonight, it's going to be in the 20s. I reccomend you test it as soonas it arrives, I think mine is defective. The shipping was quick but otherwise I wish I would of tried another brand.
---