MidWest Feline Nuvo Grand Forte 41-in Cat Scratching Post
Frequently Bought Together
---
About This Item
Oversized Furniture Ideal for Large or Multiple Cats
Hefty Sisal-Wrapped Scratching Post Stands Over 3 Feet Tall with Oversized Base
Ultra-Soft Brown Faux Fur with Sisal-Wrapped Supports provides comfort and support for your cat.
This product will help keep your cat from scratching furniture and causing damage.
Easy assembly sturdy cat tree with all tools included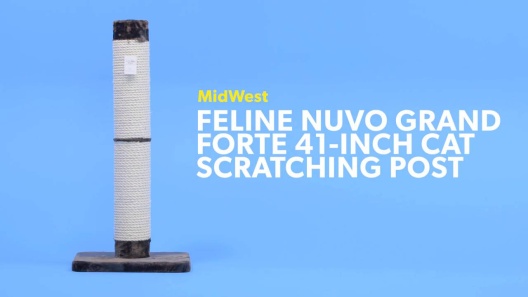 Learn More About MidWest From Our Team of Experts
---
---
About MidWest
MidWest, a division of Mid-West Metal Products, makes a wide variety of products for dogs and cats. Their guiding philosophy has led to plenty of happy two-legged and four-legged customers since 1921. From crates and playpens to keep pets happily safe, to accessories like beds to keep them comfy, there is is no shortage of love poured into these products created by pet enthusiasts.
About MidWest
Compare Similar Items
| | | | | | |
| --- | --- | --- | --- | --- | --- |
| | | | | | |
| Customer Rating | | | | | |
| Price | | | | | |
| Cover Material | Faux Fur, Synthetic Fabric | Faux Fur, Sisal, Plant Material, Synthetic Fabric | N/A, Sisal, Plant Material | N/A, Faux Fur, Sisal, Plant Material, Synthetic Fabric | Faux Fur, Synthetic Fabric |
| Furniture Features | N/A | Anchoring Kit Included | N/A | Hanging Toys, Modern | Hanging Toys |
| Furniture Frame Material | Engineered Wood, Wood | Engineered Wood, Wood | Engineered Wood, Wood | Engineered Wood, Wood | Engineered Wood, Wood |
| Height Range | 31 inches to 59 inches | 31 inches to 59 inches | 31 inches to 59 inches | 31 inches to 59 inches | 31 inches to 59 inches |
| Tools Included | Yes | Yes | Yes | Yes | Yes |
| Furniture Mount Type | Free Standing | Free Standing | Free Standing | Free Standing | Free Standing |
| Assembly Required | Yes | Yes | Yes | Yes | Yes |
---
Questions & Answers
19 Customer Questions
---
Nice scratching post. Our only concern is if it topples-over when a cat scratches at the top of the post?
Answer by • Jun 27, 2017
This product has an over-sized base along with a hefty sisal-wrapped post which allows it to be sturdy.
---
What kind of material is the top made of? Is it a sturdy wood? Could I screw a piece of wood into the top to make a perch/platform?
Answer by • Apr 19, 2019
The base and post is made of wood which is covered in faux fur or sisal rope, to make this a very durable and stable scratching post. While it is not designed with a perch, we have had customer reports of making alterations.
---
Is there a maximum weight limit supported by this scratching post?
Answer by • Apr 06, 2021
This scratching post does not have a weight limit and is suitable for cats of all sizes.
---
What is the diameter of the post
Answer by • Jul 13, 2017
The diameter of the post is 6 inches.
---
---
---
By Alien on Jun 20, 2022
Excellent build quality but need more color options
PROS: 1) This is REALLY well-made. 2) Taller scratching posts are hard to find & the 41-inch height here is great so an adult cat can stretch up while scratching. That's the main reason I bought this one. CON: The color. Brown is SO 1970s. There's really no excuse not to offer more color options, especially considering the price & size of the item. It is HUGE - this isn't just a scratching post, it's a statement piece. I have grey carpet & this does NOT go with it. And since it's so big, it's very noticeable & the reason I knocked off 2 stars. NOTE: Another thing to mention is that my cat wouldn't use it at first - in fact he acted like he was afraid of it, which was completely unexpected. He has gradually gotten used to it, & now (at about 3 weeks in) is finally starting to actually use it. I wonder if it's partly because the sisal rope is a lot thicker than his previous post. That's actually a good thing though as it should last much longer. Just wanted to mention it in case someone else has a cat that doesn't like it at first. Give it some time.
---
By Boys2 on Jun 5, 2022
Really nice scratch post
We bought this based on other reviews and we were glad we did. It was pretty easy to assemble but you could use 1 other person to help hold it when putting the pieces together. It is well made and the base is large and heavy enough to prevent falling over. It is taller than average sissell posts but nicer than most as well. The base, middle piece and top piece are covered in soft brown material. There are some staples at the base of second level that we used a hammer and screwdriver to push in jusy a little further to be sure they don't catch a claw on them. We tried the hammer to gently tap flatter and if need a more focused tap, used the screwdriver against the staple and tapped with hammer on screwdriver. Worked perfectly. No concern now. They liked it as soon as we opened it and put it together. It comes with easy to follow instructions and an allen wrench. It's the base, two barrels of the sissell scratcher, a middle spacer, and 1 bolt and a double ended piece to secure the top section. Definitely recommend and worth the price. Looks like it will last years.
---
By Furmomma on Jun 11, 2022
Best of the best!
This is the Cadillac of scratching posts! My cat is long and the other scratching pads/posts would not let him get in that great s-t-r-e-t-c-h that he yearns for. He can charge it during the zoomies and it stays standing. He loves when I put a toy on the top so he can go on the hunt for it. It has saved my furniture and looped carpeting. It may be big but it is by far the best!
---
By raes on May 16, 2022
best scratch post ever!!
i bought one of these years ago for my cats and they LOVE it. just recently bought two more to protect my brand new furniture from being destroyed, and they are just as good now as when i bought one several years ago. my cats aren't very big (biggest one is maybe 11 pounds) but this thing is sturdy, i have never had it even close to fall down. my girls go crazy on this thing and even my old one is still in great shape. haven't needed to replace the sisal or anything, and this thing gets some serious action. i have bought a few scratch posts but i dont think i will ever buy a different one now. i can't recommend this thing higher, your cats and your furniture will thank you!! :-)
---
By MaggyMay on May 27, 2022
Cats live this scratching pole
My cats love this pole. The carpet is a pretty neutral brown color, like the color mink. It went together easily, but I had an extra pair of hands. The cats were so happy when the box was emptied, cuddling the carpet base and rope cylinders. They were really happy when it was assembled and use it several times a day to stretch, clean their nails, practice climbing, etc.
---
By Sammy on Apr 30, 2022
Incredible, my 4th
I got this for our elderly rescue years ago. It's still going strong. We moved into a larger place and got her another one which she shares with her new, youngster brother. They love it so much (including actually climbing it to sit on top of it) that I just ordered my 3rd one. Also got 1 as a gift and both cats in that household loved it. I cannot recommend this enough. It's sturdy, my 11 month 9 lb cat can leap to the very top, grabbing it with all 4 paws, and it will not wobble much at all. Excellent alternative if they are scratching furniture. I've successfully redirected them both away from the couches and chairs by putting this near. They go for the post instead now.
---
By Sam232 on Jun 12, 2022
Best Cat Scratcher!
My two boys love this cat scratcher - it's tall and gives them a nice stretch when needed. Sometimes one of them will even perch on the top. This is my 2nd one I've purchased in a few years - the last one I gave away still in decent condition to a rescue home.
---
By Squeakyruler on Apr 19, 2022
My cats love it
My cats absolutely love this scratching post and so do I. I was a little hesitant to buy it because of the price but I wanted a taller scratching post because my orange and white boy is long and loves to stretch out. It was easy to put together, which is great because he was all over it before I could assemble it. It is much thicker and sturdier than my previous post and I love watching my girl cat climb it like a tiny King Kong. Having a scratching post behind my couch has saved it from cat claws. If you are on the fence about this I urge you to take the plunge!
---
By SarabiMum on Apr 20, 2022
Her Throne!
This is my cat's favorite thing ever. 5 stars, paws down. The post wasn't even set up yet when my girl started attacking the sisal. It was easy to assemble and extremely sturdy. I've recently discovered how important a study post is, with this energetic of a cat. Also aware that this thing is huge! Forte and grande is no joke. See the photo. My cat treats it like a small tree trunk and loves to climb up and down, scratching from the top or the bottom, she even drags her feather toys to the top.
---
By TeeTee on May 18, 2022
Awsome investment
As soon as it arrived it was put together and my maincoon went crazy. He started scratching on it, laid around it, stretched straight up on it. It was like he welcomed his best friend. Will purchase another. Would recommend to anyone that has a Cat or kitten. It's good exercise.
---