Nature's Miracle Multi-Cat Automatic Self-Cleaning Cat Litter Box
---
About This Item
Self-cleaning litter boxed design to make cleaning up after your kitty easy and efficient.
Automatically scoops waste after every use with the smart-detection motion sensor.
Features an extra-large box that holds more litter with odor control receptacles and carbon filters to keep the odor contained.
Contains high walls to prevent litter scatter with a paw cleaning ramp to limit tracking around the box.
Includes a night light setting to create nighttime visibility for your furry friend.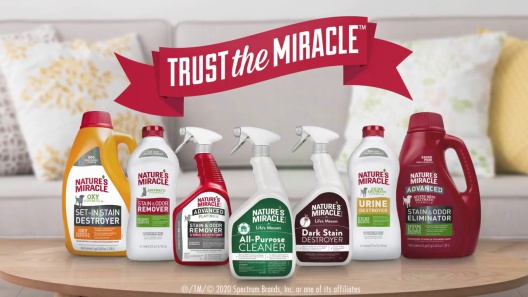 Learn More About Nature's Miracle From Our Team of Experts
Related Items
Click here for recommended compatible litter. Do not use non-clumping litter, crystal or pearl-like litters.
---
Compare Similar Items
| | | | | | |
| --- | --- | --- | --- | --- | --- |
| | | | | | |
| Customer Rating | | | | | |
| Price | | | | | |
| Litter Box Type | Automatic | Automatic | Automatic, Covered | Automatic, Top Entry, Covered | Automatic |
| Litter Feature | N/A | Odor Control, Non-Clumping, Scented, Natural, Low Tracking | Non-Clumping, Scented, Natural, Low Tracking, Odor Control | Odor Control, Non-Clumping, Scented, Natural, Low Tracking | Odor Control |
| Material | Plastic | Plastic, Silicone | Plastic, Silicone | Plastic, Silicone | Plastic |
| Lifestage | N/A | Kitten, Adult, Senior | Kitten, Adult, Senior | Kitten, Adult, Senior | Adult |
| Compatibility | N/A | Plug-In Power | Plug-In Power | Plug-In Power | Wi-Fi |
| Assembly Required | N/A | Yes | Yes | Yes | N/A |
| Potty Feature | N/A | N/A | N/A | N/A | N/A |
---
Questions & Answers
20 Customer Questions
---
can I use any scoop away litter or a special kind
---
Approximately how often does the waste receptacle have to be emptied with two cats?
Answer by • Jan 31, 2020
Generally the receptacle should be emptied weekly and the litter replaced entirely every month.
---
Are the pull out trays where the dirty liter goes or is that just filters...
Answer by • Sep 29, 2019
The waste receptacle with carbon filter keeps mess and odor contained.
---
How often do you change the litter?
Answer by • Oct 02, 2019
Litter box is designed to minimize daily maintenance. Simply replace the receptacle when full and follow instructions for weekly cleaning.
---
---
---
By unhappy on May 16, 2022
Noisy and Breaks
i have had this litter box for 2.5 years now. Its broke during warranty 3 times and so ive had 3 new ones. They have all broken, most of the time the rake just stops moving and is stuck in the middle. Also SO LOUD like i cant even describe it. this loud squeeky motor sound. Poop gets stuck in the rake and it wont even scrape the bottom of the pan where the pee ends up so it only gets half of the litter. The third one just kicked the bucket so im over it. Save yourself the money and just dont
---
By junk on May 20, 2022
junkjunkjunk
Received litter box 4-10-22 installed a week later. 5-19-22 rake folded back on itself. Tried to remove rake like the directions say and there's no way to push the 2 thumb tabs and I pushed hard. Possibly the worst purchase I've ever made. Spend more or spend less just don't buy this product!
---
By MJ363 on May 3, 2022
For the price it doesn't last long
Ive had this litter box since Sept 2021 and it broke already the rake wheel broke off and the spot the wire hooks up broke off and feel inside, took me an hour to dig out. Very disappointed I had higher hopes for this box. I absolutely loved it when it wasn't breaking down though
---
By LeslieR on Feb 16, 2022
Not So Automatic
Our older cat seemed to do OK with this litter box and it did seem to control oder. However he did pee quite frequently and the receptacle filled up very quickly. Also the automatic cleaning mechanism jammed frequently. We recently rescued a younger cat and the box just doesn't do near as good a job controlling oder, everytime Euyna uses it the smell of whichever permeates our entire apartment! I have had cats in my home most of my adult life and never have I had to deal with this type of smell, it's just awful. We could make it work with our older cat but it really doesn't work at all well with this cat!! Ultimately I it's too expensive for the job it does.
---
By Litter on May 9, 2022
Is not working properly
This is my second one. The first one lasted about a year with two cats. I have gotten this new one and it only works half the time and it sounds terrible when it does run!!
---
By KittyScratchingPost on Feb 11, 2022
Better off with a regular litterbox
I didn't buy this from here, but it is the same one that I have. I've found this box doesn't run as soon as the cat is finished. It has cycles where it will clean. This is a problem I have found. I've had mine now for a little over 6 months. This thing is loud. It resides in my living room and when it decides to clean, it can actually drown out the TV. It is so loud that when it runs in the middle of the night, it wakes me up. I sleep in another room. The cleaning cycle is a problem itself. I have two cats and boy do they love to drop the fudge and lemonade. During the day, I don't typically have a problem. It cleans it up, usually takes a couple of runs. However, the pee seems to sink to the bottom of the clumping litter, so it builds up. Then in the middle of the night, it ends up struggling to clean the box. It will run, grabbing it all, but end up building up a wall of kitty litter that prevents it from dumping. The motor will grind, then it will retreat, forcing you to get up, clean off the sifter blades, and do scooping. It does give you some reprieve from the labor of cleaning a litterbox everyday, but not by much. Since the cats don't typically go to the bathroom at night, I do turn it off at night then run a cleaning when I wake up. But when I forget to turn it off, it will be a night I wake up to clean the litter box. I would say save your money. It's loud, there's still quite a bit of labor you need to do. It does save some of that labor but not by much. I find I have to replace the receptacle once every other day, not every week. It could just be my cats use the bathroom a lot more than normal. Get a regular box and save a lot of money, or if you want an automated one, maybe fork over the cash to get one of the more expensive ones. Besides, all of that plastic for the receptacles can't be good for the environment.
---
By Sandra on Feb 15, 2022
Bad Product
I couldn't be more disappointed in this litter box. You can't hardly put any litter in it so it liquid soaks to bottom and the rake doesn't even go through it, just goes over the top of it and mashes it down, so you have to scrape it off the bottom. The containers for the waste are so flimsy that they easily flip when you are trying to throw away. The rake just skims the top and will get only large clumps.
---
By gail on Apr 30, 2022
multicat box
these did not last more than one week its a pain to return things so i didn't bother even though these are expensive i bought and lost 2 of them
---
By TnTrouble76 on Mar 26, 2022
Not worth the money!!
Have tried several premium clumping litters and the rake never comes close to cleaning out the mess, it just runs over it or gets stuck and never fully cleans the litter box! Littermaid is SO much MORE thorough!!
---
By Litter on Jun 18, 2022
Not worth the money
This is not worth the money. Motor cannot handle the he waste after 2 weeks of using.
---